Vacant Land with a Borrowed Scenery of Shrine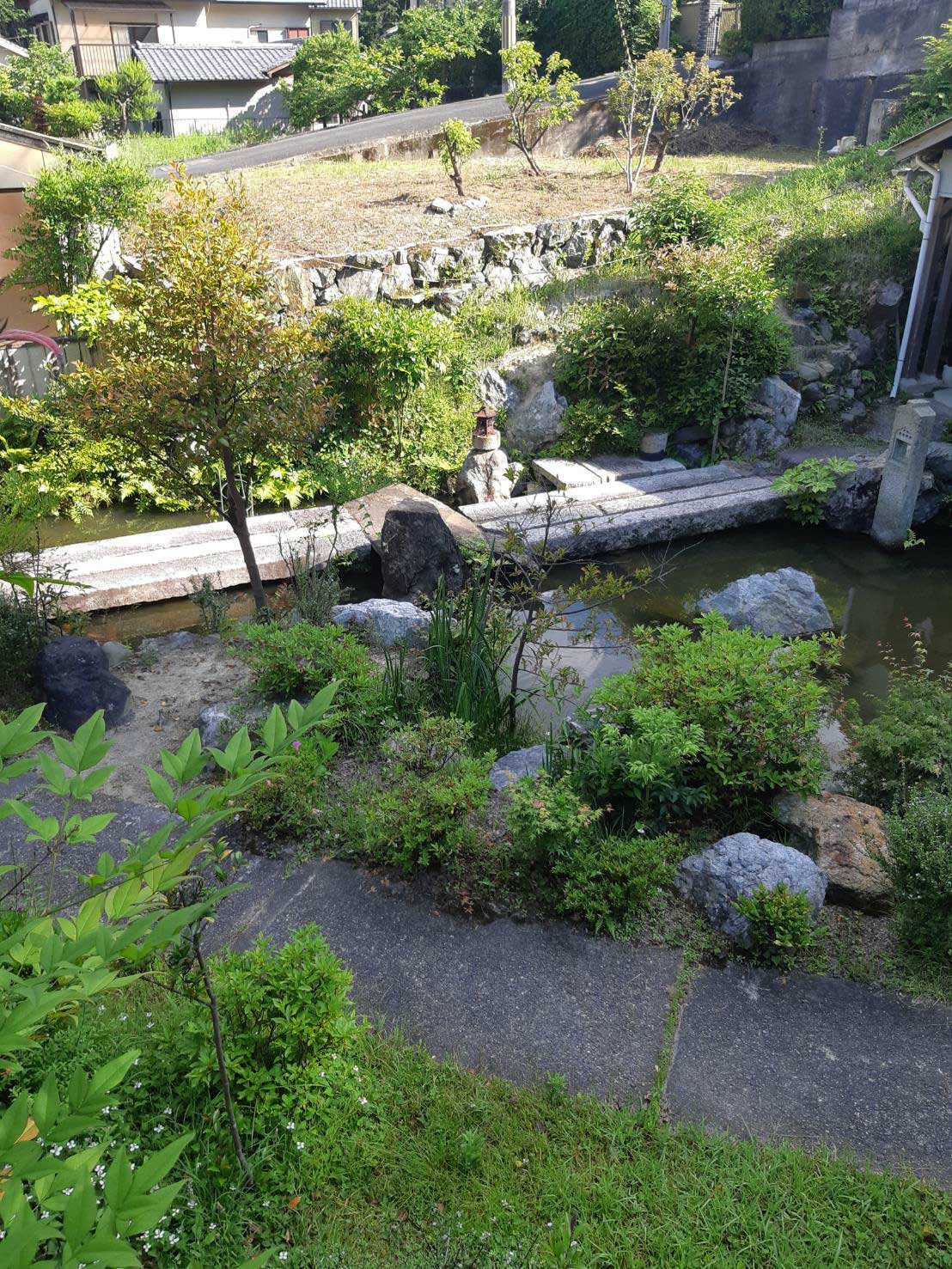 A vacant land where you can borrow the scenery of a shrine pond
This is a shaped land with no construction restrictions.
With a shrine at the back, you may consider plans with borrowed scenery of the shrine pond.
Located at the foot of Mt. Kinugasa, this is a quiet place where you can feel the nature and enjoy a relaxing life.
The adjoining road at the front is also paved and well-maintained.
Feel free to contact us for recommendations on architects and building contractors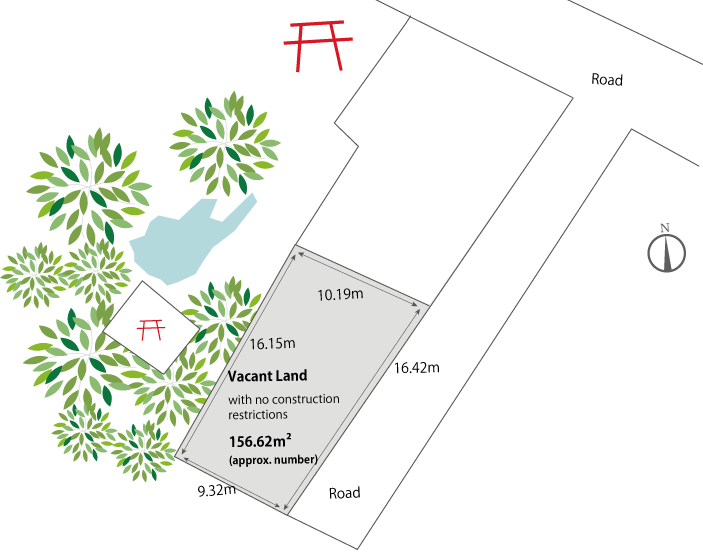 Area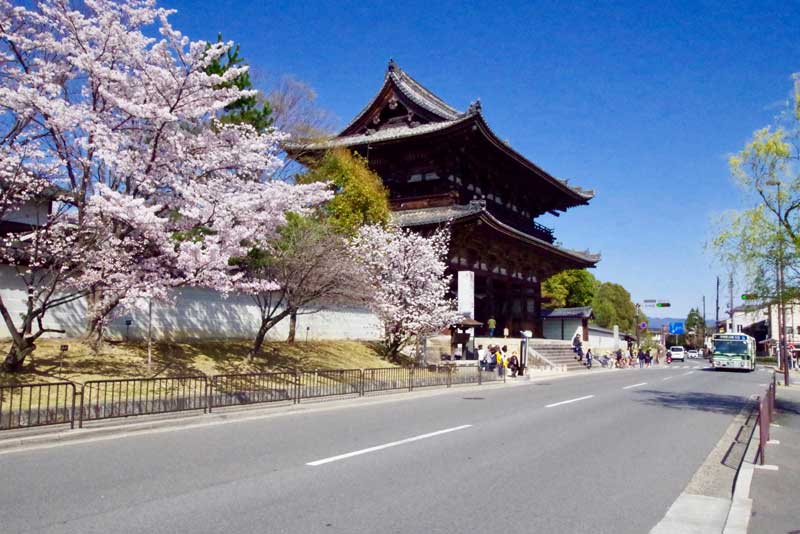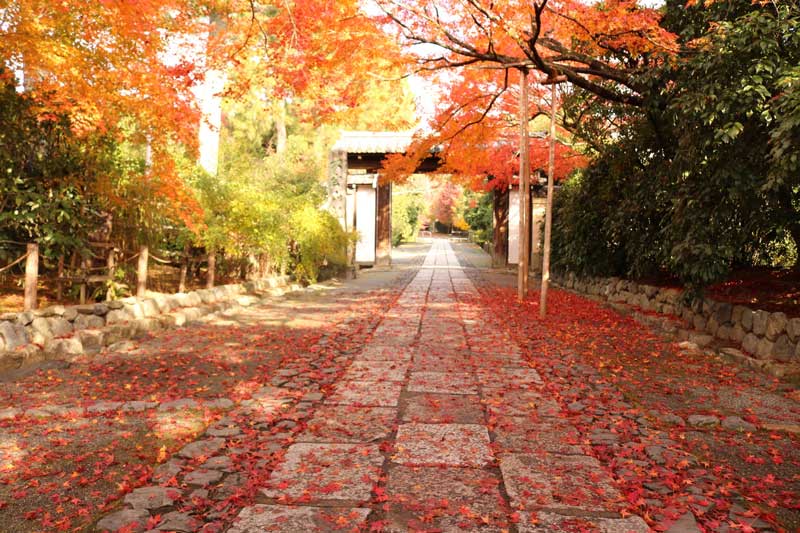 The Kinugasa area lined with famous temples
Mt. Kinugasa-yama is also known as "Kinukake-yama". The origin of Mt. Kinugasa was said that Emperor Uda covered ("Kake") white silk ("Kinu") on it to enjoy snowy scenery in the summer.
This vacant land is located on the north side of Kinukake-no-michi St., which is lined with famous temples such as Kinkakuji, Ryoanji, and Ninnaji, and is lined with houses and temples.
It has a perfect landscape surrounded by nature where you can take a walk around the Kinkakuji Temple as a walking trail.
As the Ritsumeikan University is nearby, this is also a student district with numerious fashionable restaurants.
How about building a residence or a second house in such a scenic place that has fascinated people since ancient times?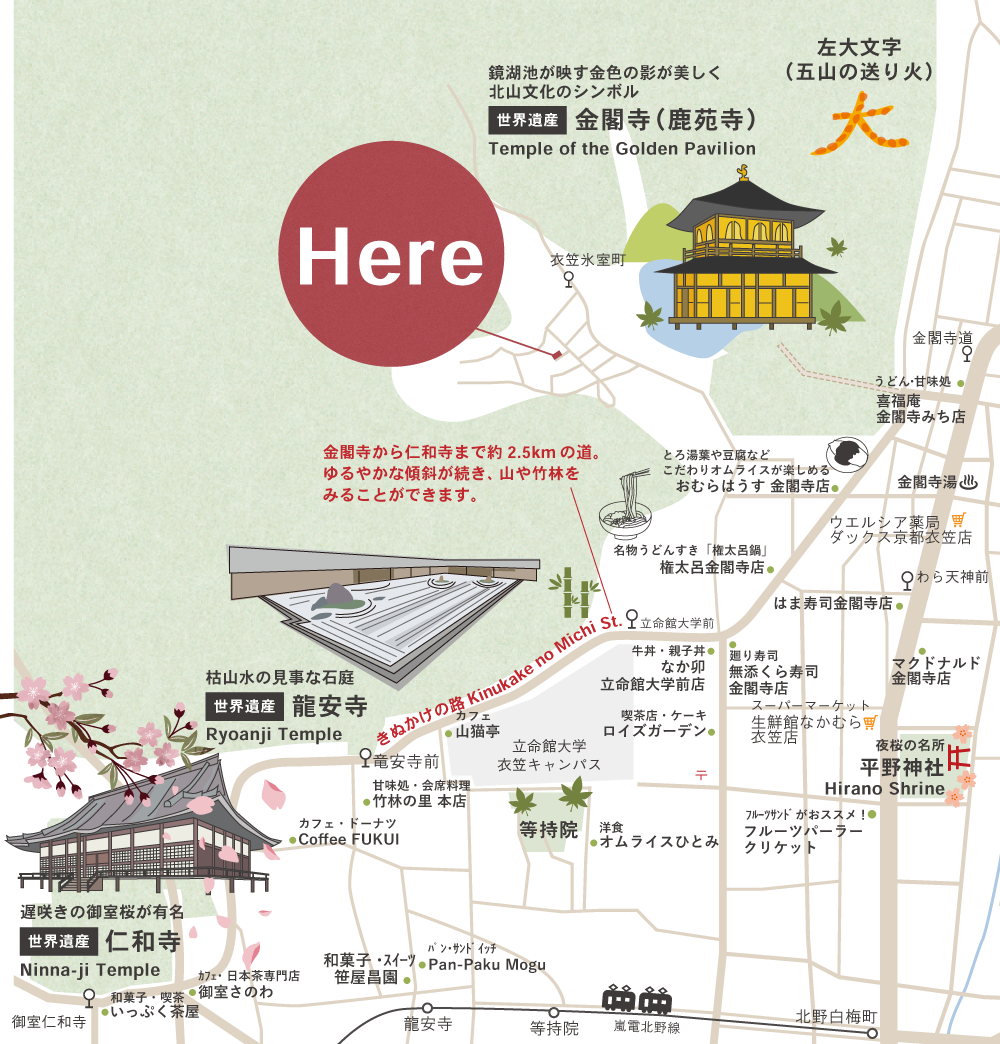 Photos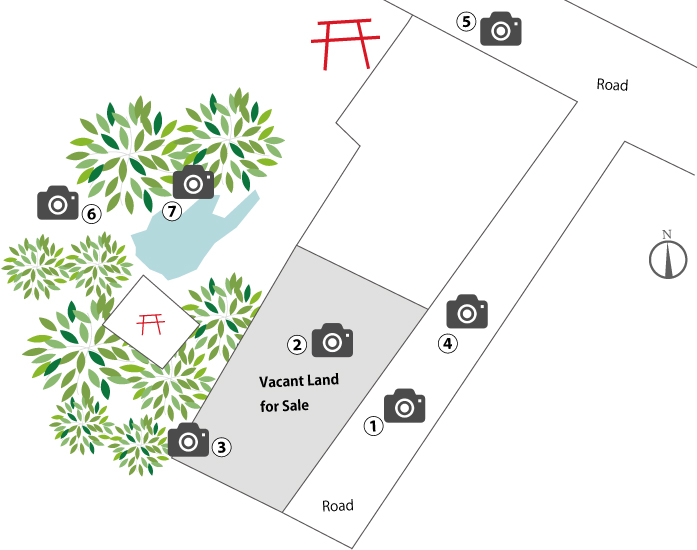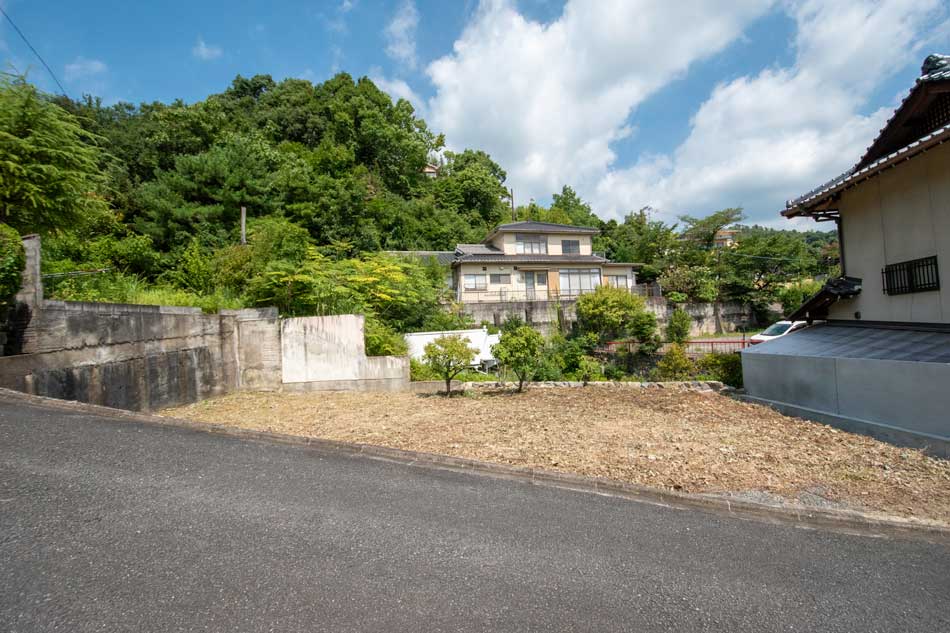 ①Front view from the adjoining street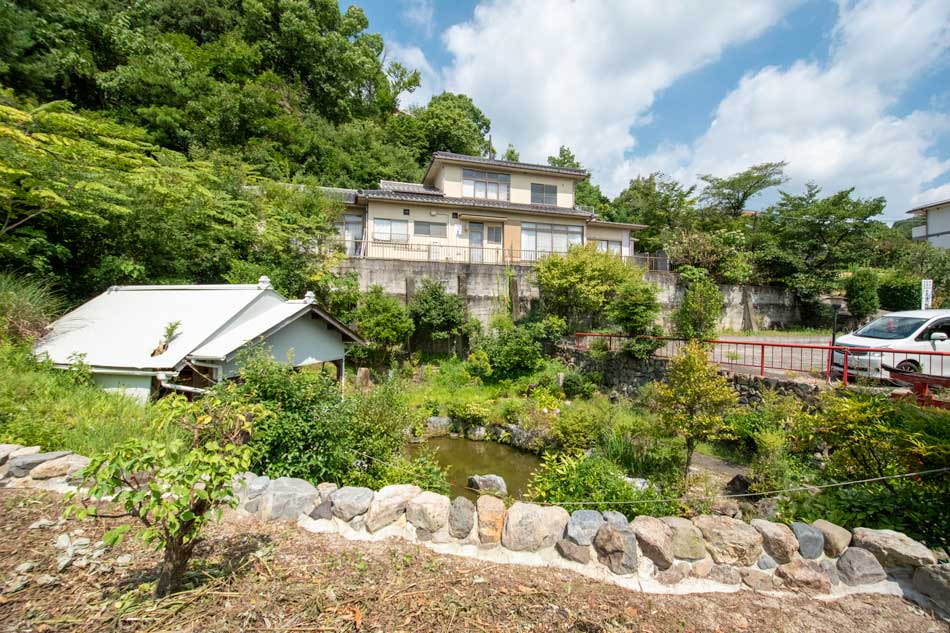 ②The shrine and pond at the west side of the land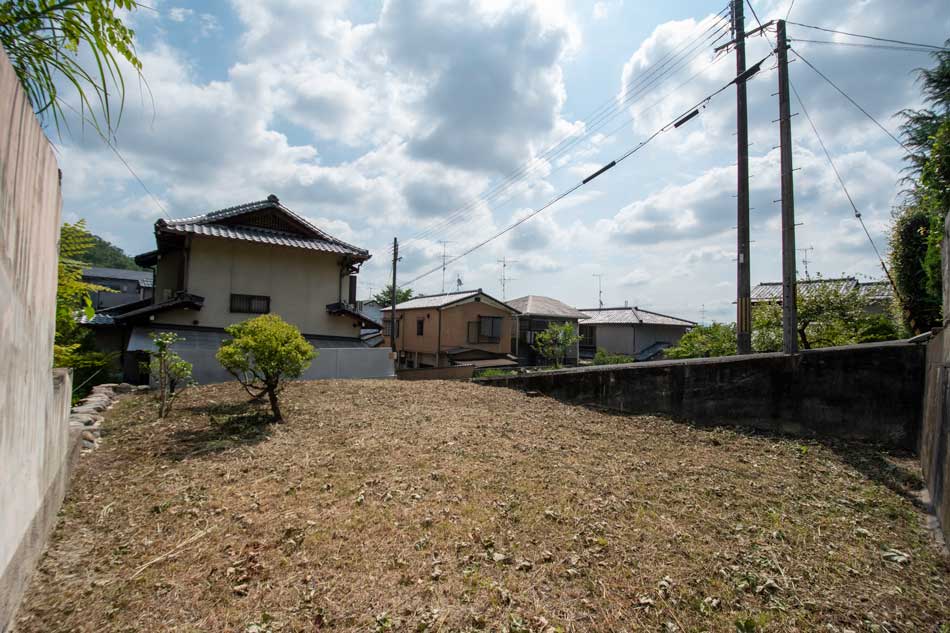 ③The north side viewing from the premises.
With a designed plan, you might possibly enjoy the famous "Daimonji" here!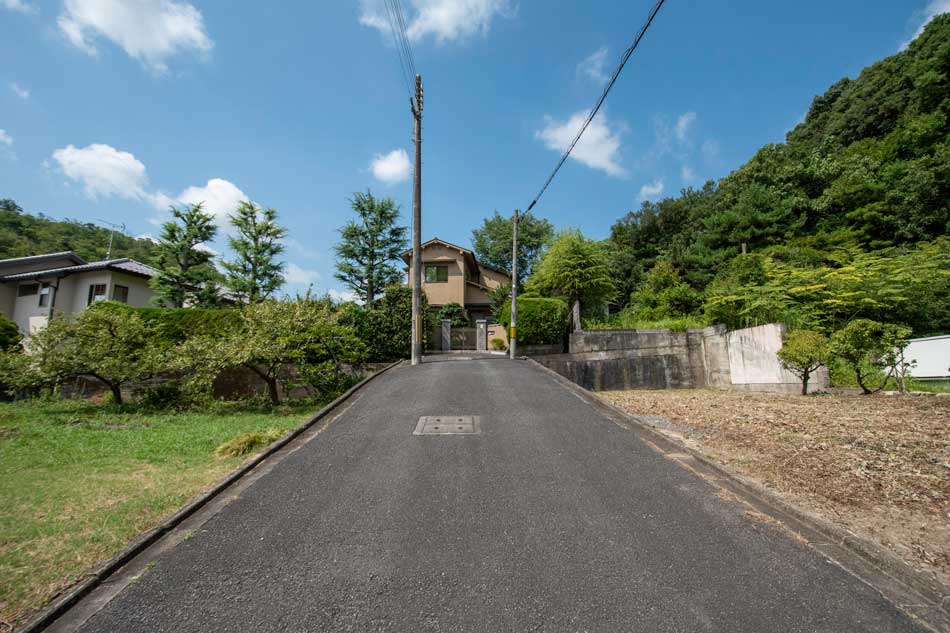 ④The introduced vacant land is on the right-hand side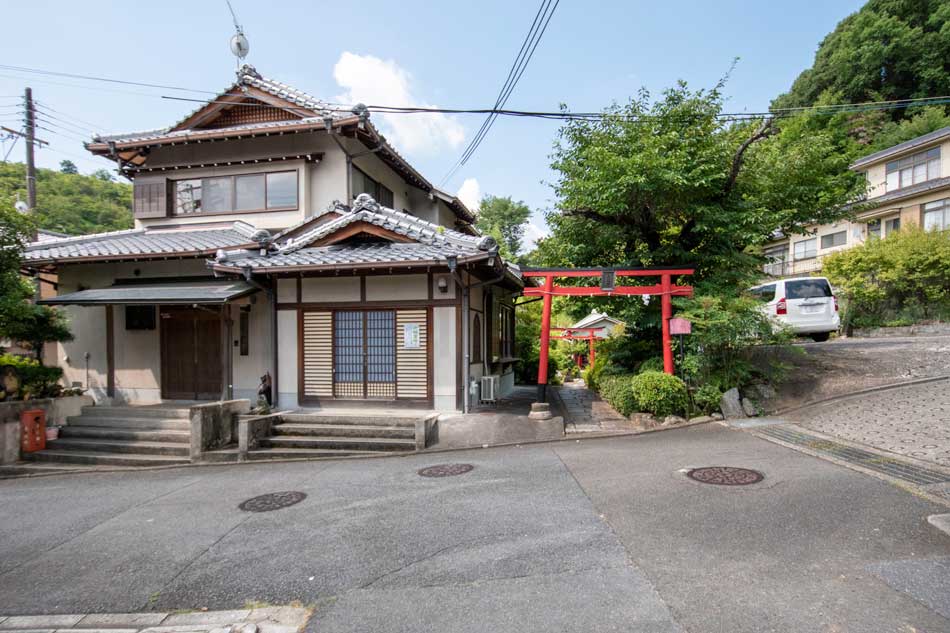 ⑤Entrance of the Shrine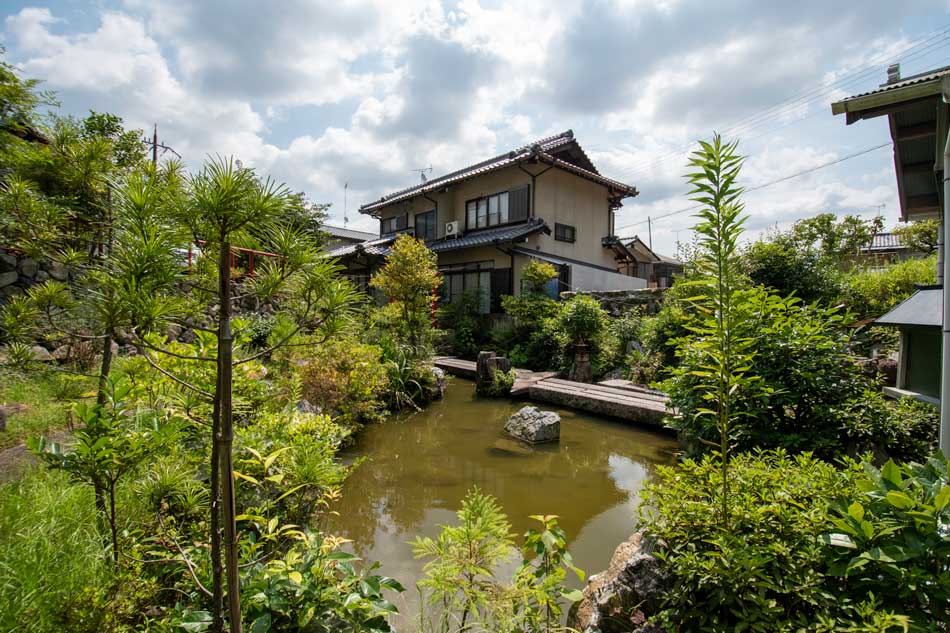 ⑥Inside the shrine. The introduced vacant land is on the right of the front house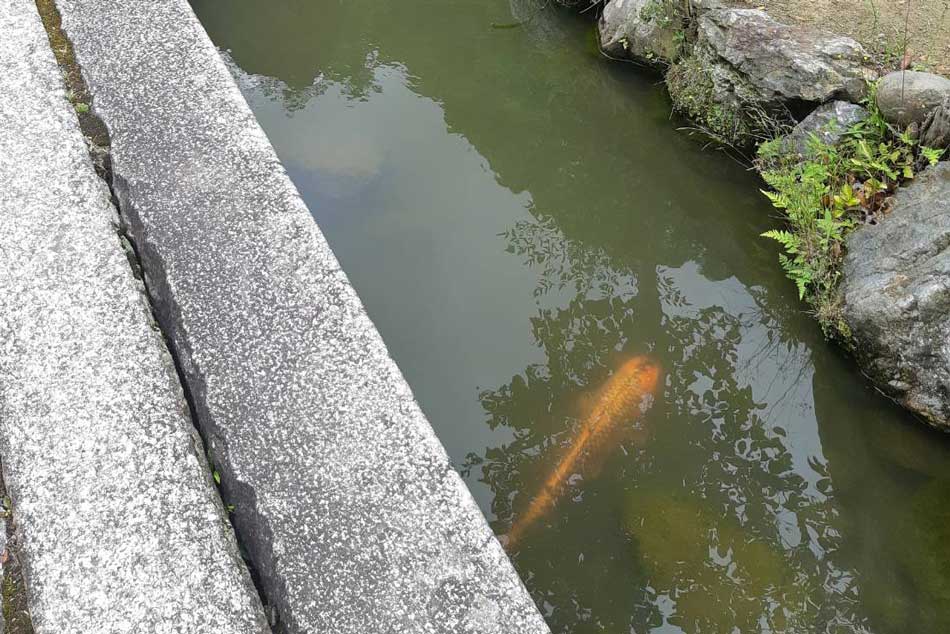 ⑦Koi in the pond
Outline
Property Price

22,800,000 JPY

 (Approx. USD *1JPY= USD)
Type & Conditions
Vacant Land ※With no construction restrictions
Location
1-174 and others, Kinugasa-Akasakacho, Kita Ward, Kyoto
Transportation
Approx. 3 min. walk from Kyoto City Bus "Kinugasa Himurocho Stop"
Land Area
【Registered】156.62sqm
Private Street Area Included
5/10 of 180.02sqm
Adjoining Street
Street Width: 4.98~5.07m, Frontage: 16.42m, Direction: Southeast (approx. number)
Land Use District
Category 1 Low-Rise Exclusive Residential District
Regulated Minumum Size
of Land when divided
100sqm
Public Utility
Electricity, Water Plumbing In/Out, City Gas
Legal Restrictions
10m / Height Control District, Kinkakuji Temple Special Preservation and Improvement District, Scenic districts Category 3, Close/Distant View Preservation Zone, Prior Consultation Zone, Outdoor Advertisement Category 2 Regulatory District, Residence Attraction Area, Housing land development construction regulated area, Preservation Zone
Building Coverage Ratio
40%
Floor Area Ratio
80%
Handover
Immediately
Current Situation
Vacant Land
Land Category
Residential Land
Land Tenure
Title
Geographical Features
Sloping Land
City Planning Act
Urbanization Promotion Area
Elementary School
Kinkaku Elementary School (9min walk/690m)
Junior High School
Kinugasa Junior High School (11min/850m)
Notification According to National Land Utilization Law
Not Required
Hypothec
N/A
Remarks
※At the time of construction, permission based on the provisions of Article 43, Paragraph 2, Item 2 of the Building Standards Act is required.
※The property will be handed over as is.
※This property is designated in the sediment disaster alert area.
Transaction Terms
Hachise as a Broker (Agent commission required when concluding contract)
Sales Representative
(EN) Aya Kita / Boa Zhang
(JP) Koji Aoyama
Information Updated

Dec 11, 2023

Information will be Updated

Dec 18, 2023