Currently, we are temporarily suspending the applications for new KyoTreat owners.
We will keep you informed of the resumption date and other details as soon as they are determined via our website.
We appreciate your understanding.
Make the most of your property — Even when you're away
You've got a second home in Kyoto, but you end up using it only for a few months a year, and the cost of maintaining a second home is high. The KyoTreat service offers a way to make more effective use of your property during periods when you're away; by renting it to others on a monthly basis, and provide housing maintenance when the property is not in use. This service is ideal for owners who would like to have their Kyoto second home for a long time to come, and who—though they do not live in the house at the present time—have set their sights on living in Kyoto at some point in the future.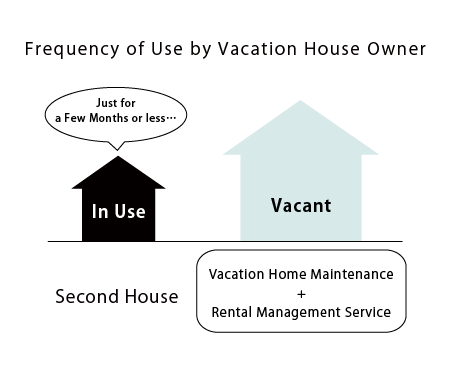 Smooth rental management and operations
With the KyoTreat properties, the tenants can stay for periods of one month or longer. Since the tenant turnaround rate is not as frequent as with hotel or other lodging facilities, our operation staff are better able to build a relationship of trust with the tenant. Additionally, since the same tenant(s) will be living at the property for a specified period, neighbors are likely to feel more comfortable with this arrangement than with other types of lodging where guests stay for as short a time as one night.
When we enter into a new contract with a tenant, we will hold a meeting of approximately 30 minutes at the Hachise office, at which we provide information to the new tenant on appropriate use of the property, including cleaning and garbage disposal. We ask tenants to treat the property with good care as if it was their own home, and non-Japanese tenants are informed of relevant Japanese cultural traditions to ensure proper understanding and conformity.
Welcome back home — *Anytime
You have a second home thinking that you'd be able to enjoy it anytime, but there are constant concerns, like having to clean as soon as you arrive for a stay, or about the significant damage can happen when you're away over long periods. Since vacant home maintenance is part of the KyoTreat service, even owners living far away can feel at ease about keeping their property clean, tidy, and ready for its owner to return anytime.
*During the period when the property is not occupied by tenants.
Overview of KyoTreat Service
Rental management and operations

Hachise handles all monthly rental operations and tenant issues.

Vacant home maintenance

Regular housing maintenance and visual inspections during periods when your property is not occupied.

Welcome home anytime

The owner can stay at the house whenever he/she wants during the period when the property is not occupied.
How To Start
1. Inquiry
Please feel free to contact us for details about the service. Inquiry

2. Site inspection, Consultation
We will discuss about the rent, operation and etc.

3. Contract
We will make a contract at our office.

4. Webpage Preparation
We usually require 3 to 4 weeks to creating a webpage which includes photo shooting.

5. Operation Start
Release the webpage to start accepting reservations.
FAQ
What kind of properties do you deal with? Are there any limitations on the geographic area of operation?

Hachise provides this service only to owners of properties that Hachise has renovated and sold. The properties should be in the Kyoto City area.
Does Hachise furnish the property and install electronics and fixtures?

In general, we ask that the owner furnish the property as well as install electronics and fixtures on the property for use by the tenant, but you can also order it to our subcontracting interior coordinator.
Can the owners return to their properties while under the KyoTreat service?

Of course, the owner can stay at the property anytime he/she wants by contacting Hachise ahead of time. However, if a reservation has already been made, the reservation will be given priority.
What are the fees involved to utilize the service?

We require 1) an initial fee, 2) a deposit and 3) an operations and management fee. Please inquire with our staff for details.
How is the rent amount determined?

Hachise will recommend a rent amount, but the owner reserves the right to make the final decision.
How do I receive the rental income?

Hachise will return the rental income of the previous year (January to December) to the owner with the statement of income and expenses after subtracting the actual operation cost by the mid-February every year. Please inquire with our staff for details.
What should I do when I want to cancel the service?

The owner may notify Hachise that they wish to cancel three months prior to the desired cancellation date. However, if a reservation has been made, the contract/service will continue through the end date of the reservation period.
What type of tenants tend to rent the properties?

Many of our tenants use the properties as a sightseeing and/or business base (including for academic meetings, extended business trips, etc.).
I only go to Kyoto twice a year. Which is better for me, the KyoTreat service or just the Vacant Home Maintenance service?

The essential purpose of both of these services is property maintenance when the owner is away. However, KyoTreat additionally offers monthly rental services to maximize the benefit you get from your home in Kyoto during periods when you are away.
・If you only want maintenance services for your property when it is vacant, choose our Vacant Home Maintenance service.
・If you don't mind renting out your property, and would like to use the rental income to cover your maintenance costs during periods when you are away, choose the KyoTreat service.