丸太町駅徒歩約3分にある
モダンな京町家
Modern Kyomachiya near Marutamachi Sta.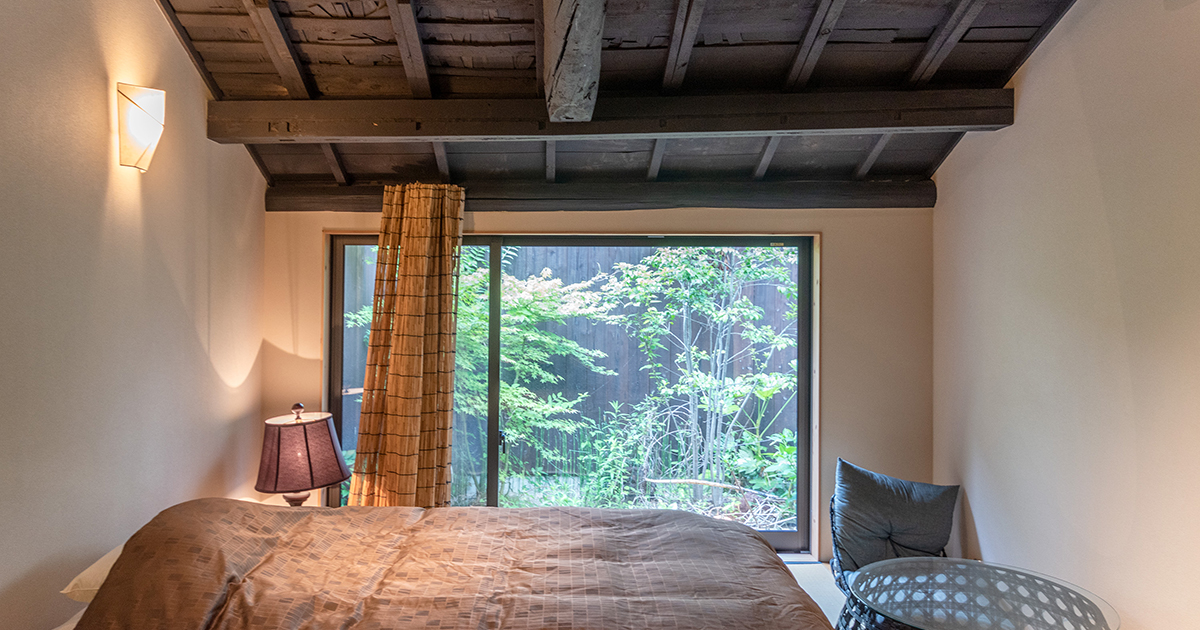 Modern Japanese style
where old and new intersect
Beyond the private passageway, this is a single-storey Machiya built in 1949.
The beams and plaster walls have been kept as they were, with a new taste added to create a calm space of black and white.
plan
間取図
A single-storey house popular for its ease of living, with a loft and storeroom that provide ample storage space. You can enjoy the garden view from the large window in the Tatami room, which transforms the one-storey house into a space with a sense of openness.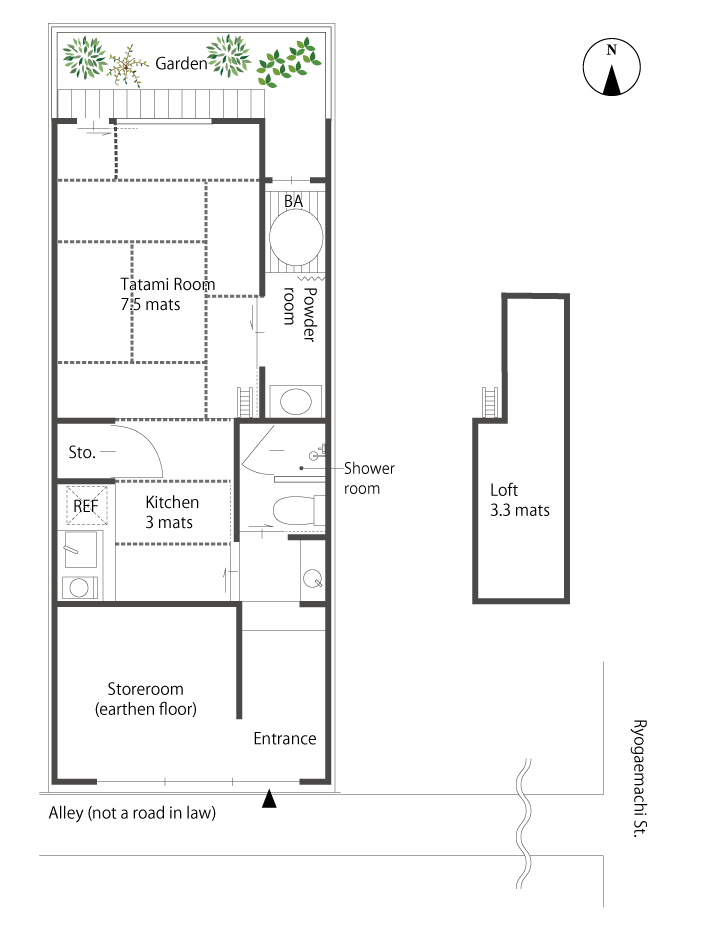 area map
周辺地図
This property is only about a 3-minute walk to Marutamachi Subway Station. From Marutamachi Station, it takes only approx. 7 min. ride (4 stations away) to Kyoto Station, the gateway to Kyoto, making it convenient to live in even without a car. The Kyoto Imperial Palace (Gosho) is located very close to the property, where the surrounding area is beautifully landscaped with a variety of trees. To the southwest is Nijo Castle (about a 14-minute walk), and to the east is the Kamo River (about a 16-minute walk), which together with the Imperial Palace makes a popular running and walking course in Kyoto. An early morning run around the perimeter of the Imperial Palace would be refreshing.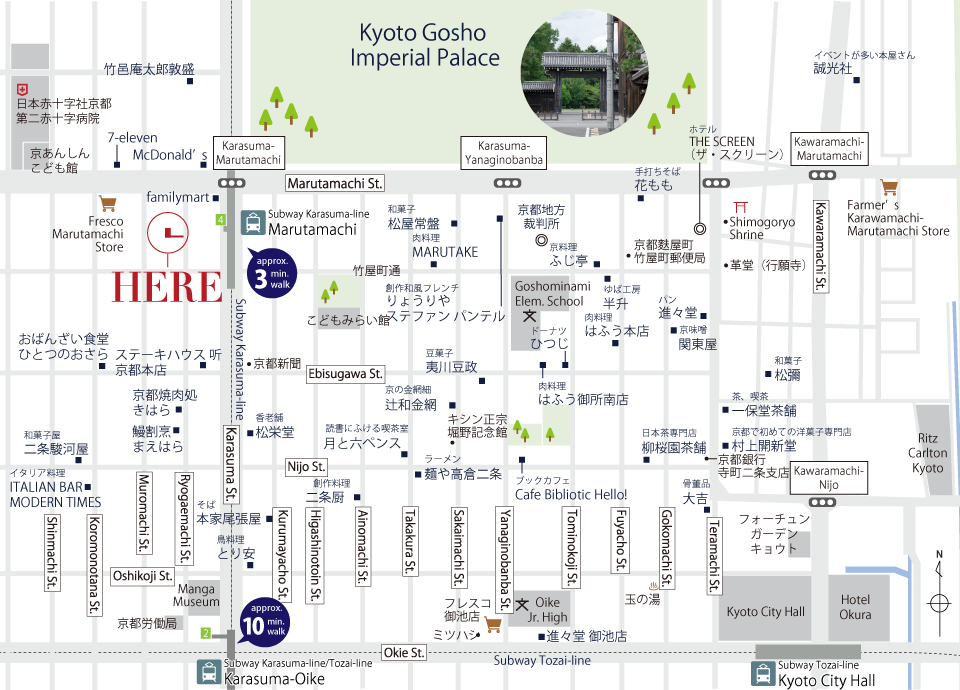 virtual tour
バーチャル内覧
Drag/Swipe the screen, or click the arrows on the screen to tour.
details
物件概要
Property Price

49,800,000 JPY

 (Approx. USD *1JPY= USD)

Type & Conditions
Used House (Kyomachiya)
Locations
168-5, 168-6 Ryogaemachidori-Takeyamachiagaru Saihojicho, Nakagyo Ward, Kyoto
Transportations
Approx. 3 min. walk from Subway Karasuma-line "Marutamachi Sta." Exit 4
Approx. 2 min. walk from Kyoto City Bus "Karasuma-Marutamachi Stop"
Land Area
【Registered】66.00sqm
Private Street Area Included
N/A
Floor Area
【Registered】49.58sqm
Building Structure
Single Storey Wooden House
Size
1 Rooms + Kitchen + Loft + Storeroom + Garden
Adjoining Street
Street width: 1.4m (not a road in law), Frontage: 4.7m, Direction: West (approx. number)
Building Date
Unspecifiable ※The earliest record in the closed registry is 15 Oct 1949
Public Utility
Electricity, Water Plumbing In/Out, City Gas
Land Use District
Neighborhood Commercial District
Legal Restrictions
15m / Category 3 Height Control District, Aesthetic District of Historical Heritage: General District, Close View Preservation Zone, Prior Consultation Zone, Distant View Preservation Zone, Outdoor Advertisement Historical Heritage Category 2 Regulatory District, Quasi-Fire Prevent District, Urban Function Attraction Area, Residence Attraction Area, Established Urban Area
Building Coverage Ratio
80%
Floor Area Ratio
300%
Handover
TBD
Current Situation
In use as an office
Land Category
Residential Land
Land Tenure
Title
Geographical Features
Flatland
City Planning Act
Urbanization Promotion Area
Elementary School
Goshominami Elementary School (approx. 8 min. walk/583m)
Junior High School
Kyoto Oike Junior High School (approx. 13 min. walk/1004m)
Notification According to National Land Utilization Law
Not Required
Remarks
※This property is unrebuildable. You cannot rebuild any architectural structure on this land when the existing one is demolished or collapsed. » Check here for more about rebuilding prohibited lands
※Prior reservation is required 1 day before the viewing as the property is currently in use.
※Furniture is not included in the property price.
※The seller is not liable for any defects.
※The property will be handed over as is.
※Renovated by owner in Jan 2019.
Renovation works done: Renewed water plumbing products (kitchen, bathroom, washbashin, toilet), Repaired and refurbished interior and exterior, etc.
Transaction Terms
Hachise as a Broker (Agent commission required when concluding contract)
Sales Representative
(EN) Aya Kito / Boa Zhang
(JP) Masanori Yanagiuchi
Information Updated

Dec 11, 2023

Information will be Updated

Dec 18, 2023