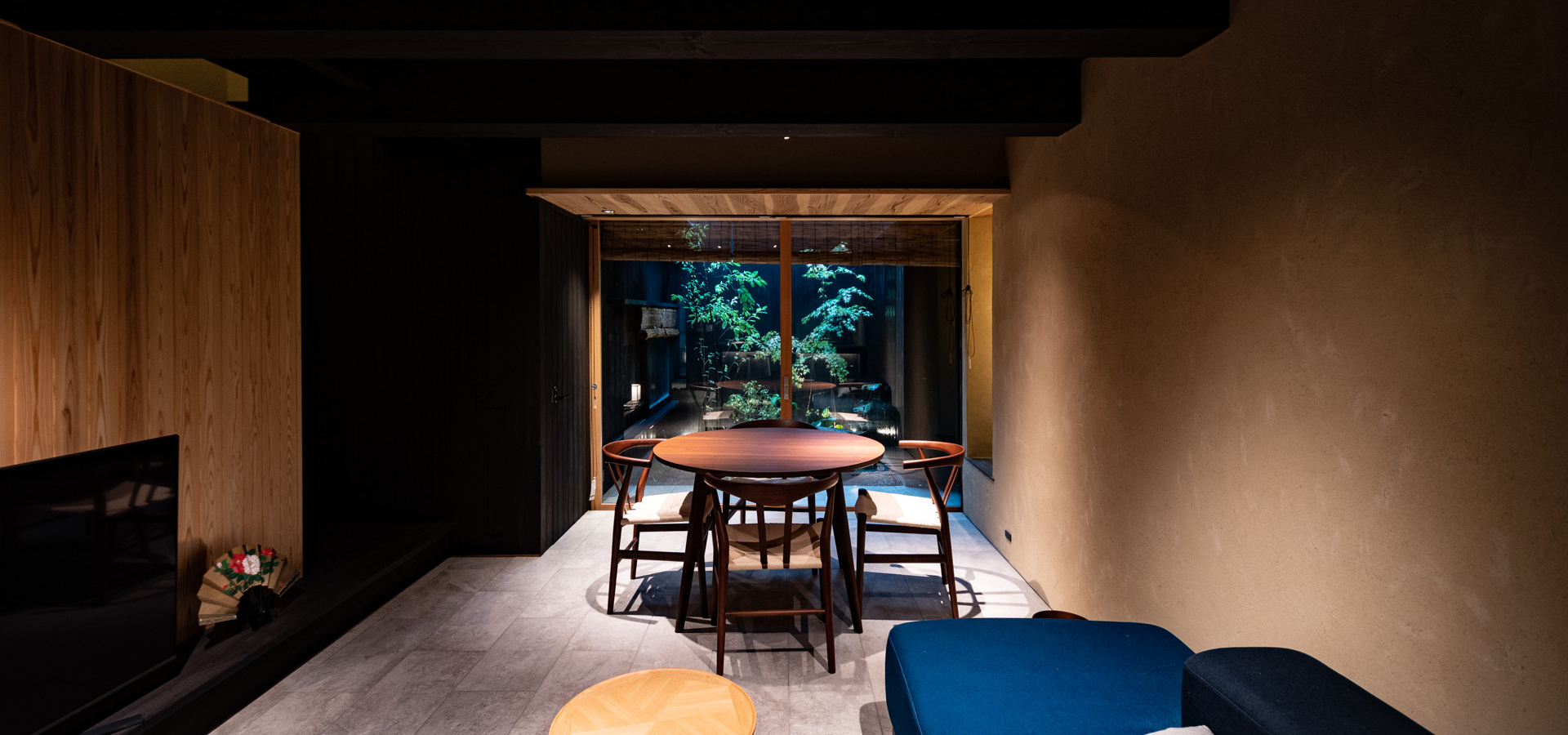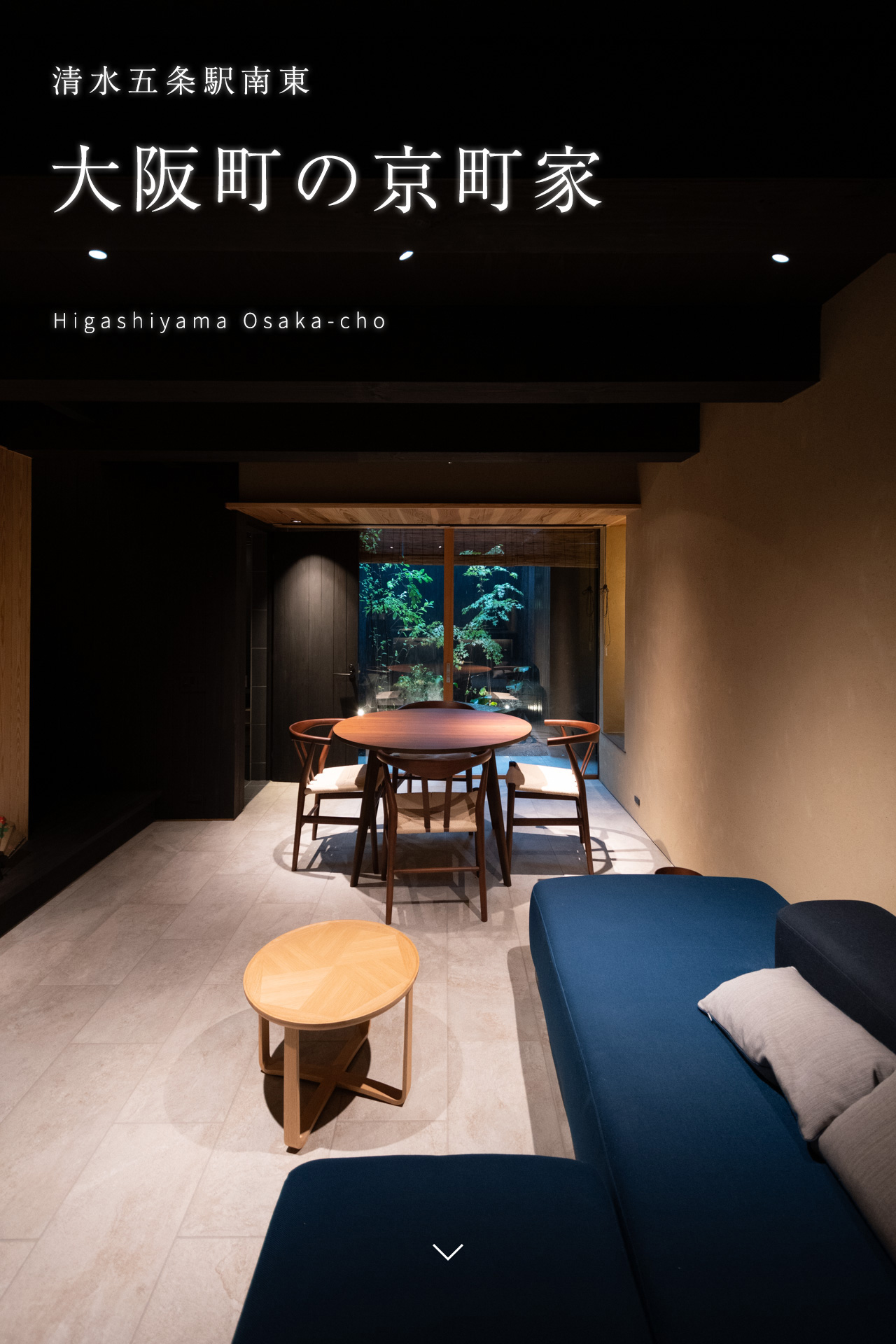 Chic Machiya near Kiyomizu-Gojo Sta.
approx. 3 min. walk from
Keihan "Kiyomizu-Gojo Sta." exit 2
A former guesthouse Machiya in Higashiyama Ward, one of Kyoto's most popular sightseeing destinations
Within walking distance to the Kiyomizu Temple area, which is like a theme park embodying Japanese "Wa" harmony. (about 10 minutes walk/780m to the entrance of Kiyomizu-zaka from the property).
The neighborhood is a quiet residential area in Higashiyama, not only dotted with unique stores but still alive with the traditional Kyoto lifestyle.
The property, which was formerly a guesthouse, has been stylishly renovated while retaining its authentic Kyomachiya atmosphere. The impressive facade with its deep and graceful exterior walls is reminiscent of Japanese "Sumi" ink, with typical "Koshi" lattice windows that border the Misenoma. The interior plaster walls beautifully express light and shadows, which go very well with Japanese ornaments and antiques. This property is finished in a way that allows you to enjoy both Japanese "Wa" harmony and the seasons of Kyoto.
This property can be used not only as a villa for sightseeing in Kyoto but also in the adjoining Shiga and Osaka prefecture. You may also consider started your guesthouse business in anticipation of the future revival of tourism. (*application of guesthouse license is needed before operation)
View of Kyoto city from Kiyomizu Temple, a classic sightseeing spot in Kyoto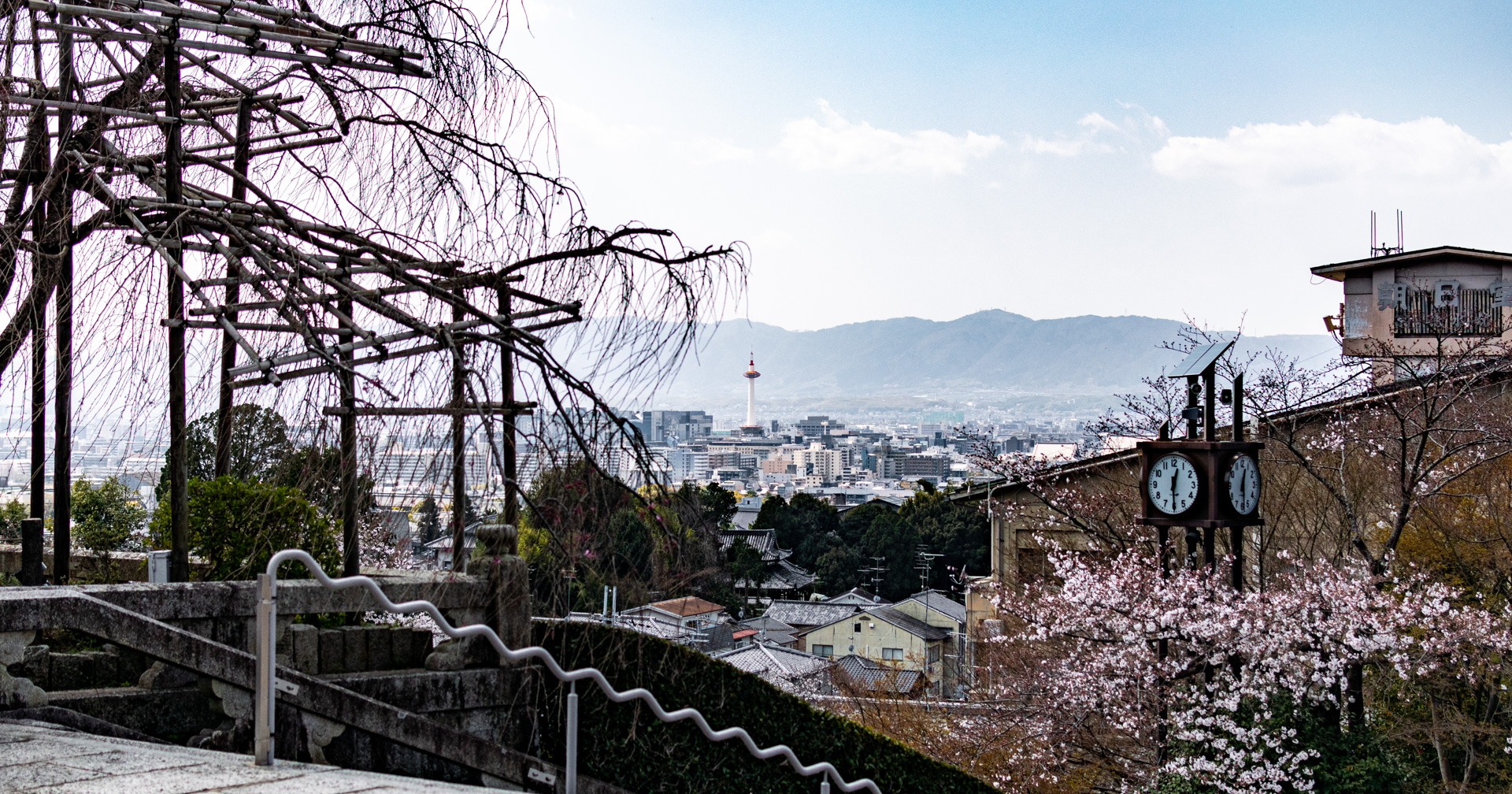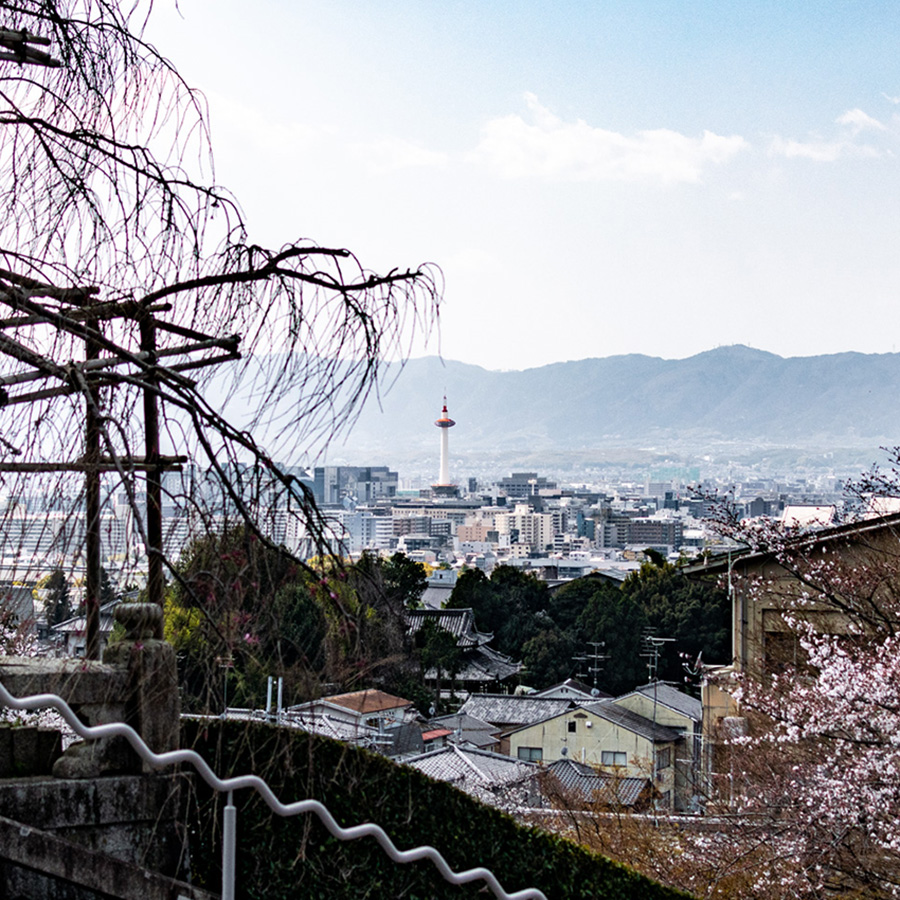 周辺地域
Area
Higashiyama is dotted with both traditional, long-established stores and innovative, unique shops. As you walk around, you may discover something new while still feeling the good old days of the Meiji and Showa eras with the unique Kyoto townscape. For the taste of good old Kyoto, traditional stores such as "Harise (traditional Kaiseki Japanese restaurant)", "Seifukudo (Uji tea shop)", "Shichijo-Kanshundo (traditional Japanese confectionery)", and "Goken Uiro Honten (traditional Japanese confectionery)" are highly recommended in the area.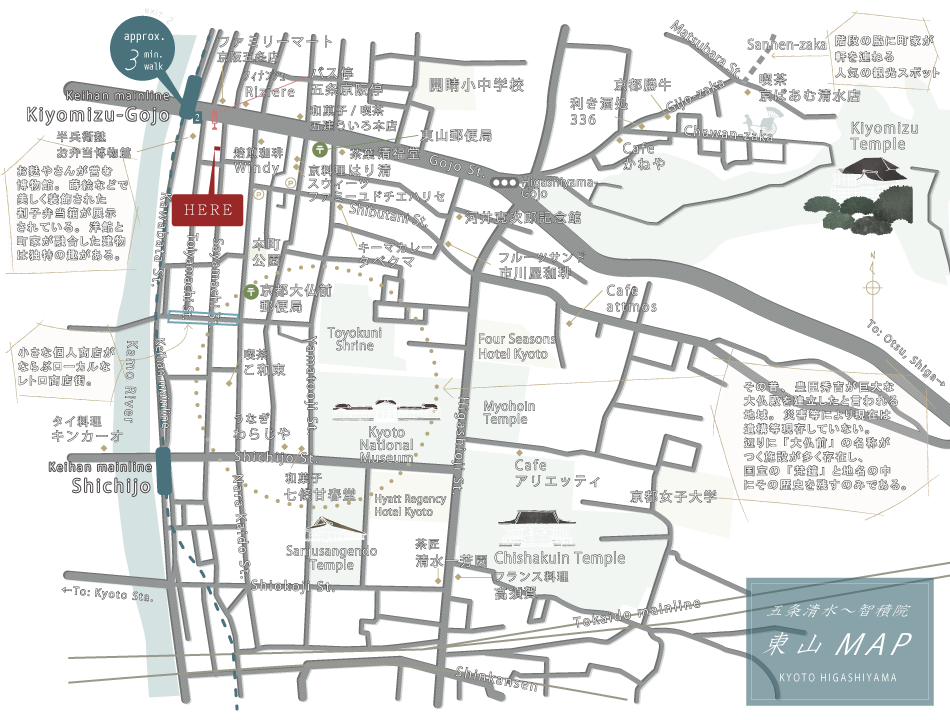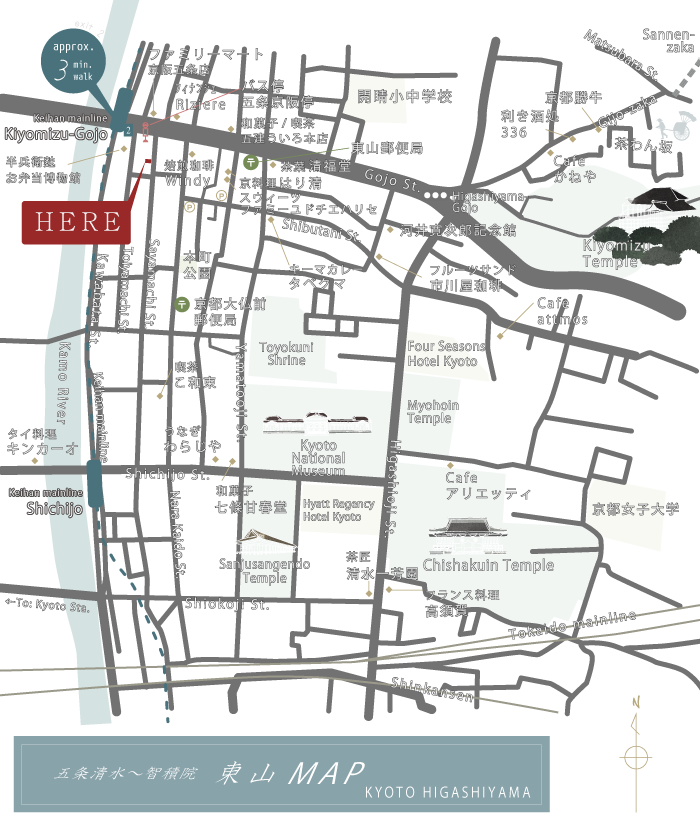 ・京料理 はり清(懐石)"Harise"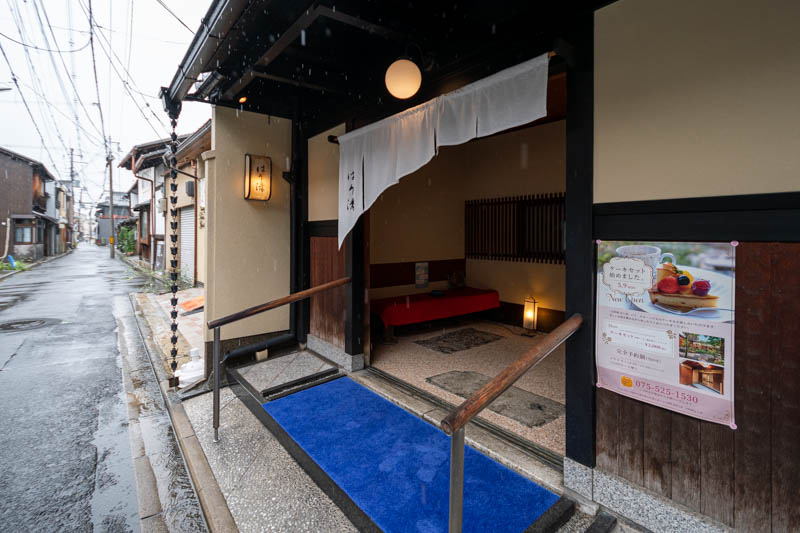 江戸時代より営業している、14代目の店長が切り盛りする歴史ある懐石料理店。メディアで取り上げられることも多く、知名度も高い。現在はお隣の『パティスリー ファミーユドゥチエハリセ』のスウィーツをお庭を眺めながらいただけるケーキセットがあります(完全予約制)
・キーマカレー タベクマ(テイクアウト)"Keema Curry Tabekuma"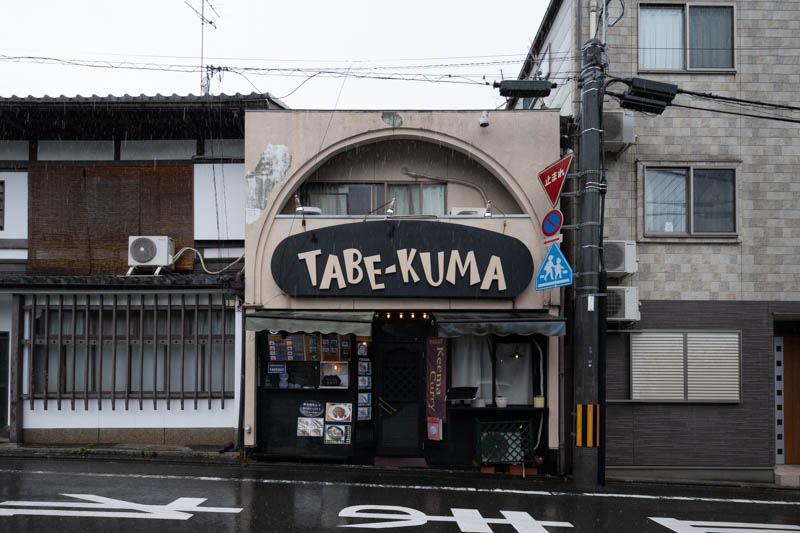 現在はイートインはなく、テイクアウトのみ。スパイシーで濃厚なキーマカレーが看板商品の人気店。女性用サイズもあり、小食な方も気軽にカレーのお弁当を買っていける。
・茶葉 清福堂(販売)"Seifukudo"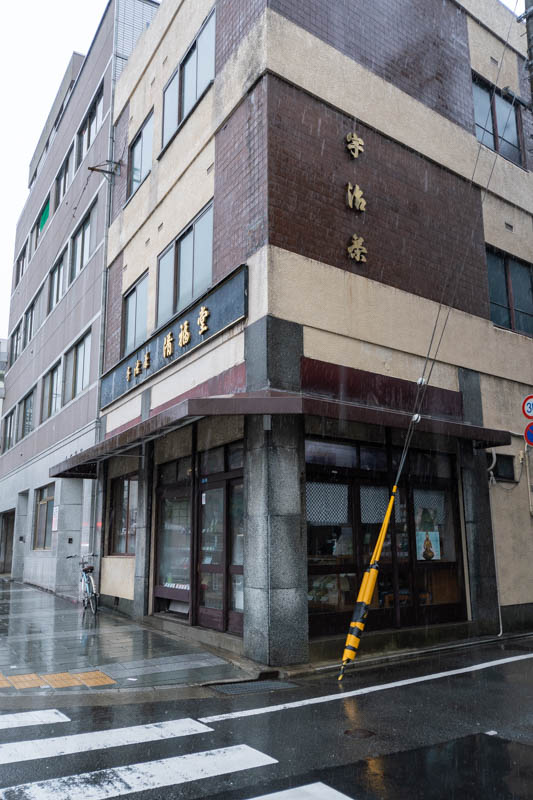 抹茶粉『グリーンティ』は自宅でお手軽に懐かしい喫茶店の抹茶ラテを味わうことができる。抹茶ラテにここの『グリーンティ』を使用している和カフェは多い。
・和菓子 五建ういろ本店(販売・ラウンジ)"Seifukudo"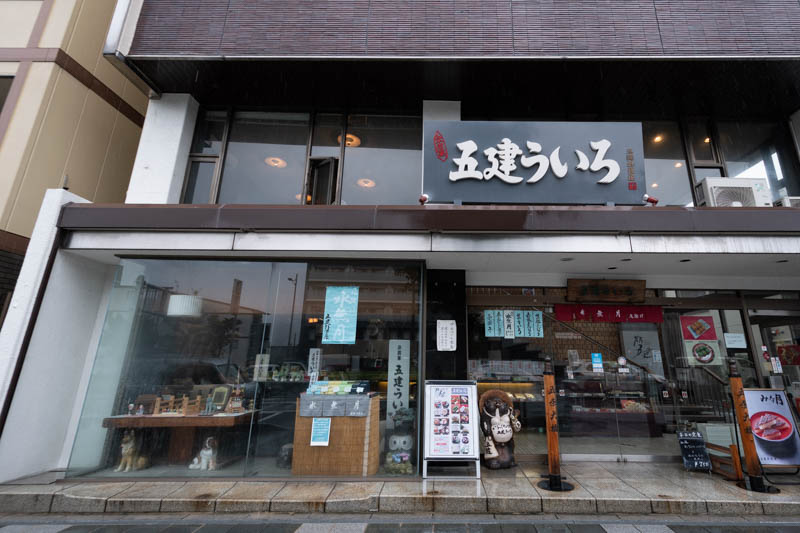 読み方は『ごけんういろ』1Fは和菓子の販売、吹き抜けから見える2Fには昭和レトロの趣をのこすラウンジ。ランチの日替わり定食は地域の住人にも愛されるメニューです。おだんご・水無月・ういろうはもちもち感が好きな人にはたまらない一品でお土産にもおすすめです。
間取り
Plan
The gentle indirect light and the plaster walls illuminated by the lamps softly light up the rooms, creating a calm interior that relaxes your body and mind. Because Kyomachiya was originally designed for summer when many traditional events are held, it is said to be cold in winter, but here you can live comfortably with the underfloor heating system installed in the Tatami room and the living-dining-kitchen.
In the "Misenoma" Tatami room, through the latticework, you can experience the chance of the seasons and the traffic on Sasamachi St. with all five senses, and enjoy a lifestyle that brings Kyoto culture close to you.
The bedrooms on the 2F have a sloped ceiling which creates a sense of openness. Each room is equipped with a shower booth and lavatory. The natural wooden beams that have supported the building have taken on a beauty of their own over time, and will surely provide a sense of healing to those who stay here.
The kitchen, despite being a former guesthouse, is equipped with two IH cooktops and has a spacious cooking area. You can also easily enjoy Kyoto's cuisine during your stay by using the catering or delivery services.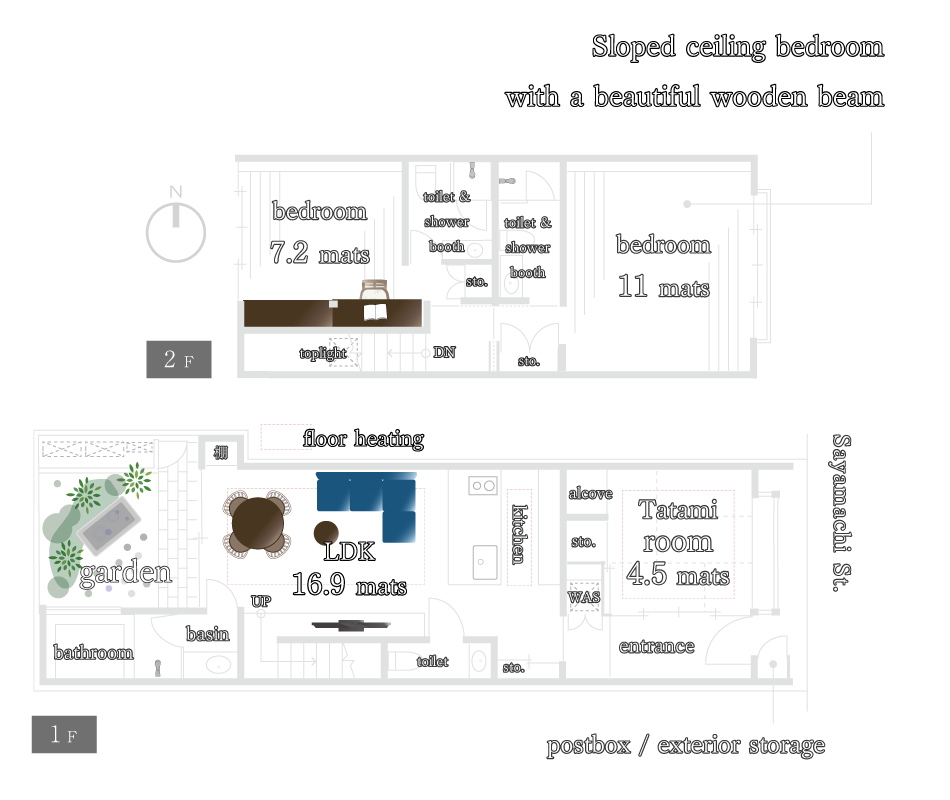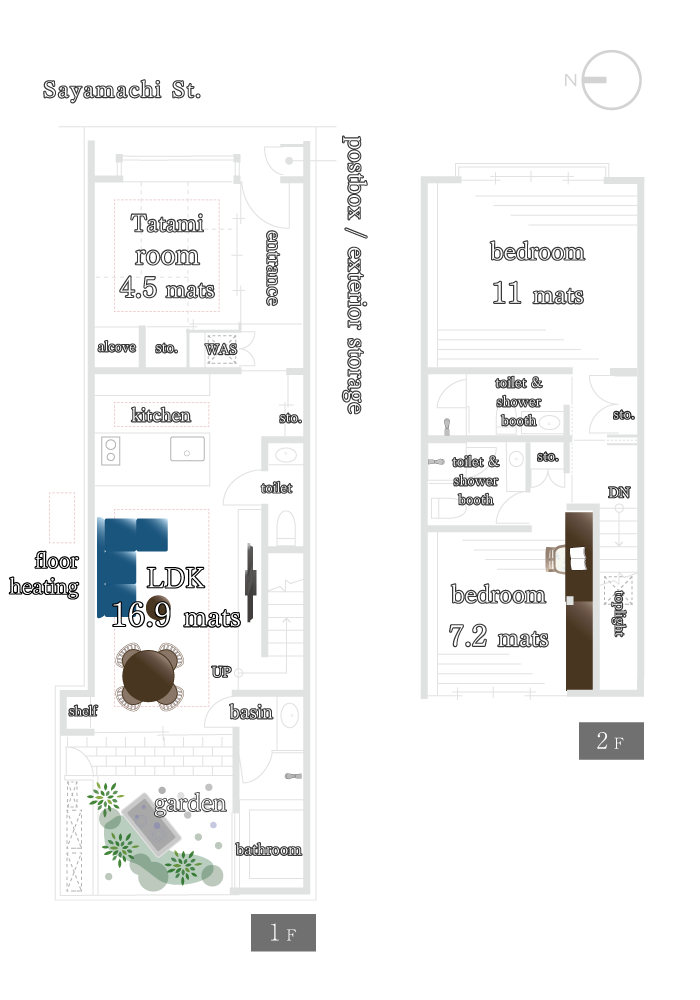 写 真
Photo
※Click thumnails to enlarge photos
バーチャル内覧
Virtual tour
Drag/Swipe the screen, or click the arrows on the screen to tour.
物件詳細
Details
Property Price

148,000,000 JPY

 (Approx. USD *1JPY= USD)
Type & Conditions
Used House (Kyomachiya)
Location
371-1 Sayamachidori-Gojosagaru-Nichome Osakacho, Higashiyama Ward, Kyoto
Transportations
Approx. 3 min. walk from Keihan Mainline "Kiyomizu-Gojo Sta." Exit 2
Approx. 2 min. walk from Keihan Bus "Kiyomizu-Keihan (Kiyomizu-Gojo Sta.) Stop"
Approx. 12 min. walk from Subway Karasuma-line "Gojo Sta." Exit 3
Land Area
【Registered】74.38sqm
【Actual】78.69sqm (approx. number)
Private Street Area Included
N/A
Floor Area
【Registered】1F: 56.13sqm, 2F: 47.8sqm, Total: 103.93sqm
【Actual/Tape measured】1F: 60.24sqm, 2F: 49.04sqm, Total: 109.28sqm (approx. number)
※Including unregistered area
Adjoining Street
Street width: 5.59m~5.63m (public street), Frontage: 4.6m, Direction: East (approx. number)
Building Structure
Two Storey Wooden House
Building Date
Unspecifiable (The earliest record in the closed registry is 1891)
Size
3 Rooms + Living-Dining-Kitchen + Garden
Public Utility
Electricity, Water Plumbing In/Out, City Gas
Land Use District
Neighborhood Commercial District
Legal Restrictions
15m / Category 3 Height Control District, Old Urban Type Aesthetic District, Close View Preservation Zone, Distant View Preservation Zone, Outdoor Advertisement Category 3 Regulatory District, Quasi-Fire Prevent District, Neighboring Area to Railways as stated in Advertisement Category regulation 11-1-6, Residence Attraction Area, Built-up Urban District
Handover
TBD
Current Situation
Vacant
Building Coverage Ratio
80%
Floor Area Ratio
300%
Land Category
Residential Land
Land Tenure
Title
Geographical Features
Flatland
City Planning Act
Urbanization Promotion Area
Notification According to National Land Utilization Law
Not Required
Renovations
【Fully renovated by former owner in Sept 2020】Replacement of water plumbing products of kitchen/bathroom/washbasin/toilet
Renewed floorings, tiles, wallpaper, Tatami pads for all rooms, etc.
Elementary & Junior High School
Kaisei Elementary and Junior High School (approx. 9 min. walk/690m)
Transaction Terms
Hachise as a Broker (Agent commission required when concluding contract)
Remarks
※This property has obtained simple lodging business license under the name of the operating company. Taking over the management company and operate as a guesthouse for 5 years are the condition of purchasing this property. (The management company is not the seller.)
※The property will be handed over as is.
※This property is currently used as a guesthouse.
Sales Representatives
(EN) Aya Kito/Boa Zhang
(JP) Hiroyasu Fukui
Information Updated

Dec 11, 2023

Information will be Updated

Dec 18, 2023