永観堂西側
黒壁の町家
Eikando West Charcoal-Walled Machiya
An imposing charcoal-wall Machiya on the west side of Eikando
that stands out within the tranquil residential neighborhood
Introducing this exceptional property that combines
the allure of a hidden gem with an open atmosphere
Plan
The layout flows seamlessly from the living room to the dining area which creates a sense of openness. The spacious kitchen is designed to inspire culinary lovers and can entertain numerous friends. The 2F offers a serene Japanese room for focused work and a spacious Western-style room suitable for both relaxation and rest. This space allows you to seamlessly switch between work and leisure.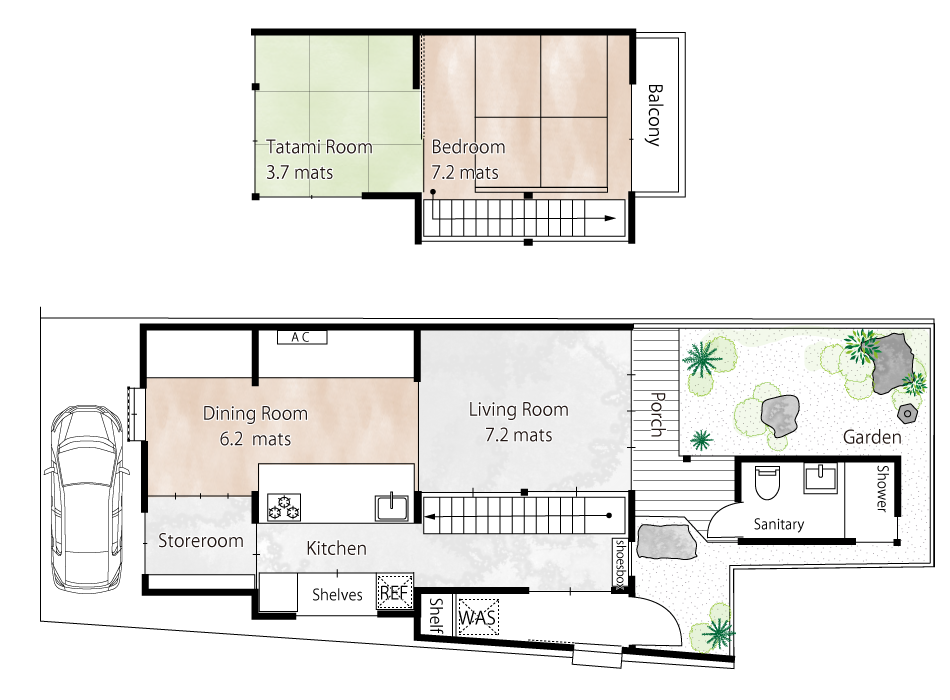 Location
Nearby is Eikando (Zenrinji) Temple, renowned as one of Kyoto's finest autumn foliage spots that attract numerous visitors during the fall season. Extending your exploration, you'll find a rich arts scene and a cultural hub in the Okazaki area. Walking north, you'll encounter the Philosopher's Path, adding to the array of quintessential Kyoto spots that surround this location.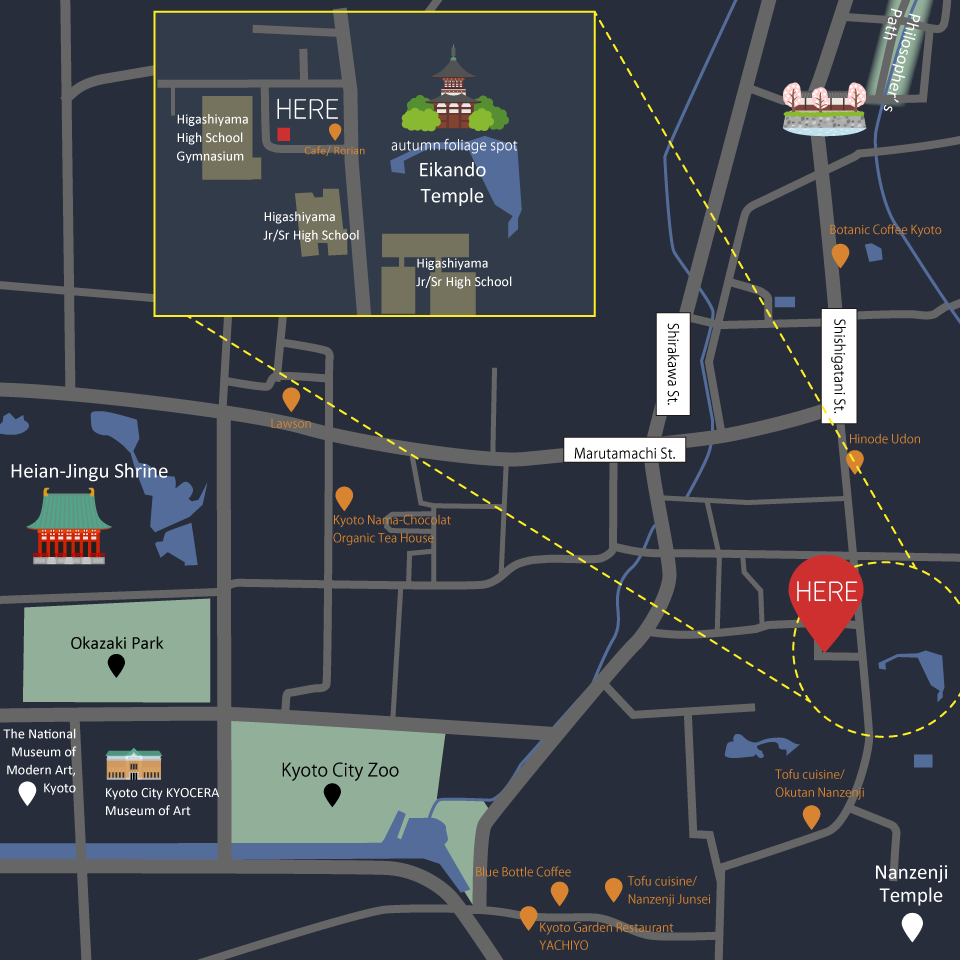 Virtual Tour
Drag/Swipe the screen, or click the arrows on the screen to tour.
Details
Property Price

128,000,000 JPY

 (Approx. USD *1JPY= USD)
Type & Conditions
Used House (Kyomachiya/One of 2-terraced houses)
Location
7-3 Nanzanji-Shimokawaracho, Sakyo Ward, Kyoto
Transportations
approx. 14 min. walk from Subway Tozai-line "Keage Sta." Exit 2
approx. 4 min. walk from Kyoto City Bus "Nanzenji Temple/Eikando Temple Stop"
Land Area
【Registered】82.64sqm
【Actual/Measured by surveyors】approx. 88.68sqm
Floor Area
【Registered】1F: 43.17sqm, 2F: 25.68sqm, Total: 68.85sqm
(Subsidiary building)toilet/single storey wooden house/3.37sqm
【Actual/Tape measured】1F: 59.33sqm, 2F: 20.57sqm, Total: 79.9sqm
(approx. number/including unregistered area)
Adjoining Street
Street width: 1.87~2.01m (2nd clause road), Frontage: 5.2m, Direction: West
Street width: 1.97~2.03m (2nd clause road), Frontage: 12.46m, Direction: South
(approx. number)
Private Street Area Included
N/A
Building Structure
Two Storey Wooden House
Building Date
Unspecifiable (The earliest record in the house evalutaion report is 1912)
Size
2 Rooms + Living-Dining-Kitchen + Garden
Public Utility
Electricity, Water Plumbing In/Out, City Gas
Renovations
Fully renovated in Feb 2022
Renewed water plumbing facilities (shower booth, kitchen, toilet, basin, etc.), Repaired and repainted exterior walls, Renewed fittins (exterior/interior), Interior refurbishment, Replaced flooring materials, Replaced Tatami pads, etc.
Land Use District
Category 1 Low-Rise Exclusive Residential District
Legal Restrictions
10m / Height Control District, Scenic District Category 3, Okazaki/Nanzenji Special Preservation and Improvement District, Preservation Area for Historic Landscape, Close View Preservation Zone, Distant View Preservation Zone, Prior Consultation Zone, Outdoor Advertisement Historical Heritage Category 2 Regulatory District, Residence Attraction Area, Preservation Zone, The minimum size of land area is regulated as 100sqm if divided.
Handover
TBD
Current Situation
Vacant
Building Coverage Ratio
40%
Floor Area Ratio
60%
Land Category
Residential Land
Land Tenure
Title
Geographical Features
Flatland
City Planning Act
Urbanization Promotion Area
Notification According to National Land Utilization Law
Not Required
Elementary School
Daisan Kinrin Elementary School (approx. 16 min. walk/1270m)
Junior High School
Okazaki Junior High School (approx. 8 min. walk/600m)
Transaction Terms
Hachise as a Broker (Agent commission required when concluding contract)
Remarks
※approx. 11.43sqm setback
※Furniture shown in photos is not included in the property price.
※This property is not available for guest house and inn.
※The seller is not liable for any defects.
※The property will be handed over as is.
Sales Representative
Boa Zhang
Information Updated

Dec 11, 2023

Information will be Updated

Dec 18, 2023