Oriyadate High Ceiling Kyomachiya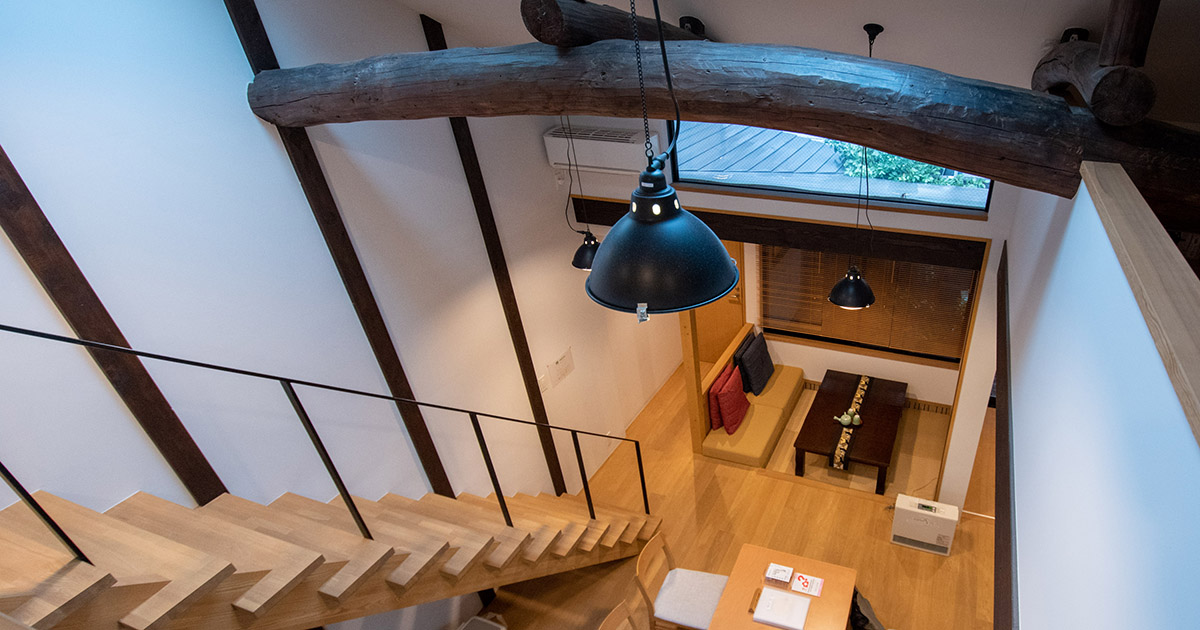 House with a pleasant atrium utilizing the structure of a Kyomachiya Townhouse
This property is located in the northern part of Nishijin, where Kyoto's unique culture remains. The structure of the "Oriyadate" Machiya, a form of Machiya unique to Nishijin where weaving flourished, is utilized in this renovated Machiya. Retaining the original space of a Kyomachiya, there is a large atrium in the living room, connecting the Mise and the Misenoma, and a flow line leading to a Tsuboniwa garden. The house is being operated as an inn and is being used beautifully. You can start to live in it immediately.
PLAN
The exterior retains the Degoshi lattice with an authentic atmosphere of a traditional Machiya. The front Tatami room is separated from the living space and is intended to be used as a guest room, classroom, or office. The living room has a high atrium, a characteristic of the Oriyadate style, and is a pleasant space with sunlight pouring in through a large skylight. Using natural materials that can be enjoyed as they age, this is a house where the residents can create their own lives together with the house. Another feature of the building is its simple design, which gives a different impression depending on what is placed or decorated.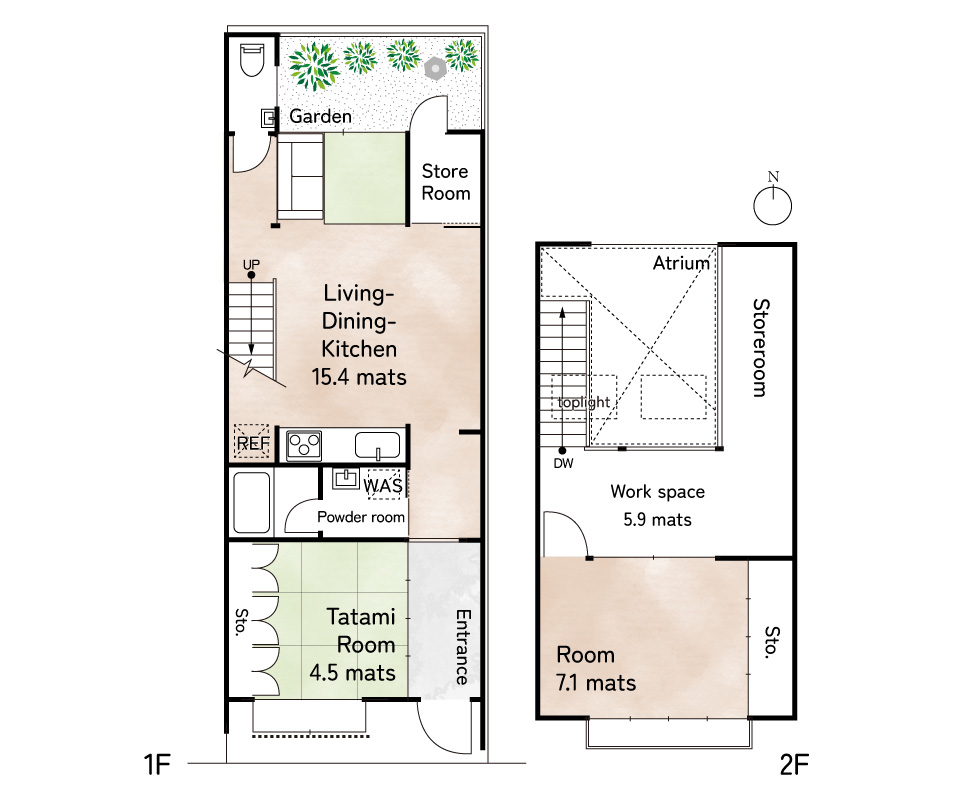 VIRTUAL TOUR
Drag/Swipe the screen, or click the arrows on the screen to tour.
DETAILS
Property Price

39,800,000 JPY

 (Approx. USD *1JPY= USD)
Type & Conditions
Used house (Kyo-machiya/One of 2 terraced houses)
Location
35-1 Murasakino-Kamikashiwanocho, Kita Ward, Kyoto
Transportations
Approx. 7 min. walk from Kyoto City Bus "Kenryukomae Stop"
Approx. 19 min. walk from Keifuku Electric Railroad Kitano-line "Kitano-Hakubaicho Sta."
Land Area
【Registered】67.37sqm
Private Street Area Included
8.08sqm (no. 35-18)
Floor Area
【Registered】1F: 23.93sqm, 2F: 22.67sqm, Total: 46.6sqm
(Subsidiary Building) Mill/Single Storey Wooden House/19.17sqm
【Actual/Tape measured】1F: 52.03sqm, 2F: 22.38sqm , Total: 74.41sqm (approx. number)
※Including unregistered area
Building Structure
Two Storey Wooden House
Building Date
Unspecifiable (The earliest record in the closed registry is 1931)
Size
2 Rooms + Living-Dining-Kitchen + 2 Storeroom + Garden
Adjoining Street
Street width: 3.40m, Frontage: 4.90m, Direction: South (approx. number)
Public Utility
Electricity, Water Plumbing In/Out, City Gas
Land Use District
Quasi-Industrial District
Legal Restrictions
15m / Category 3 Height Control District, Quasi-Fire Prevent District, Old Urban Type Aesthetic District, Prior Consultation Zone, Distant View Presentation Zone, Outdoor Advertisement Category 3 Regulatory District, Nishijin Special Industrial District, Residence Attraction Area, Designated Area based on the Kyomachiya Ordinance, Established Urban Area
Handover
TBD
Current Situation
In operation as a lodging facility
Building Coverage Ratio
60%
Floor Area Ratio
200%
Land Category
Residential Land
Geographical Features
Flatland
Land Tenure
Title
Notification According to National Land Utilization Law
Not Required
Elementary School
Kashiwano Elementary School (approx. 3 min. walk/250m)
Junior High School
Kinugasa Junior High School (approx. 17 min. walk/1300m)
City Planning Act
Urbanization Promotion Area
Renovations
Fully renovated by Hachise in Oct 2016
Replaced water plumbing facilities (bathroom, kitchen, toilet, washbasin, etc.), Repaired and repainted exterior walls, Replaced fittings (exterior/interior), Interior refurbishment, Replaced flooring materials, Gardening, etc.
Remarks
※Approx. 1.47sqm setback.
※This property has obtained Kyo-machiya Karte
※Furniture is included in the property price. (Buyer will be responsible for any fee in removing the furniture or equipment)
※New owner needs to renew inn business licenses before continuing the operation as a lodging facility.
※The seller is not liable for any defects.
※The property will be handed over as is.
※Prior reservation is required before viewing as the property is currently in operation as an inn.
Transaction Terms
Hachise as a Broker (Agent commission required when concluding contract)
Sales Representative
Aya Kito
Information Updated

Dec 11, 2023

Information will be Updated

Dec 18, 2023