Villa at the Foothills of Narabigaoka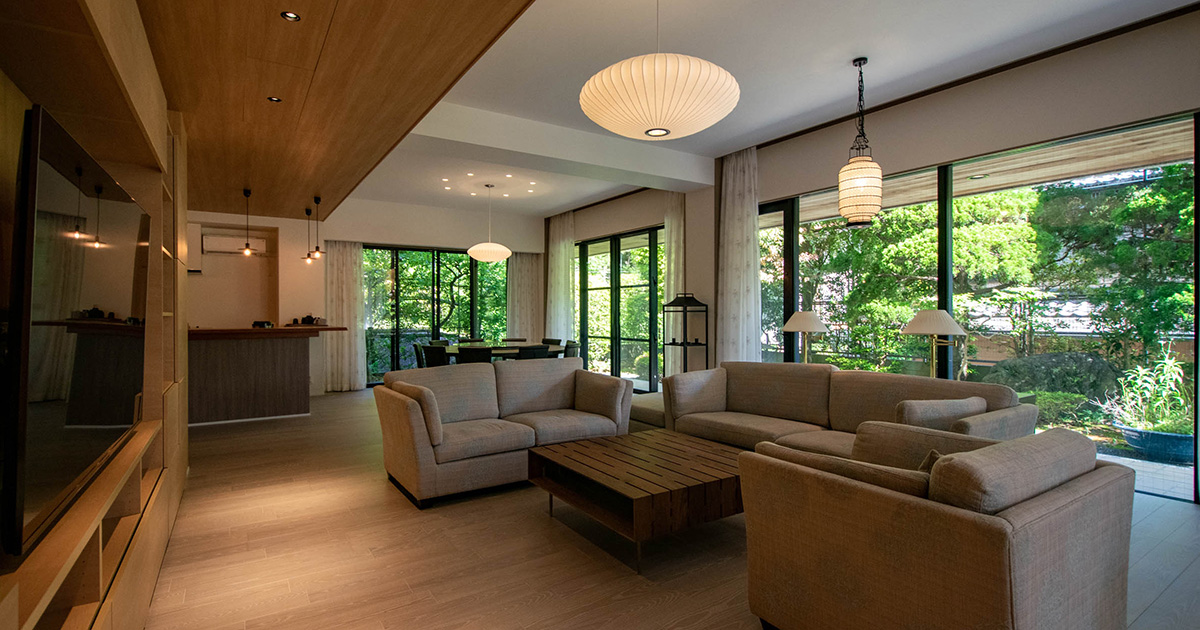 a luxurious lifestyle surrounded by history and nature at the foothills of Narabigaoka
The picturesque stone garden at Ryoanji Temple, the UNESCO World Heritage Site Ninnaji Temple, and Myoshinji Temple, the largest Zen temple with 46 sub-temples...All of these renowned historical landmarks are nestled within the Ukyo Ward of Kyoto City, particularly in the enchanting area of Omuro.
The property we are introducing this time is an elegant mansion situated in the southern Omuro area at the foothills of Narabigaoka.
Narabigaoka has been used as an imperial hunting ground since the early Heian period and has served as a mountain retreat for high-ranking nobles. It has long been renowned for its scenic beauty and elegant atmosphere.
Surrounded by numerous historical landmarks and immersed in rich culture, the location also offers convenient access to JR Hanazono Station, which is approx. an 11-minute walk away, providing easy transportation to the city center.
AREA
In addition to the historical temples such as Ryoanji, Ninnaji, and Myoshinji, the Omomu area boasts beautiful landscapes and a rich natural environment.
This property is situated on the western foothills of Narabigaoka, designated as a national scenic spot.
There is a well-maintained walking trail that stretches from the eastern to the southern foothills of Narabigaoka, allowing for leisurely hikes and opportunities to immerse oneself in the beauty of the changing seasons. It provides a peaceful retreat for relaxation and rejuvenation of the mind and body.
Apart from the surrounding greenery, there are also supermarkets, drugstores, and bookstores within walking distance (approx. 10 min. walk/800m), making daily shopping convenient.
Furthermore, the nearest train station, Hanazono Station of JR Sanin mainline, is about an 11-minute walk to the southeast of the property. With a travel time of about 14 min. to Kyoto Station, it offers smooth access to both the city and beyond.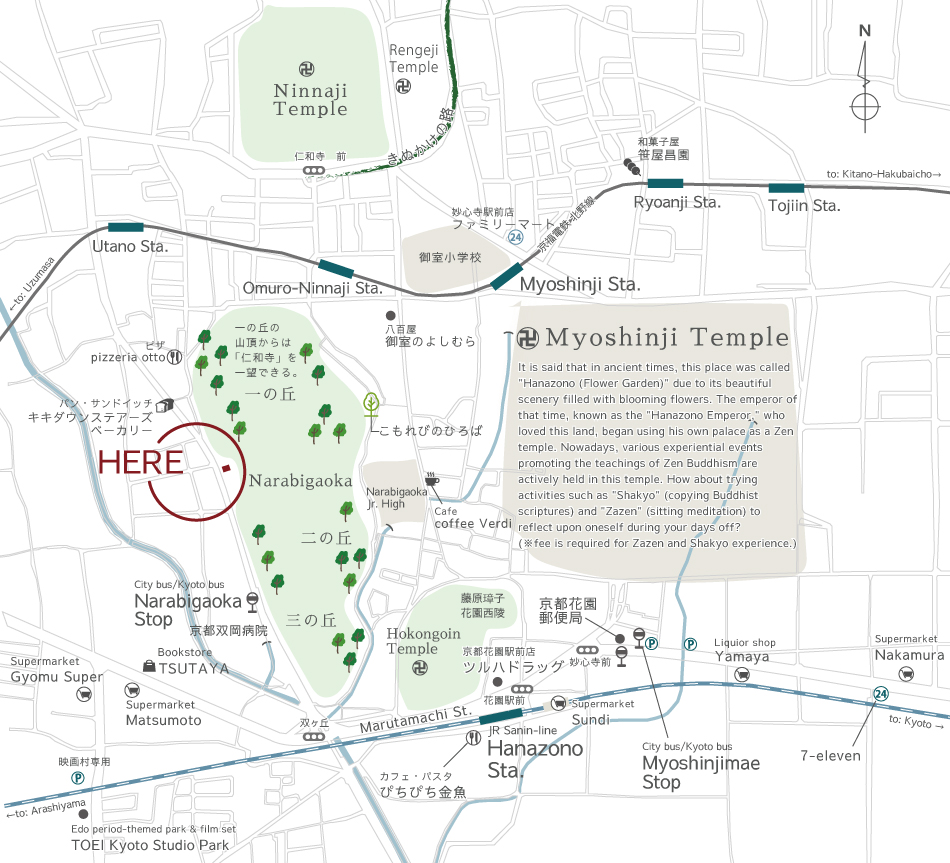 PLAN
The property underwent exterior and interior renovations in 2020, resulting in a remarkably well-maintained appearance that defies its construction date in 1984.
With generous land utilization, the residence features 11 bedrooms, 2 living areas, and 1 dining area, providing ample space for a comfortable and relaxed lifestyle.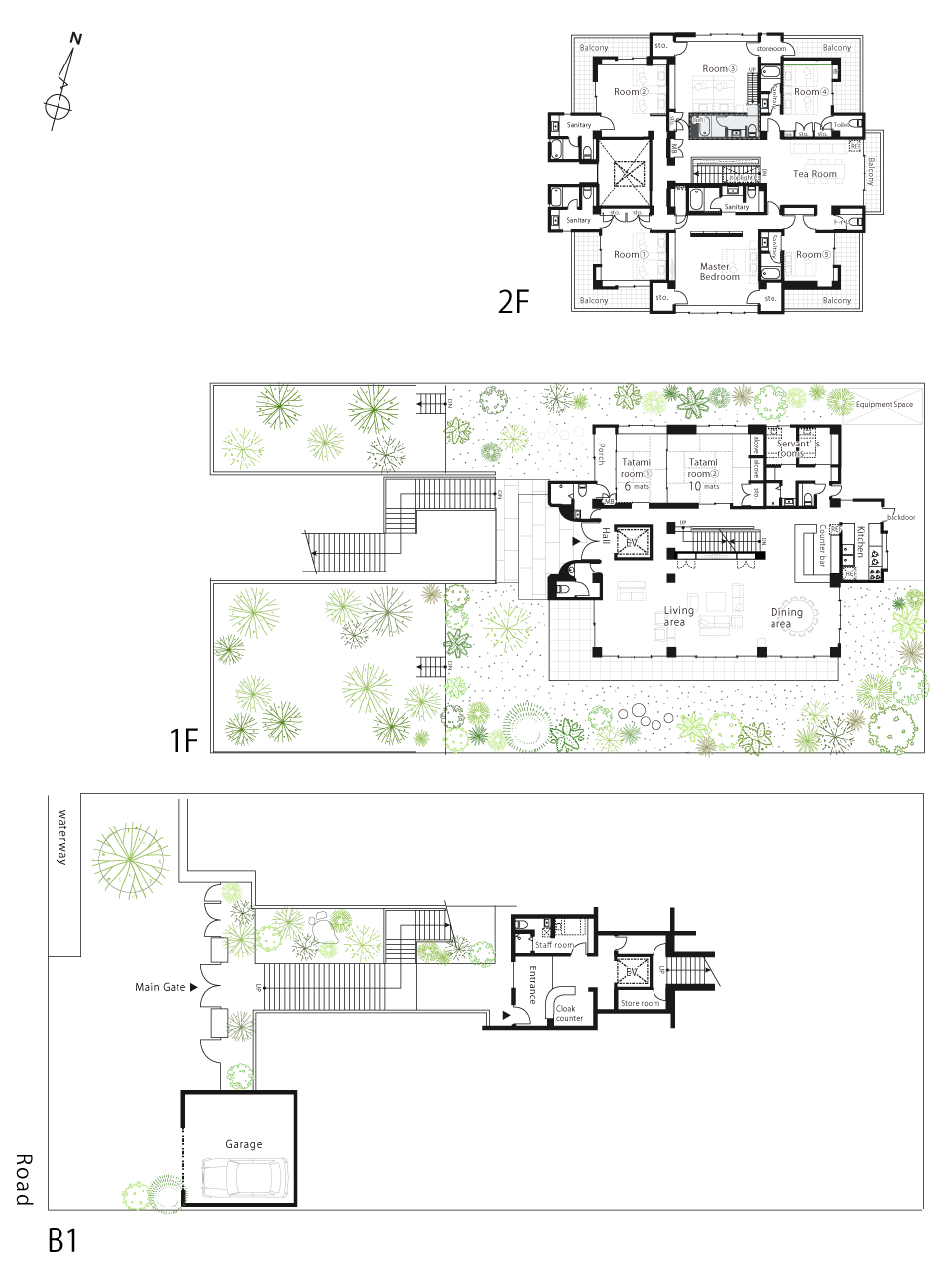 DETAILS
Property Price

600,000,000 JPY

 (Approx. USD *1JPY= USD)
Type & Conditions
Used House
Location
48-5, 48-8 Omuro-Okanosusocho, Ukyo Ward, Kyoto
Transportations
approx. 11 min. walk from JR Sanin-line "Hanazono Sta."
approx. 8 min. walk from Keifuku Electic Railroad Kitano-line "Utano Sta."
Land Area
【Registered】1141.23sqm
Private Street Area Included
N/A
Floor Area
【Registered】1F: 234.28sqm, 2F: 251.88sqm, B1 basement: 53.40sqm, Total: 539.56
(Subsidary building)Garage: 49.17sqm
Adjoining Street
Street width: 10m, Frontage: 23.52m, Direction: West (approx. number)
Building Structure
Two Storey Reinforced Concrete House with Basement
Building Date
Oct 1984
Legal Restrictions
10m / Height Control District, Scenic District Category 1, Narabigaoka Special Preservation and Improvement District, Preservation Area for Historic Landscape, Distant View Presentation Zone, Outdoor Advertisement Category 1 Regulatory District, Residence Attraction Area, Housing Land Development Construction Regulated Area, Preservation Zone, The minimum size of land area is regulated as 100sqm if divided
Size
11 Rooms + Living-Dining-Kitchen + Kitchen + Basement storeroom
Public Utility
Electricity, Water Plumbing In/Out, City Gas, Elevator
Land Use District
Category 1 Low-Rise Exclusive Residential District
Handover
Immediately
Current Situation
Vacant
Building Coverage Ratio
30%(According to Land Use District)・20%(According to Scenic District)
Floor Area Ratio
50%
Land Category
Residential Land (Partly Forestry Land)
Land Tenure
Title
Geographical Features
Flatland
City Planning Act
Urbanization Promotion Area
Notification According to National Land Utilization Law
Required
Elementary School
Utano Elementary School (approx. 12 min. walk/1km)
Junior High School
Narabigaoka Junior High School (approx. 12 min. walk/960m)
Transaction Terms
Hachise as a Broker (Agent commission required when concluding contract)
Remarks
※Furniture is not included in the property price.
※The property will be handed over as is.
※This property is regulated by the escarpment regulations due to the difference in elevation of the site.
 
※Fully renovated by owner in Dec 2020
(Renovation works done: Repainted exterior walls, Interior refurbishment, Replaced fittings (exterior/interior), Renewed water plumbing products (bathroom, kitchen, toilet, basin, etc.), Gardening, etc.)
Sales Represetative
Boa Zhang
Information Updated

Dec 11, 2023

Information will be Updated

Dec 18, 2023