location
This property is located in Kyoto's famous Kamishichiken area, at the foot of the Kitano Tenmangu Shrine, affectionately known as "Tenjin-san". The typical Kyoto-like historic location is not only a sightseeing spot favored by tourists, but also a place where you can feel the local life.
The building is built on a neat corner with plenty of attractions nearby, from popular shops to famous hidden treasures known only to those in the know, making it a perfect location for opening all manner of businesses including cafes, restaurants and guest accommodation.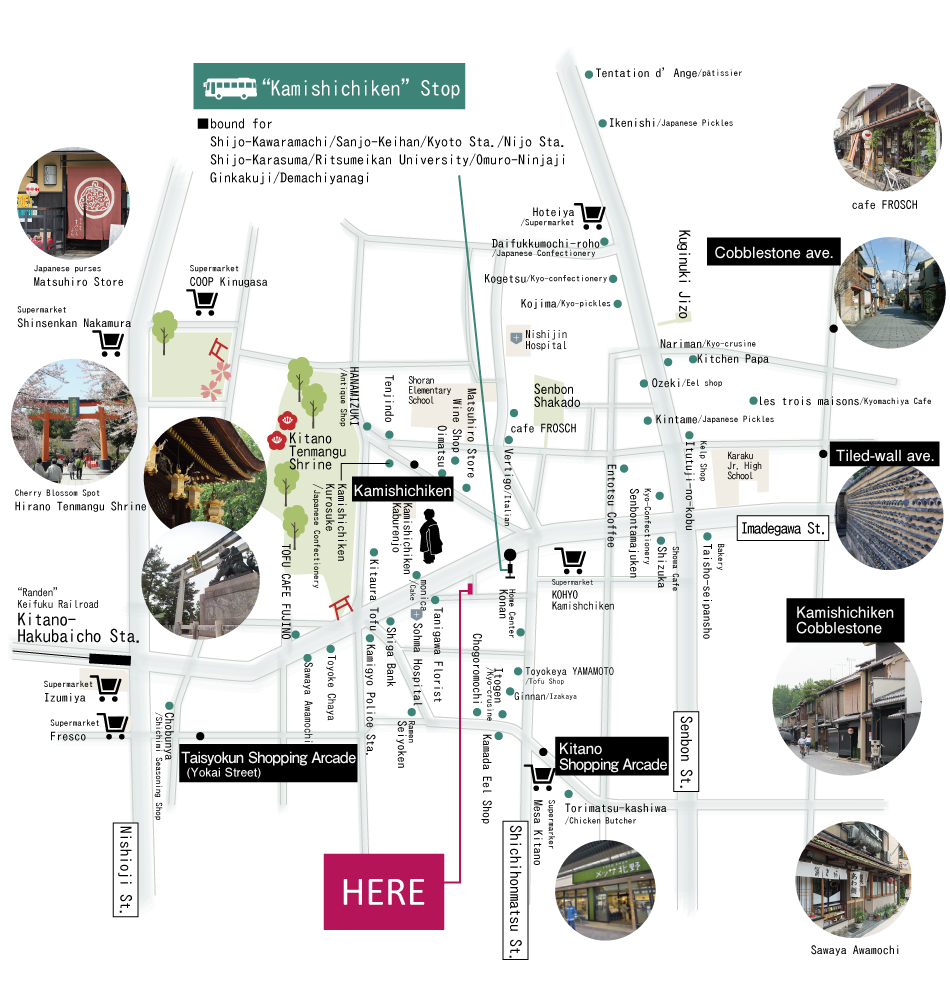 features
All plumbing & electrics have been refurbished for safer use. The owner completely renovated with particular attention to repairing or replacing any worn out parts, while keeping as much of the original features such as characteristic clay walls lined with century old newspapers, wooden doors, and original granite stones in the earthen floor amongst others.
Clay wall from the Meiji era

The clay walls of the cafe are preserved in a way that allows you to see the newspaper lining the walls dated from 100 years ago. Not something you usually see every day.

Stained glass

An elaborate use of British stained glass. The Art Deco design with its geometric and symbolic expression is simple yet sophisticated and elegant, and a perfect match with the Kyoto's Machiya design.

Antique furniture

Most of the cafe interior has vintage furniture imported from Australia. This is a space where you can enjoy the "aged beauty" with a clever mixture of Japanese and Western styles. (Furniture may be included in the sale by negotiation)

Bookshelf at the Hibukuro

Originally, a Hibukuro was a stairwell space that allowed the heat and smoke from cooking to escape. The boldly arranged bookshelves are filled with a wide variety of books lovingly collected over time by the owner. (Books may be included in the sale by negotiation)
plan
This building style is known as "Tsushinikai" among the Kyo-machiyas, which were usually built during the Edo period and the Meiji era, characterized by its low road facing roof. Although the ceiling on the 2F looks low when viewed from the front, its height is still capable as a living space by removing the ceiling board.

This property is perfect for combining work and living, comprising 3 different functions: catering (cafe), a lodging facility, and a spacious, private residence.
Being a much sought-after corner building, which faces to both the south and the east, natural light and fresh air flood every area of the house.

Certainly, this is a perfect choice for those who want to open a restaurant by themselves. In addition, you may also consider not only renting out part of the building for added income, utilizing the remainder of the property as your own residence, second house, or office, but also using the entire building as a two/three generational house complete with a large professional kitchen. This is a rare property where flexible utilization can be considered depending on your various needs.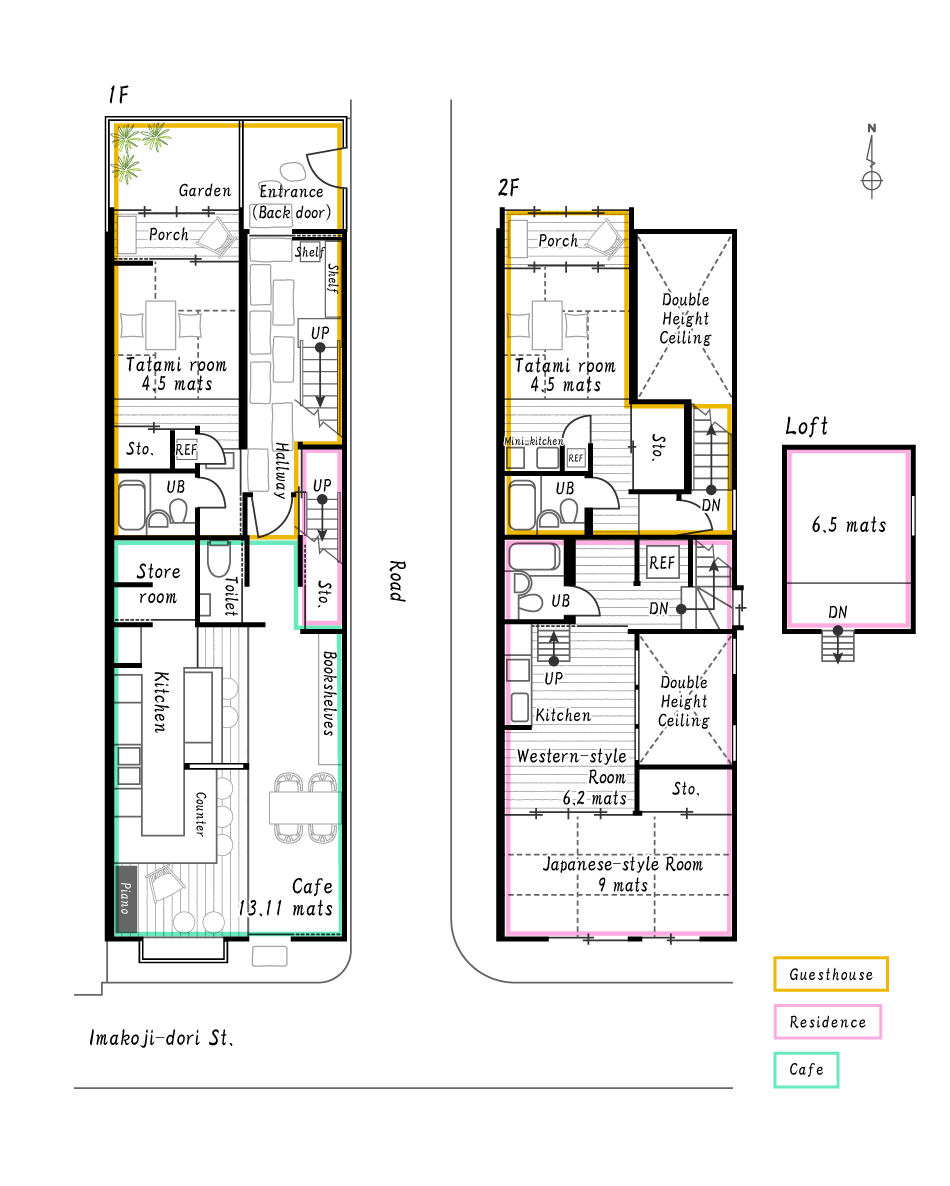 virtual tour
Drag/Swipe the screen, or click the arrows on the screen to tour.
details
Property Price

80,000,000 JPY

 (Approx. USD *1JPY= USD)

*Jan 27, Under Offer

Type & Conditions
Used House (Kyo-machiya / One of 2 Terraced Houses)
Location
758-2 Imakojidori Shichihonmatsu-nishiiru Higashiimakojicho, Kamigyo Ward, Kyoto
Location
Approx. 9 min. walk from Keifuku Electric Railroad "Kitanohakubaicho Sta."
Approx. 2 min. walk from Kyoto City Bus "Kamishichiken Stop"
Land Area
[Registered] 97.77sqm
Private Street Area Included
N/A
Floor Area
[Registered]1F: 77.99sqm, 2F: 56.67sqm Total: 134.66sqm
Floor Area
[Actual]
1F: 78.92sqm 2F: 62.71sqm
Loft: 10.53sqm
Total: 152.16sqm
(approx. number)
Building Date
1898
Building Structure
[Actual] Two Storey Wooden House
Size
3 Rooms + Kitchen + Cafe Area + Loft + Garden
Adjoining Street
Street width: 7.02m~7.01m, Frontage: 5.33m, Direction: South
Street width: 4.41m, Frontage: 18.47m, Direction: East (Private street)
(approx. number)
Public Utility
Electricity, Water Plumbing In/Out, City Gas
Renovations
Renovated in July 2016
Renovation works done: Replacement of all plumbing products (Bathroom, Kitchen, Toilet, Basin, etc.), Repairement and repainted exterior walls, Replacement of fittings (exterior & interior), Interior renovations, Replacement of flooring materials and tatami pads, etc.
Remarks
※The seller is not liable for any defects.
※Corner cut-off of the lot is required when rebuilding on this land.
※License in the Inns and Hotels Act has been obtained.
※New owner needs to renew Inn business licenses before operation.
※Furnitures and appliances are negotiable.
※Advanced reservation is required before viewing as property is currently in residence.
Land Use District
Quasi-Industrial District, Neighborhood Commercial District
Legal Restrictions
[Quasi-Industrial District] 15m / Category 3 Height Control District, Quasi-Fire Prevent District, Old Urban Type Aesthetic District, Close/Distant View Preservation Zone, Prior Consultation Zone, Outdoor Advertisement Category 3 Regulatory District, Nishijin Special Industrial Disctrict, Residence Attraction Area, Built-up Urban District
[Neighborhood Commercial District] 20m / Category 4 Height Control District, Quasi-Fire Prevent District, Roadside Aesthetic Formation District, Close/Distant View Preservation Zone, Prior Consultation Zone, Outdoor Advertisement Category Roadside 3 Regulatory District, Residence Attraction Area, Built-up Urban District
Building Coverage Ratio
[Quasi-Industrial District] 60% [Neighborhood Commercial District] 80%
※10% corner lot mitigation applied
Floor Area Ratio
[Quasi-Industrial District] 200% [Neighborhood Commercial District]300%
Land Category
Residential Land
Land Tenure
Title
Geographical Features
Flatland
Handover
TBD
Current Situation
In Residence
City Planning Act
Urbanization Promotion Area
Elementary School
Shoran Elementary School (approx. 5min walk/400m)
Junior High School
Kinugasa Junior High School (approx. 24min walk/1.9km)
Notification According to National Land Utilization Law
Not Required
Transaction Terms
Hachise as a Broker (Agent commission required when concluding contract)
Sales Representative
Aya Kito
Information Updated

Jan 23, 2023

Information will be Updated

Jan 30, 2023