Hirano, a quiet residential area at the foot of Mt. Kinugasa in Kita Ward
The lush green trail "Kinukake-no-Michi" that runs through Mt. Kinugasa is ideal for strolling around, and is lined with famous ancient temples such as Kinkakuji Temple (the Golden Pavilion), Ryoanji Temple, and Tojiin Temple.
* Approximately 6 minutes on foot/470m from this property to Kinkakuji Temple.
Along Nishioji St., there are drug stores, supermarkets, restaurants, etc.; and if you visit Kitano Hakubaicho Station, you will find the Izumiya Kitano Hakubaicho store (supermarket) and various banks. Living facilities convenient for daily life are all gathered here.
Ritsumeikan University (Kinugasa Campus) and Bukkyo University (Murasakino Campus) are also located in this area, making it a busy area for both tourists and students.
Since there are many small paths around the property, you may come across with new discoveries every time you turn around and get lost here!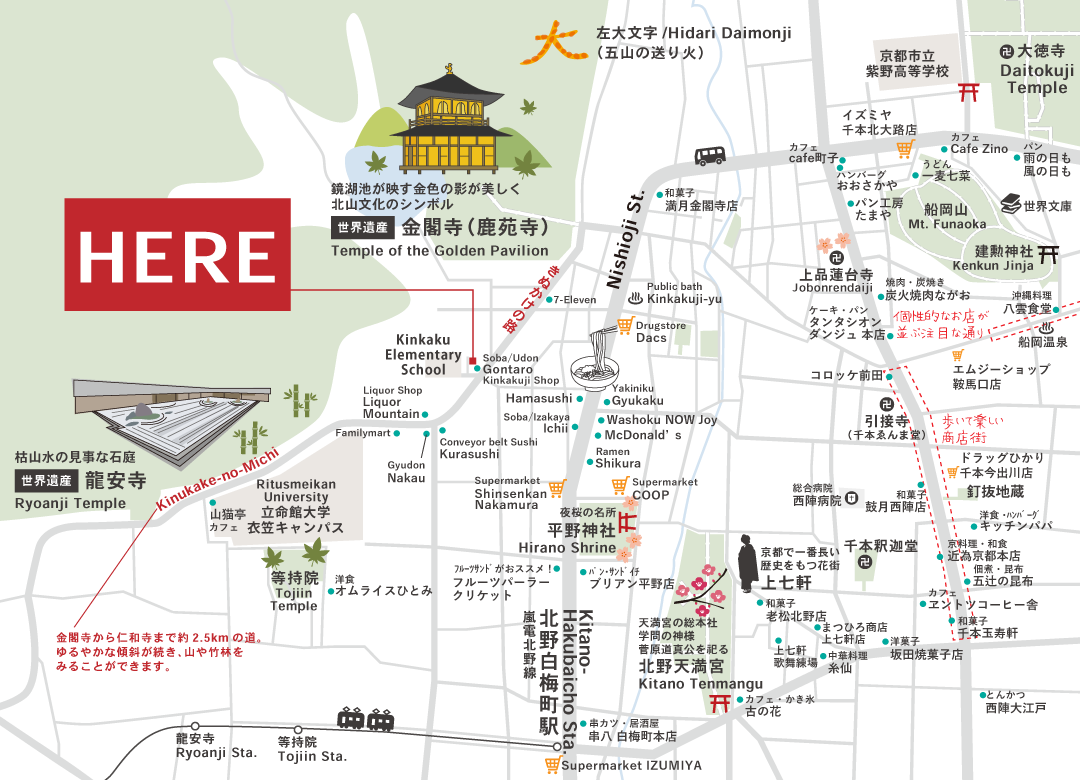 Main stopovers: Kyoto Station, Shijo-Karasuma, Shijo-Kawaramachi, Sanjo-Keihan, Kitaoji Bus Terminal, Ritsumeikan University, etc.
Timetable for this bus stop (external link to Kyoto City Bus website)
plan
This property is built on a relatively spacious lot, and the floor plan is easy to use with a total number of 5 rooms and a dining kitchen.
Perfect for those who are considering renovation after purchase!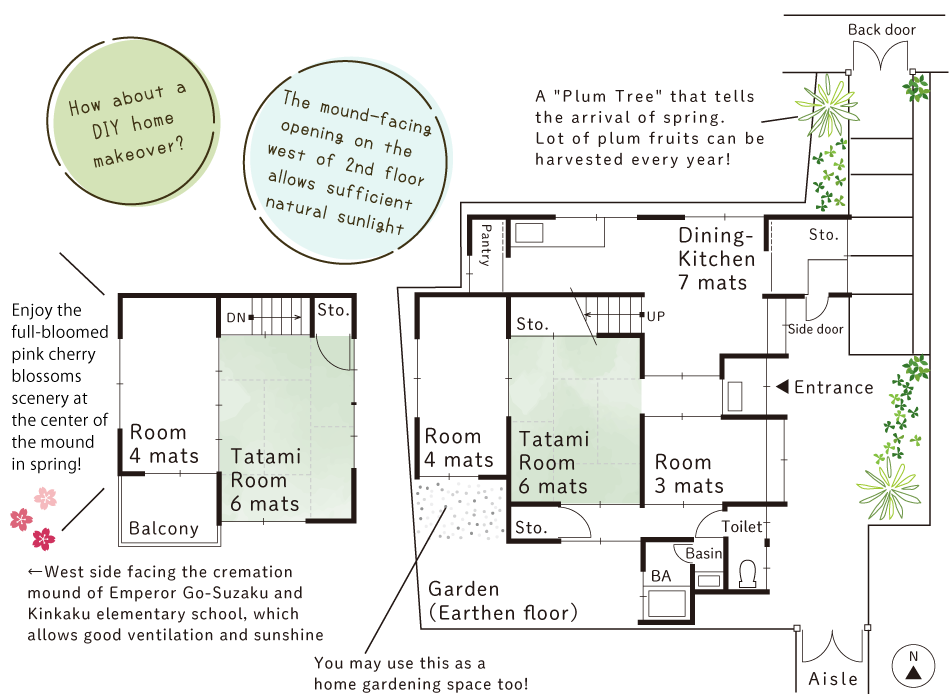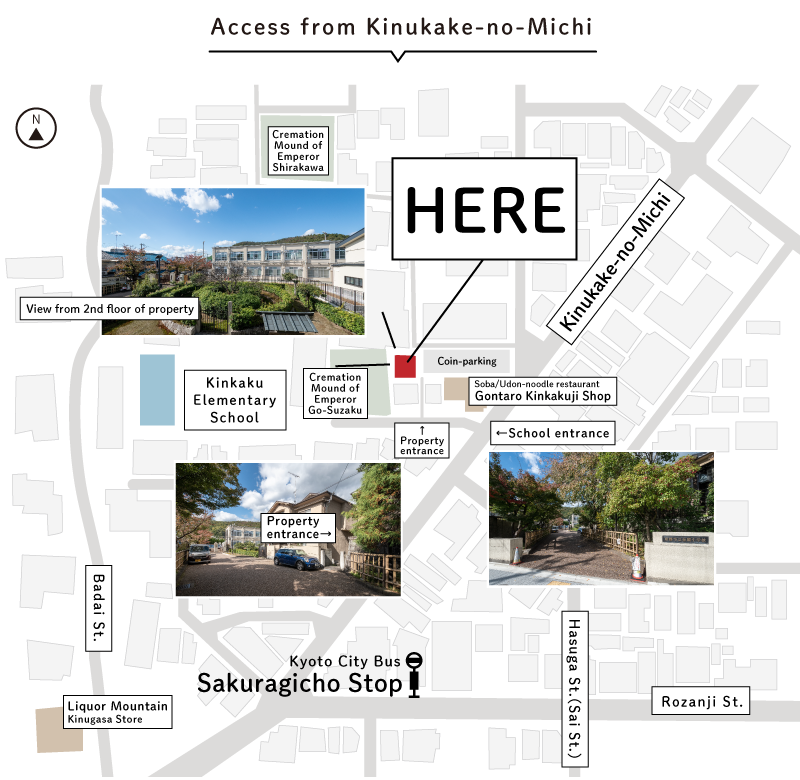 photo
※Click thumnails to enlarge photos
virtual tour
Drag/Swipe the screen, or click arrows on the screen to tour.
details
Property Price

11,950,000 JPY

 (Approx. USD *1JPY= USD)
Type & Conditions
Used House
Location
48-1, 49, 48-2 Hirano-Kamiyanagicho, Kita Ward, Kyoto
Transportation
Approx. 2 min. walk from Kyoto City Bus "Sakuragicho Stop"
Approx. 14 min. walk from Keifuku Electric Railroad Kitano-line "Kitano-Hakubaicho Sta."
Land Area
【Registered】 141.12sqm
【Actual】 113.18sqm (approx. number)
Private Street Area Included
N/A
Floor Area
【Registered】1F: 47.08sqm, 2F: 24.34sqm, Total: 71.42sqm ※Including unregistered area
【Actual/Tape measured】1F: 53.55sqm, 2F: 23.30sqm, Total: 76.85sqm
Building Structure
Two Storey Wooden House
Building Date
November 1956
Size
5 Rooms + Dining-Kitchen + Garden
Adjoining Street
Street width: 1.2m (NOT a road in law), Frontage: 2m, Direction: North (approx. number)
Public Utility
Electricity, Water Plumbing In/Out, City Gas
Land Use District
【A】Area over 25m from Kinukake-no-Michi: Category 1 Low-Rise Exclusive Residential District
【B】Area within 25m from Kinukake-no-Michi: Category 2 Medium-to-High-Rise Exclusive Residential District
Legal Restrictions
【A】minimum size of the land area is regulated as 100sqm when its divided, 10m / Height Control District, Scenic District Category 2, Kinkakuji Temple Special Preservation and Improvement District Kinkakuji Neighborhood Zone Category 3
【B】12m / Category 1 Height Control District, Roadside Aesthetic Formation District Kinukake-no-Michi Zone
【A】【B】Common: Close View Preservation Zone, Distant View Preservation Zone, Prior Consultation Zone
Outdoor Advertisement Category 2 Regulatory District, Residence Attraction Area, Built-up Urban District
Handover
Immediately
Current Situation
Vacant
Building Coverage Ratio
【A】50% 【B】60%
Floor Area Ratio
【A】80% 【B】200%
Land Cateogry
Residential Land
Land Tenure
Title
Geographical Features
Flatland
City Planning Act
Urbanization Promotion Area
Notification According to National Land Utilization Law
Not Required
Elementary School
Kinkaku Elementary School (approx. 1 min. walk/50m)
Junior High School
Kinugasa Junior High School (approx. 6 min. walk/420m)
Remarks
※This property is unrebuildable. You cannot rebuild any architectural structure on this land when the existing one is demolished or collapsed. »Check here for more about rebuilding prohibited lands
※The seller is not liable for any defects.
※Renovation work is required due to it's aged deterioration.
※This property is regulated by the Escarpment Regulations.
※This property passes through the site of the adjacent land on the south side (26-2, Hirano-Kamiyanagicho) as a passage. There is a mediation statement that recognizes the right-of-way.
Transaction Terms
Hachise as a Broker (Agent commission required when concluding contract)
Sales Representative
Aya Kito/Boa Zhang/Kae Motokada (JP)
Yuki Fujihara (JP)
Information Updated

January 24, 2022

Information will be Updated

January 31, 2022