Kibune Area with "Kawadoko" Riverside Summer Terrace

Culinary Ryokan Inn on the North of Kifune Shrine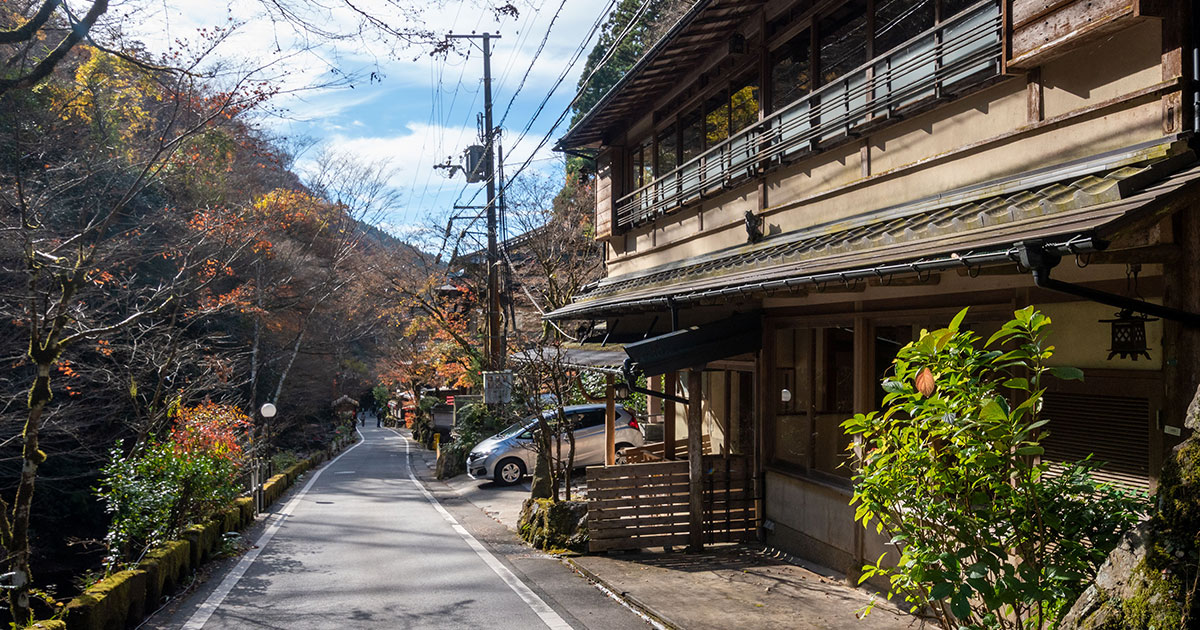 Where nature and history live
Kibune, located at the north of Kyoto City, is one of the best tourist destinations in Kyoto. The nearby Kurama Temple which is famous for its Tengu ("heavenly dog", a Japanese folklore), and Kifune Shrine where the god of marriage is enshrined, are often being visited for weddings and anniversaries photography shooting.
The Kibune River which runs right next to the property is crowded with tourists regardless of the season. Here you can feel the four seasons by enjoying the coolness on the traditional "Kawadoko" riverside terrace in the summer, the fall colors in autumn, and the snowy winter scenery.
PHOTOS
※Click thumnail to enlarge photos
PLAN
The property introduced this time is located in a section of a long and narrow valley between Mt. Kibune and Mt. Kurama - an area that is lined with inns and restaurants, and is crowded with people who enjoy Ayu (sweetfish) dishes on the traditional "Kawadoko" riverside summer terrace along the Kibune River in the summer.
A property with an old Kominka folk house style facade and a parking lot on the 1st floor that has been operated as an Italian restaurant with a modern Japanese-style atmosphere.
There was once a cafe area with table seats on the roadside and a spacious kitchen in the back. * Kitchen equipment is now removed.
Under the stairs next to the kitchen, a corf is built with natural river water pumps in.
The floor plan is mainly composed of Japanese-style rooms on the 2nd floor. Gentle breezes pass through the room from the window facing the street, and you can listen to the murmuring of the Kibune River.
A luxurious space for spending a relaxing time in the upper reaches of the Kibune River, away from the hustle and bustle of the city.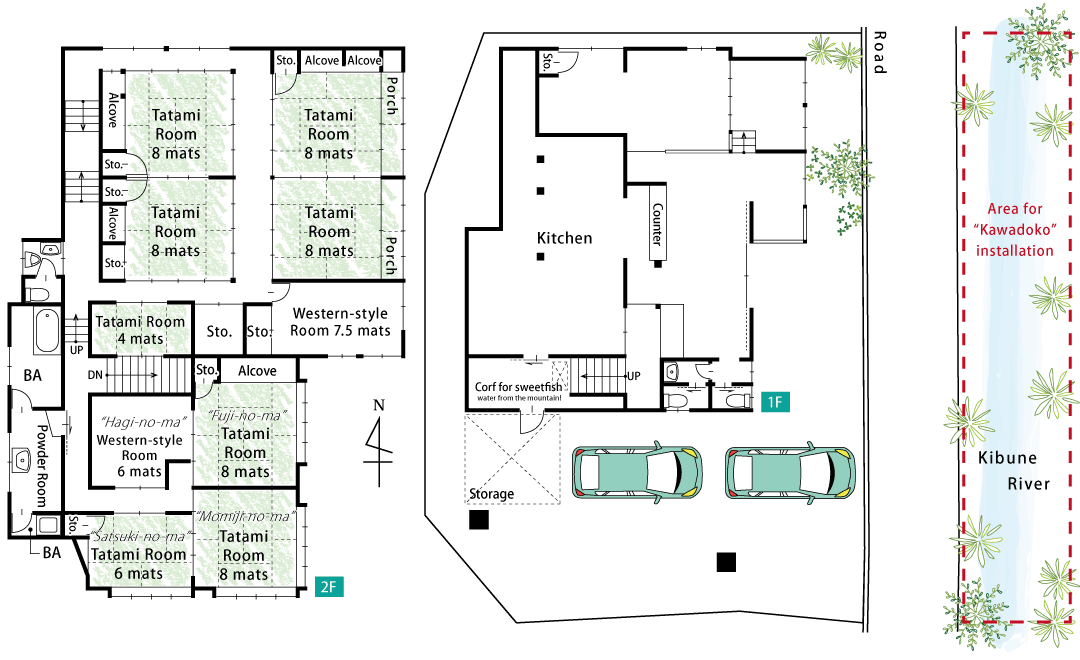 DETAILS
Property Price

148,000,000 JPY

 (Approx. USD *1JPY= USD)
Type
Shop
Location
78 Kurama-Kibunecho, Sakyo Ward, Kyoto
Transportation
Approx. 30 min. walk from Eizan Electric Railway "Kibuneguchi Sta."
Approx. 29 min. walk from Kyoto Bus "Kibuneguchi Stop"
Land Area
【Registered】199.99sqm
Private Street Area Included
N/A
Floor Area
【Registered】1F: 134.26sqm, 2F: 217.97sqm, Total: 352.23sqm ※Including unregistered area
Building Structure
Two Storey Wooden House
Size
10 Rooms + Shop area + Parking lot for 2 cars
Adjoining Street
Street width: 3.7m, Frontage: 22m, Direction: East (approx. number)
Building Date
April 1965
Public Utility
Electricity, Water Plumbing In/Out, City Gas
Land Use District
Unqualified District
Legal Restrictions
Kibune Special Preservation and Improvement District, Preservation Area for Historic Landscape, Scenic Districts Category 2, Distant View Preservation Zone, Outdoor Advertisement Category 1 Regulatory District, Preservation Zone
Building Coverage Ratio
60% (Urbanization Control Area), 30% (Depends on the scenic area)
Floor Area Ratio
100%
Handover
Immediately
Current Situation
Vacant
Land Category
Residential Land
Land Tenure
Title
Geographical Features
Sloping Land
City Planning Act
Urbanization Control Area
Elementary School
Kurama Elementary School (approx. 33 min walk/2,630m)
Junior High School
Rakuhoku Junior High School (approx. 106 min walk/8,460m)
Notification According to National Land Utilization Law
Not Required
Remarks
※The property is located in a designated sediment disaster special alert area.
※Approx. 6.6 sqm setback is required when rebuilding on this land.
※The seller is not liable for any defects.
※This property is regulated by the Escarpment Regulations.
※Furniture shown in pictures are negotiable.
※License in the Inns and Hotels Act has been obtained.
※New owner needs to renew Inn business licenses before operation.
※Application for the use of "Kawadoko" riverside summer terrace of the Kibune River with the size of the site frontage is available.
Kawadoko can be used from May 1st to the end of September by joining the association and under applications. Installation/removal period is 15 days before and after. Please contact the person in charge for details.
Transaction Terms
Hachise as a Broker (Agent commission required when concluding contract)
Sales Representative
Aya Kito/Boa Zhang/Kae Motokado
Hiroyasu Fukui
Information Updated

Sept. 20, 2022

Information will be Updated

Sept. 26, 2022