Kyomachiya in Shimabara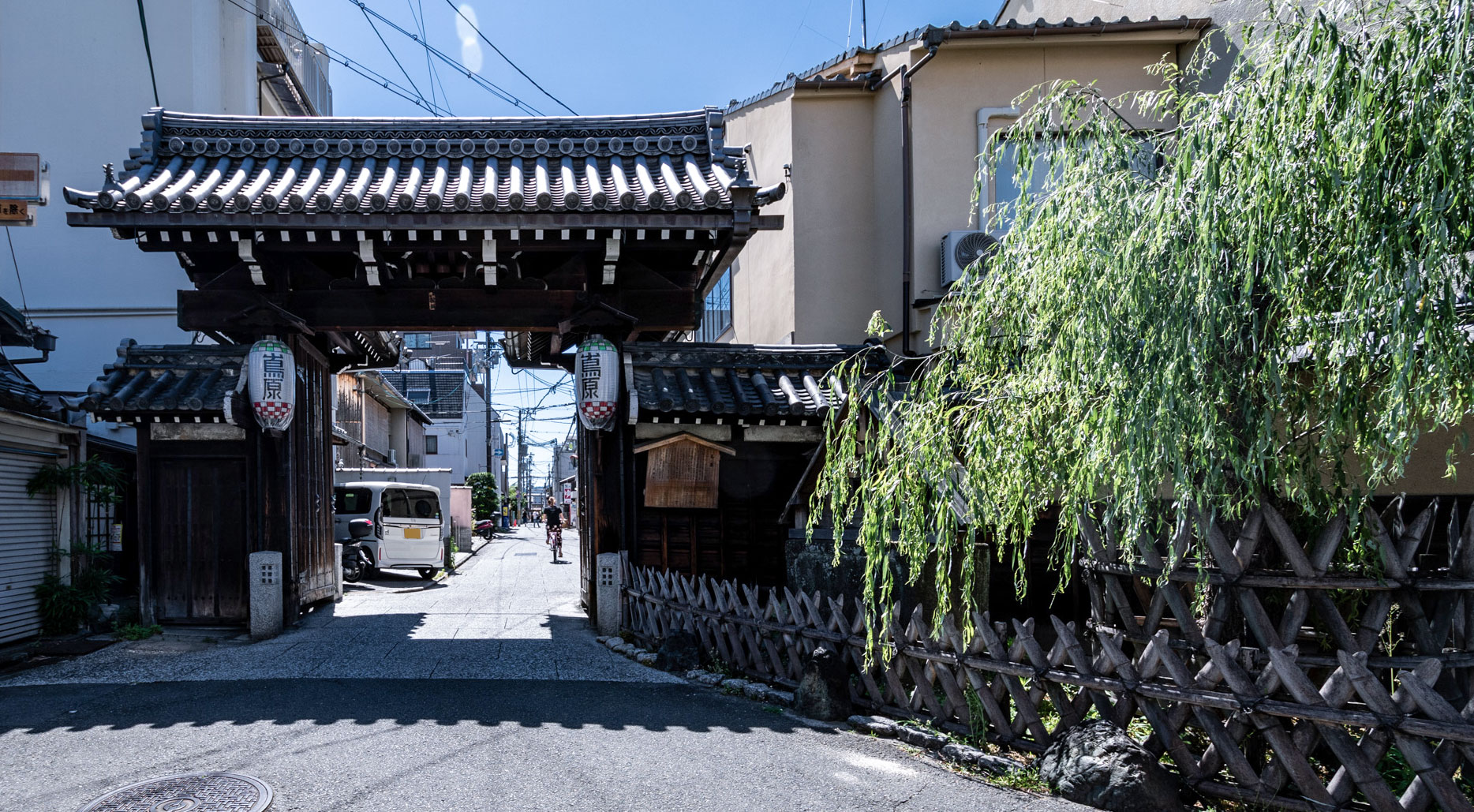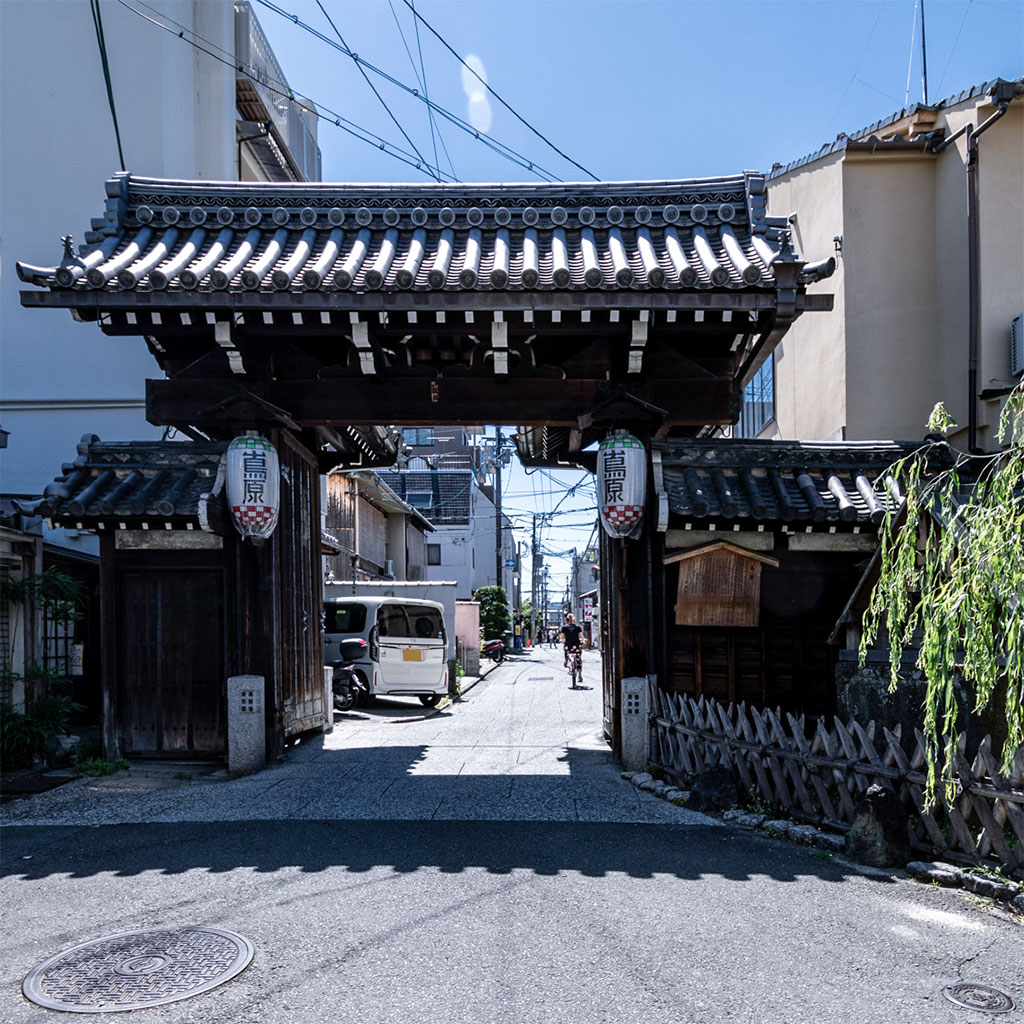 This is Shimabara, the former Hanamachi Geisha District
Commonly known as "Shimabara", the official name of this area is "Nishishinyashiki". It is said that this name came from the upheaval of its relocation from Rokujo-Misujicho to the current location, which resembled the "Shimabara Rebellion" conflict caused by Shiro Amakusa in Kyushu.
Shimabara is said to be the first officially licensed Hanamachi in Japan, and its history goes back more than 400 years. Its most prosperous time was around the Genroku period about 330 years ago and was known as one of the most prestigious Hanamachis in Japan which produced many famous and talented geishas.
With Yoshino Tayu as one of those top geishas, in the last days of the Tokugawa shogunate, Takamori Saigo, one of the most influential samurais in Japanese history, and the members of Shinsengumi often visited the area. It was also one of the remarkable starting places of the Meiji Restoration. Today, buildings such as Shimabara-Ohmon Gate, Wachigaiya teahouse, and Sumiya Museum retain the remnants of those days when they were Hanamachi and are carefully preserved.
A city with a unique atmosphere and accepts new challenges
This area has recently been a profound area for regional revitalization. Local communities like "FOCUS! SHIMABARA (external link/JP: https://focus-shimabara.com/), self-described as a "community like a village assembly" composed of members based in Shimabara, rise. Creators, artists, shops, guest houses, craftsmen, and other people who are currently active in this area play a central role in working it toward an exciting area.
"Kinse Ryokan Inn" is a very valuable former Ageya building where geisha entertained at dinner parties and banquets. Currently, it is an inn for block reservations. On the 1F is a Cafe & Bar with a ceiling that abundantly used Taizan tiles and stained glass from the Taisho era. If you like retro architecture, this is a place that you should definitely visit.
In addition, there are multiple atelier shops, "a 33m market connected by thread" Itonowa, Machiya share office "5 tatami mat workplace", and cafe "Hygge" which means "comfortable space" in Danish, etc., are gathered together with unique facilities.
A teahouse architecture since 1917
According to the house tax payment record, this building existed since at least 1917. Its unique appearance also tells us that it is not just an ordinary building.
Shimabara is now becoming a quiet residential area with many teahouses disappearing.
In order not to let the history of Shimabara fade away, we kept its original appearance as much as possible, renovated the building in December 2013, and brought it to life as a share house. Until then the house had been vacant for a long time, but before that, it was used as a restaurant serving chicken dishes. Going back further, it was a so-called teahouse.
A large entrance is carefully set up to welcome the honorable guests. Together with a courtyard where bright red Sasanqua flowers bloom, and the small hospitality rooms lined up on the 2F facing the street, this is a quaint Kyomachiya with invaluable reminiscent of the old days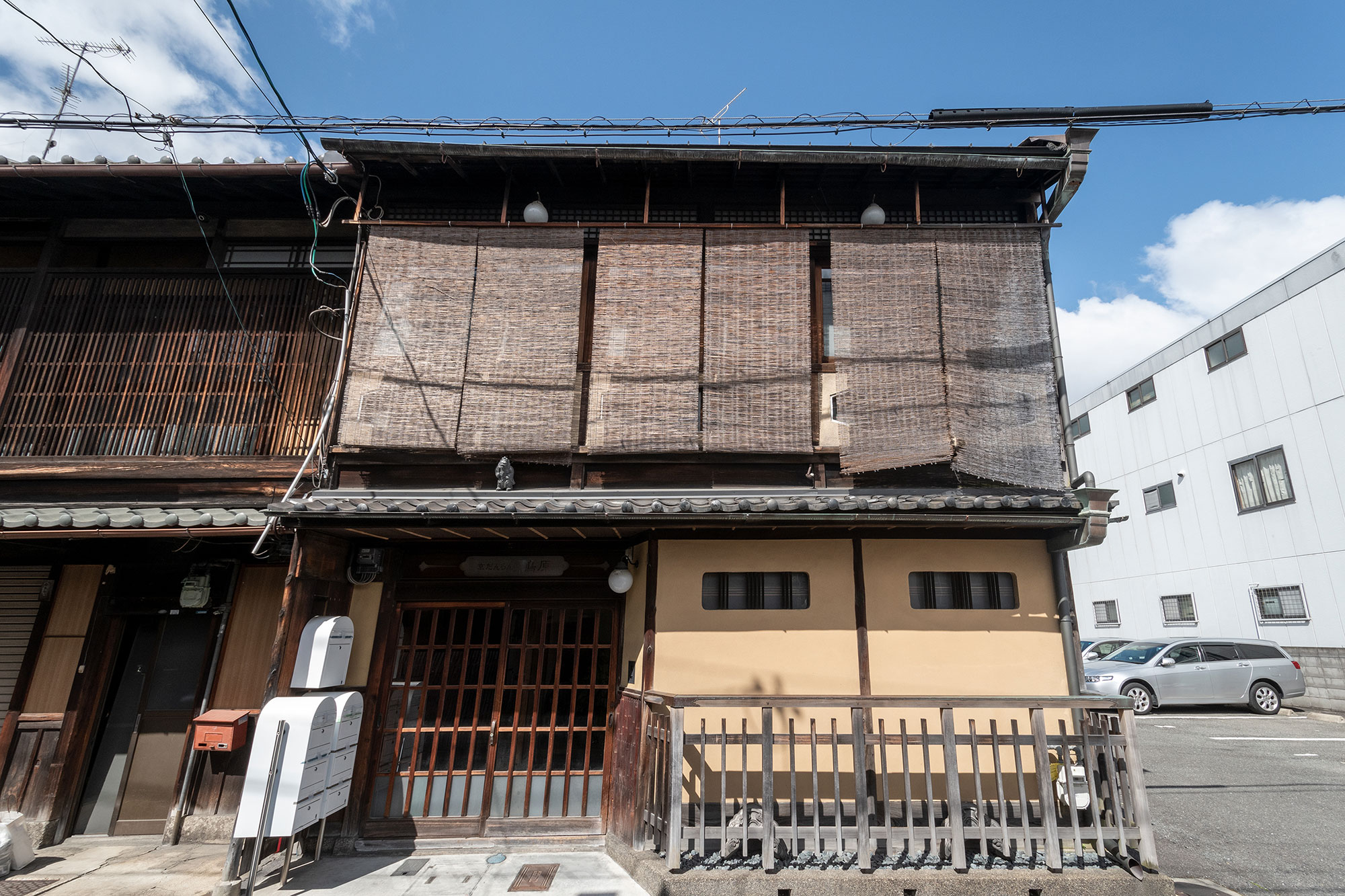 plan
The building was renovated into a share house by Hachise, leaving the remnants of the time when it was a teahouse. Since the building itself has very unique features, rather than over-decorate it, we reused the columns and beams, fittings, and other usable materials at the time of construction.
There are a total of 7 private rooms, one on the 1F and 6 on the 2F, together with plenty of common areas such as the exhibition space at the entrance, the dining room, the Japanese-style room with a garden view, and the porch (veranda). If you walk down the fluffy corridor lined with red carpets on the 2F, it feels as if you were in the house of an acquaintance. The kitchen, bathroom, shower room and toilets are on the first and second floors.
※The name of each room is derived from the famous "Tayu" geishas who were active in Shimabara.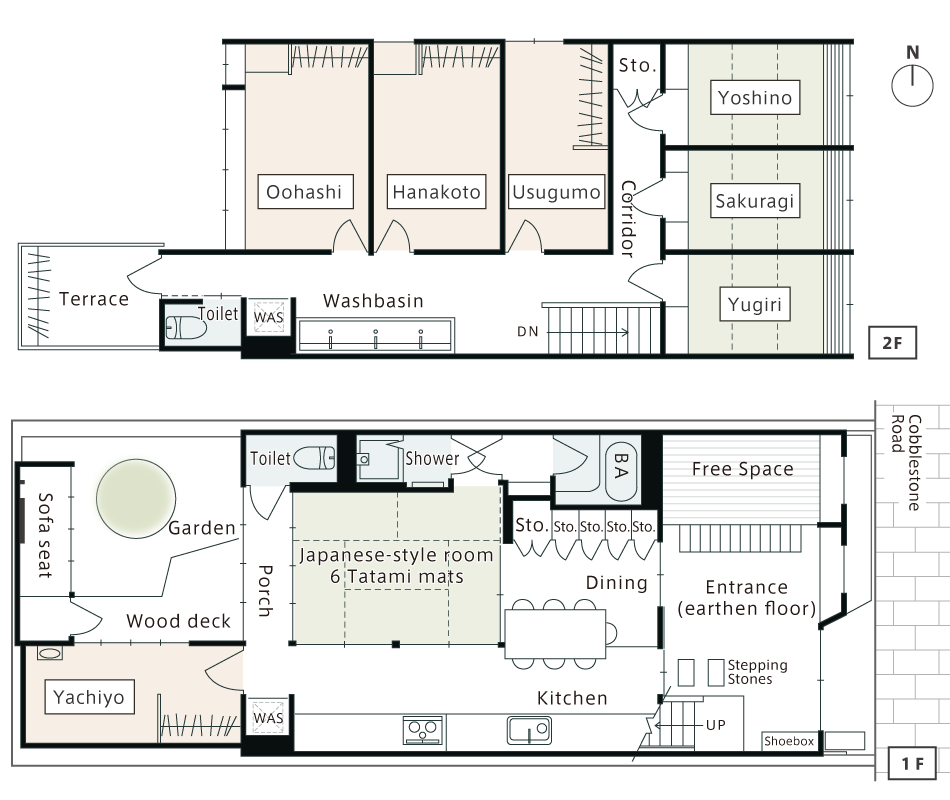 You can use the building as it is and for various purposes apart from residences, such as restaurants, shops, and offices.
By gathering and connecting various people in this space where Shimabara's culture and history are engraved, a new culture will be born and transmitted. We would be definitely happy if it could become such a place.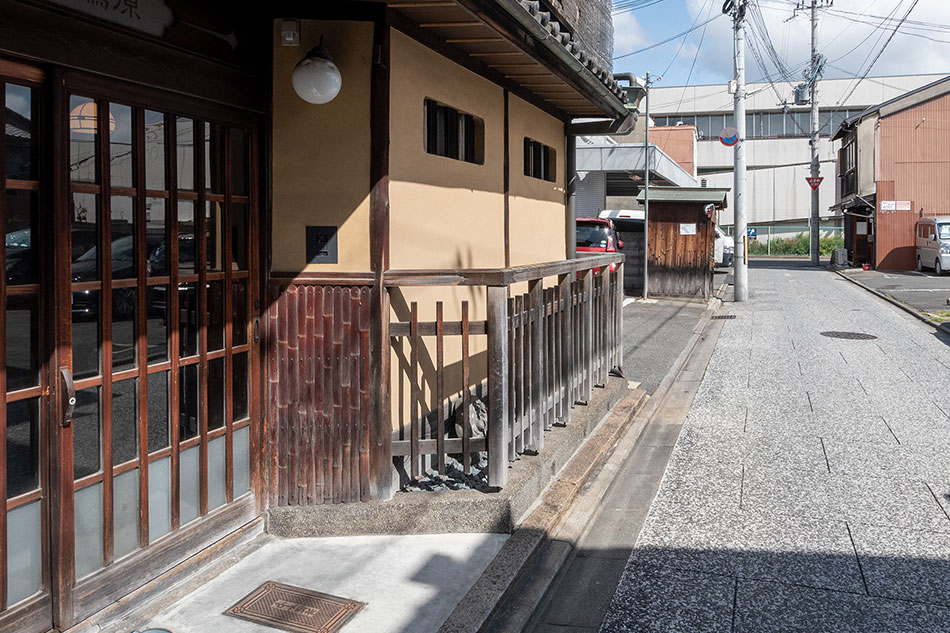 Cobblestone road
Many roads in the Shimabara area are paved with cobblestone. It is an area that still protects the cityscape with tradition and history.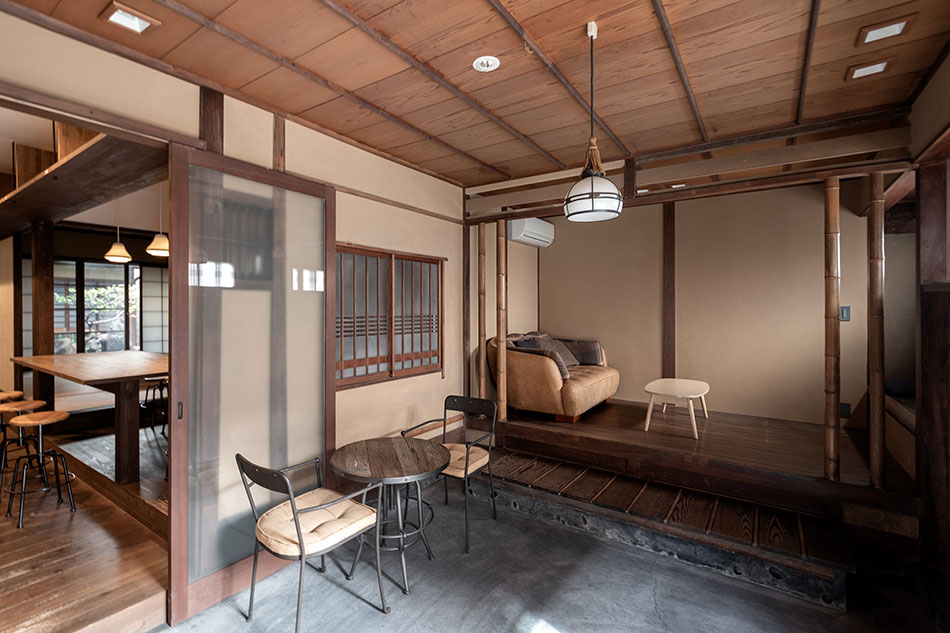 Large entrance and exhibition space
The entrance also serves as an exhibition space and library, and can also be used as a place for meetings and communications. The stepping stones lead you to the living room or upstairs.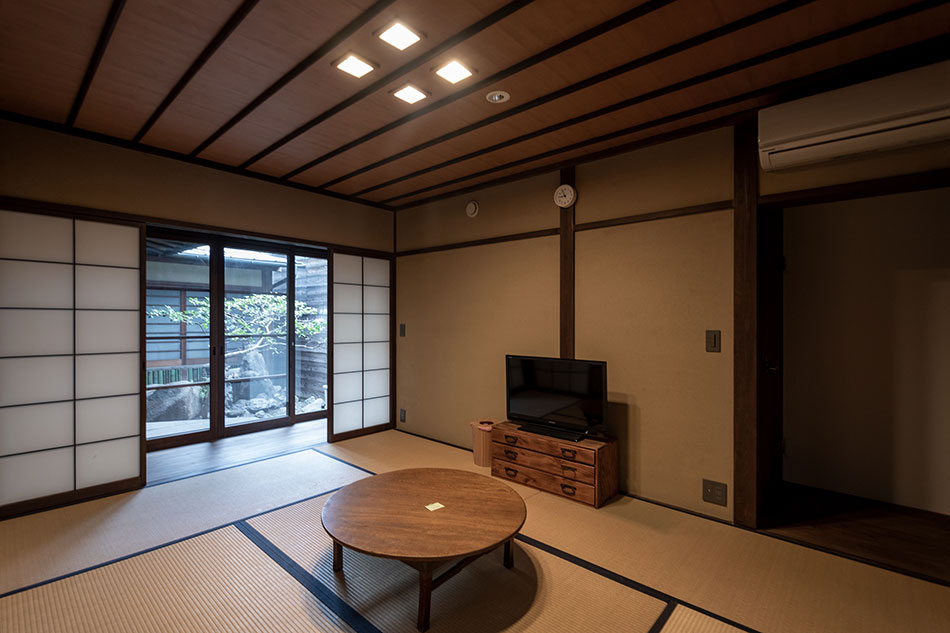 1st floor | Japanese-style room 6 tatami mats
A Japanese-style room where you can relax as if you were at home. In the back are a wooden deck, a courtyard, and the garden viewing sofa seat.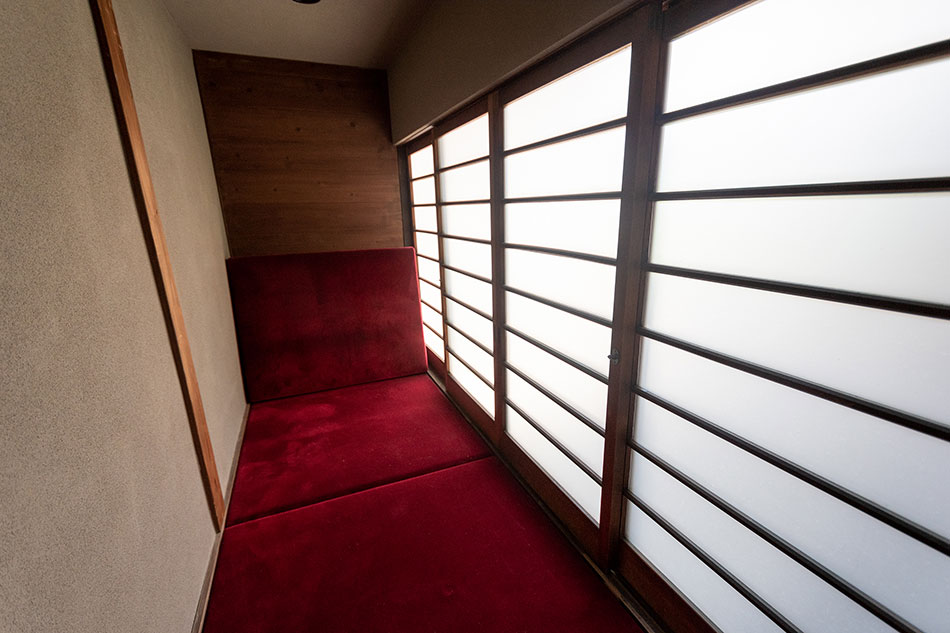 1st floor | Garden-viewing sofa seat
Hobby room with a red sofa for one person. A tiny room for you to spend some quiet time alone or read a book.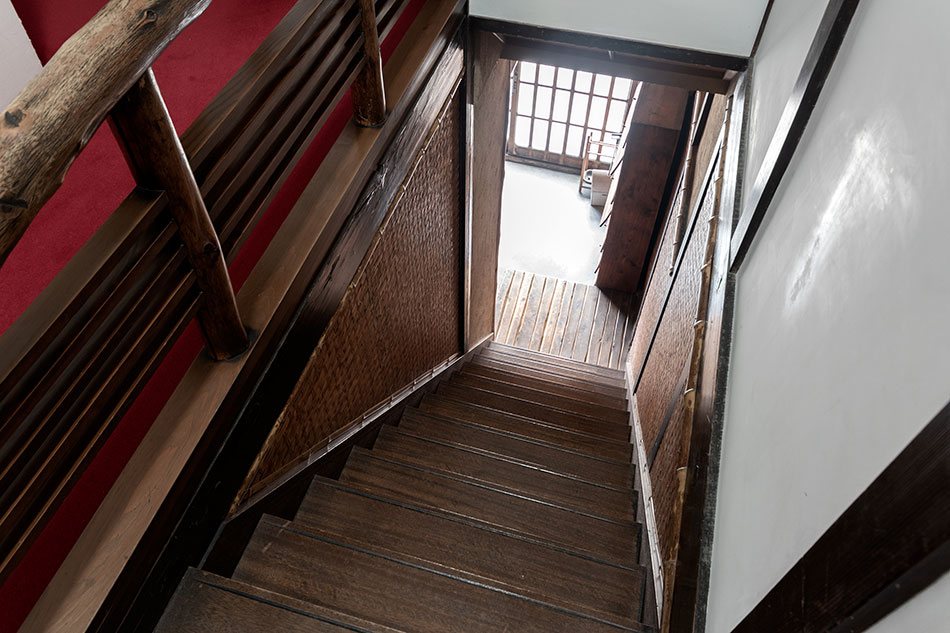 Stairs and the railings
We reused the old stairs and handrails left from the past. A characteristic handrail made with a bent log.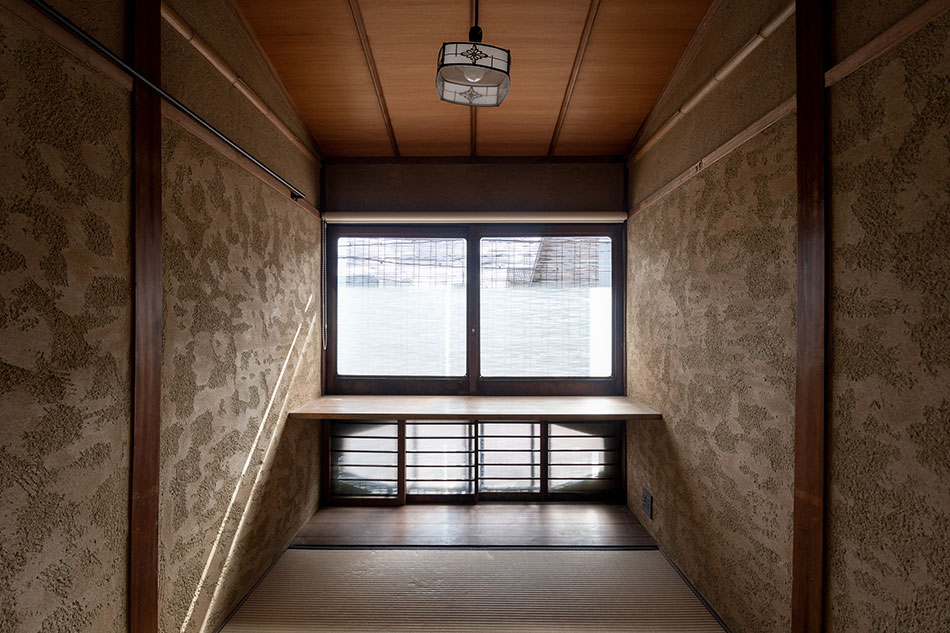 2F Japanese-style room on the entrance side
The Japanese-style room on the entrance side of the 2F is like a secret small room. The shade of light reflected on the tatami mats changes its overall atmosphere over time.
photo
※Click thumnails to enlarge photo.
area map
The Shimabara area is a mixture of old and new. Starting from the former Hanamachi, and has recently become a new bustling area. The central wholesale market that supports daily Kyoto cuisine is also nearby, where it is nice to take a walk outside.
Going south is the Umekoji area, which was constructed as a commemorative project for the 1200th anniversary of the founding of Heian-Kyo, and also serves as a new sub-gate for sightseeing in Kyoto.
Besides, tourist attractions such as the Kyoto Railway Museum and Kyoto Aquarium can be found near the new JR "Umekoji Kyoto Nishi Station" (opened in March 2019). An enjoyable site for a wide range of generations from children to adults.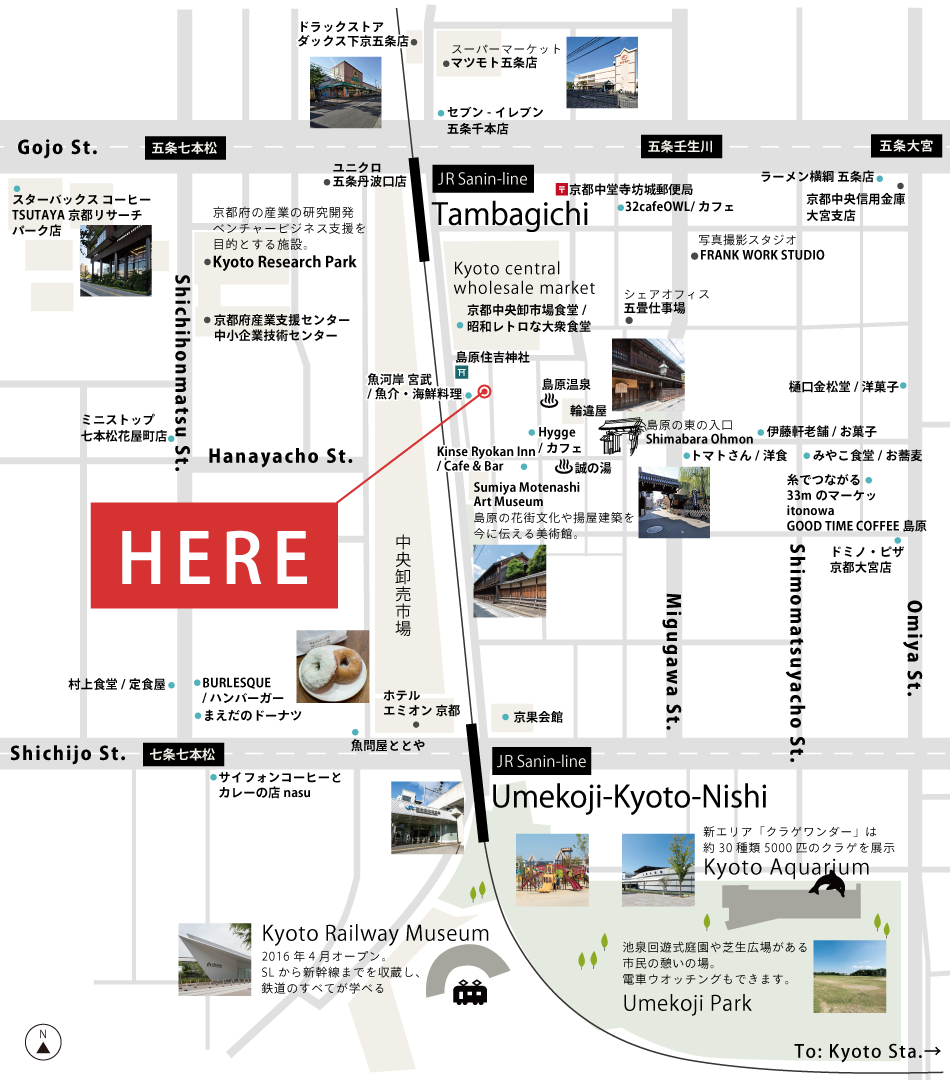 virtual tour
Drag/Swipe the screen, or click the arrows on the screen to tour.
details
Property Price

69,800,000 JPY

 (Approx. USD *1JPY= USD)

*Sept 17, Price Changed

Type & Conditions

Old House (Kyomachiya)

Location

12-1 Nishishinyashiki-shimonocho, Shimogyo Ward, Kyoto

Transportation

Approx. 4 min. walk from JR Sanin-line "Tambaguchi Sta."
Approx. 8 min. walk from JR Sanin-line "Umekoji-Kyoto-nishi Sta."
Approx. 8 min. walk from Kyoto City Bus "Kyoto Research Park Stop"

Land Area

【Registered】100.06sqm

Private Street Area Included

N/A

Floor Area

【Registered】1F: 61.81sqm, 2F: 61.81sqm, Total: 123.62sqm
【Actual/Tape measured】1F: 76.33sqm, 2F: 71.28sqm, Total: 147.61sqm (approx. number)
※Including unregistered area

Building Structure

Two Storey Wooden House

Subsidiary Building

Toilet / One Storey Wooden House / Floor area: 3.96sqm

Building Date

Unspecifiable (The earliest tax record according to the house evaluation report is 1917)

Size

7 Rooms + Living-Dining-Kitchen + Garden + Earthen floor entrance space

Adjoining Street

Street width: 3.55m (public road), Frontage: 6.18m, Direction: East (approx. number)

Public Utility

Electricity, Water Plumbing In/Out, City Gas

Land Use District

Category 1 Residential District

Legal restrictions

15m / Category 2 Height Control District, Quasi-Fire Prevent District, Old Urban Type Aesthetic District, Distant View Preservation Zone, Outdoor Advertisement Category 4 Regulatory District, Urban Development Attraction Area, Residence Attraction Area, Built-up Urban District

Handover

Immediately

Current Situation

Vacant

Building Coverage Ratio

60%

Floor Area Ratio

160%(200%)

Land Category

Residential Land

Land Tenure

Title

Geographical Features

Flatland

City Planning Act

Urbanization Promotion Area

Notification According to National Land Utilization Law

Not Required

Elementary School

Umekoji Elementary School (approx. 10 min. walk/800m)

Junior High School

Shimogyo Junior High School (approx. 21 min. walk/1640m)

Remarks

※Approx. 1.39sqm setback is required when rebuilding on this land.
※The seller is not liable for any defects.
※The property will be handed over as is.
※Furniture is not included in the property price but negotiable.
※Fully renovated by Hashise in Dec 2013.
Newly installation of all water pumbling products (kitchen, bathroom, washbasin, toilet), Replacement of wallpaper, ceiling wallpaper and flooring materials, etc.

Transaction Terms

Hachise as a Broker (Agent commission required when concluding contract)

Sales Representatives

(EN) Aya Kito/Boa Zhang/Kae Motokado
(JP) Tatsuya Ochiumi

Information Updated

Jan 23, 2023

Information will be Updated

Jan 30, 2023