Residence and Office in Kawaramachi-Shichijo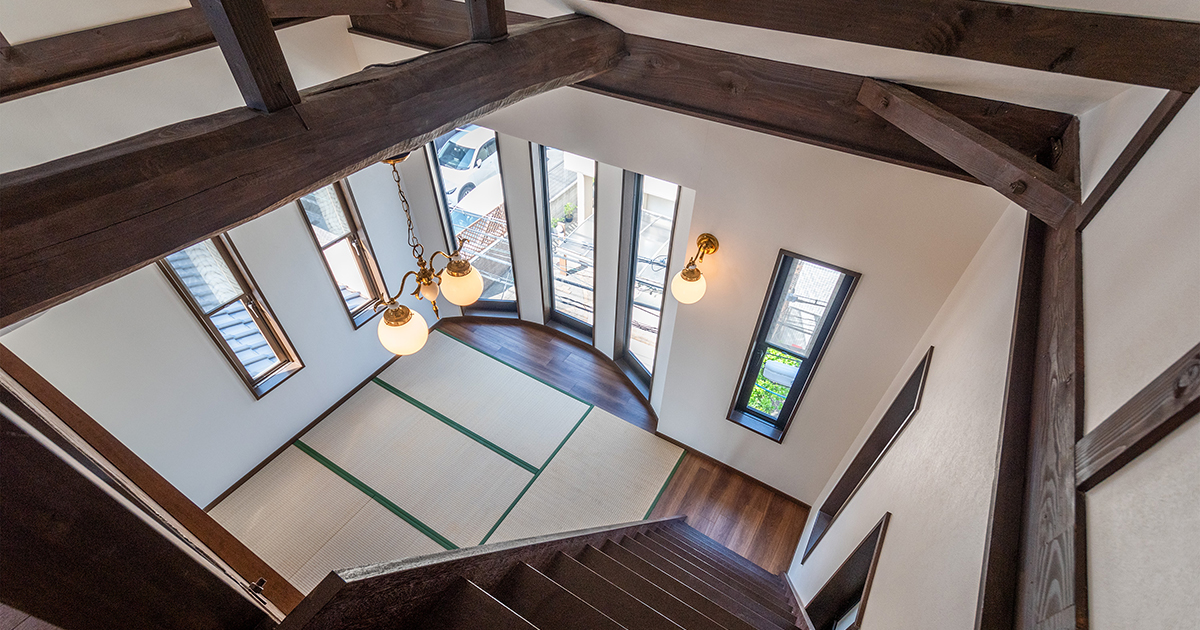 A three-storey house in the "Gojo Paradise" area
between the Kamo and Takase rivers
Along the Takase River from Shichijo St. to Gojo St. is an area called "Gojo Paradise" which once prospered as a "Hanamachi" (a district where geisha live and work).
Here not only you can feel the retro downtown atmosphere, but in recent years, new inns have been opened one after another along the Takase River, together with fashionable cafes and craft beer shops that gathered. Thanks to this, the area is becoming more and more convenient for guests and residents.
AREA MAP周辺地図
5 minute walk from Keihan Shichijo Station, walking distance from JR Kyoto station
The Takase River, which flows right next to the property, is a shallow but well-maintained and beautiful river. Various flowers such as cherry blossoms and hydrangeas grow along the river, where you can feel nature in each season and attract wild birds to gather in search of nature. Strolling along Kiyamachi St. while listening to the pure murmuring is popular not only with tourists but also with locals.
Despite the natural environment, it is only about a 5-minute walk to the nearest station and within walking distance to JR Kyoto Station, the gateway to Kyoto. A convenient area not only for office but also as a base for commuting and sightseeing.
5 minutes walk to Keihan Railway "Shichijo Station"

From "Shichijo Station", it takes about 2 minutes by express train to "Gion-Shijo Station", which is the commercial center; and about 47 minutes by express train to Osaka "Yodoyabashi Station". A convenient location for access to Osaka as well as other parts of Kyoto.

Walking distance to Kyoto station!

Approx. 15-minute walk (about 1.14km) to the front ticket gate of JR Kyoto Station! In addition to the Shinkansen and JR lines, there are also Kintetsu trains connecting Nara and Ise-Shima, long-distance buses to other prefectures, and subway and bus lines in Kyoto city.

Kamo River viewing from the "Gojo Paradise" area

The Kamo River that runs north and south is a symbol of Kyoto City with flowers blooming in each season. In summer, the "Kawadoko" riverside terrace, which is a tradition, is set up along the riverbed. A popular local spot for relaxation.

Takase River (taken from Shichijo St. around October)

The Takase River is a canal created in 1611 to connect the city of Kyoto with the Fushimi area. There used to be frequent boats to bring in supplies. Kiyamachi St., which runs parallel to the Takase River, has a scenic streetscape and is perfect for a leisure walk.

Takase River (in spring)

The row of cherry blossom trees planted over long distances has become a tourist spot and attracts many people to visit it in the spring.

Takase River (in summer)

Not only cherry blossoms, but you can also enjoy various flowers along Takase River all year round.

Takasegawa-Shomen Children's Park (Kikuhama Park)

A park near the property. In spring, you can enjoy stunning cherry blossoms in full bloom and the spectacular scenery even during the falling season.

UNKNOWN KYOTO

A co-living facility (accommodation complex) that is a renovation of the former "Yukaku" architecture of the Meiji era with over 100 years old. UNKNOWN KYOTO combines "stay, eat, and work" together in one single building. The west wing is a coworking space with an accommodation facility, while the east wing is a bar & restaurant.

Crafthouse Kyoto

A beer pub with a Japanese taste renovated from a 100-year-old Machiya townhouse. Enjoy craft beer, espresso, delicious food, and good music.

Sauna-no-Umeyu

A historic architectural style building with an eye-catching neon-light signboard. Umeyu is a sauna that was reborn as a "public bath for young men" after being taken over by a 24-year-old owner and saved from the verge of closing down.

Kaikado Café

A cafe produced by "Kaikado", a long-established store famous for its tealeaf canisters. The retro and tasteful building is also very fashionable!

Gojo Mall

A complex facility where restaurants, ateliers and galleries are run together under one roof, utilizing an old folk house. You can enjoy excellent pieces from young photographers, writers and artists.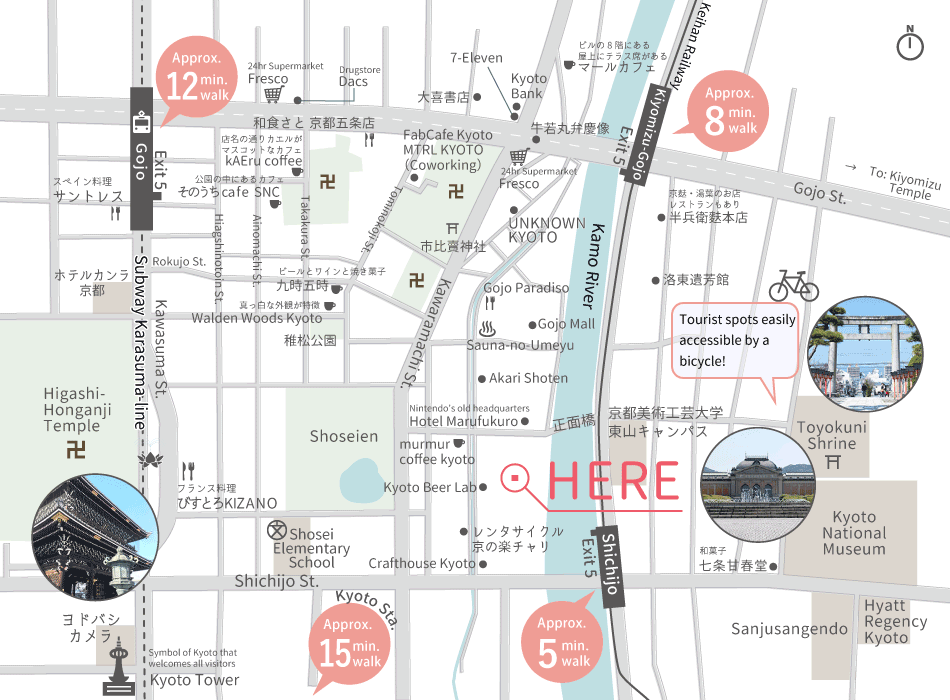 PLAN間取図
On the 1st floor is a parking lot for 2 cars. Behind it is a Western-style room of about 7.5 tatami mats in size. You can make it a workspace that allows you to concentrate on work without being disturbed by your roommates. As you can see from the distinctive appearance of the living room on the 2nd floor and the Japanese-style room on the 3rd floor, there are 3 large windows in a vertical direction which creates a sense of openness. Balcony with plenty of sunlight can be used for laundry drying, and it is also a nice point to have a toilet on each floor.
How about using the 1st floor for remote work or office, and the upper floors for residential use?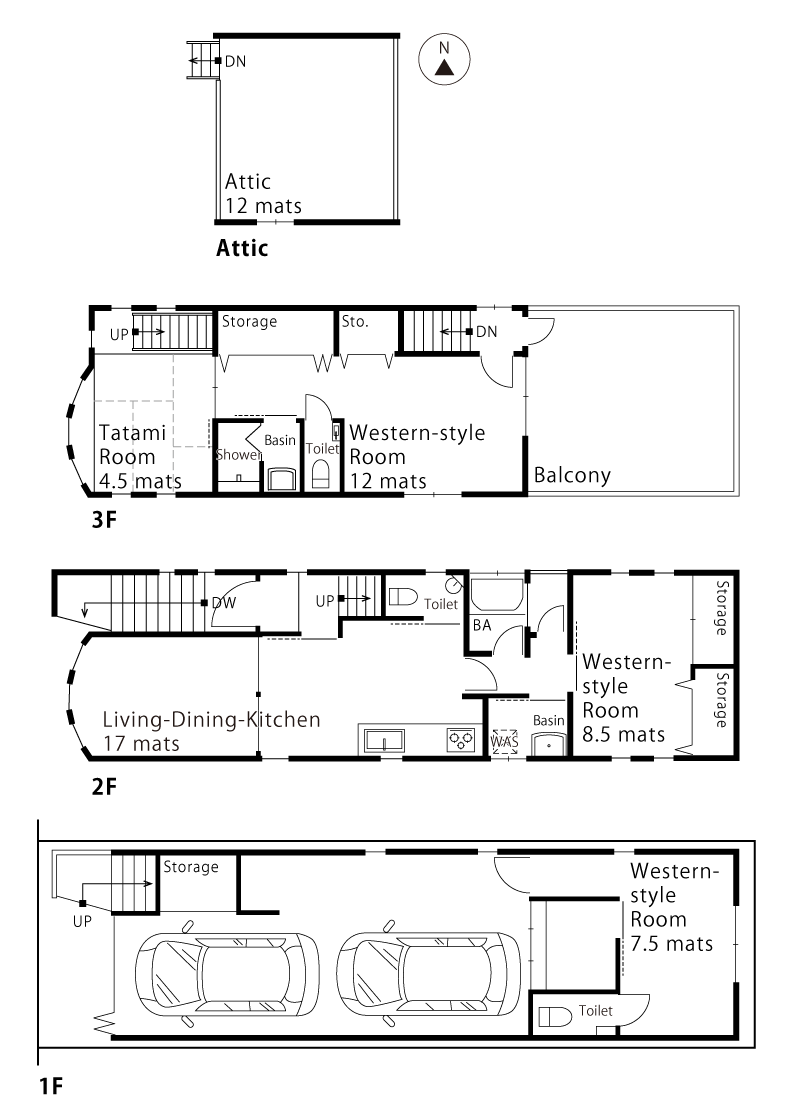 VIRTUAL TOURバーチャル内覧
360 degree camera tour
Drag/Swipe the screen, or click the arrows on the screen to tour.
DETAILS物件概要
Property Price

74,800,000 JPY

 (Approx. USD *1JPY= USD) 


*Sept 21, Under Offer

Type & Conditions
Used House
Location
276-3 Sannomiyachodori-shomensagaru Kamisannomiyacho, Shimogyo Ward, Kyoto
Transportation
Approx. 5 min. walk from Keihan Mainline "Shichijo Sta." Exit 5 (A Limited Express stop)
Approx. 8 min. walk from Keihan Mainline "Kiyomizu-Gojo Sta." Exit 1
Land Area
【Registered】66.41sqm
Private Street Area Included
N/A
Floor Area
【Registered】1F: 51.03sqm, 2F: 51.57sqm, 3F: 40.02sqm, Total: 142.62sqm
Building Structure
Three Storey Reinforced Concrete and Wooden House
Size
4 Rooms + Living-Dining-Kitchen + Attic + Parking lot for 2 cars
Adjoining Street
Street Width: 4.42m (public street), Frontage: 4.45m, Direction: West (approx. number)
Building Date
3 Dec 1994
Public Utility
Electricity, Water Plumbing In/Out, City Gas
Land Use District
Commercial District
Legal Restrictions
15m / Category 4 Height Control District, Quasi-Fire Prevent District, Old Urban Type Aesthetic District, Close / Distant View Preservation Zone, Outdoor Advertisement Category 4 Regulatory District, Urban Development Attraction Area, Residence Attraction Area, Built-up Urban District
Building Coverage Ratio
80%
Floor Area Ratio
400%
Handover
Immediately
Current Situation
Vacant
Land Category
Residential Land
Land Tenure
Title
Geographical Features
Flatland
City Planning Act
Urbanization Promotion Area
Elementary School
Shimogyo Shosei Elementary School (approx. 8 min. walk/620m)
Junior High School
Shimogyo Junior High School (approx. 17 min. walk/1310m)
Notification According to National Land Utilization Law
Not Required
Remarks
※The property will be handed over as is.
※The seller is not liable for any defects.
※Renovated by the owner in March 2021.
Renovation works done: Replaced wallpaper for all rooms, Replaced flooring materials, New installation of toilet/bathroom/kitchen, New installation of lighting fixture, etc.
Transaction Terms
Hachise as a Broker (Agent commission required when concluding contract)
Sales Representative
Boa Zhang
Information Updated

Sept 25, 2023

Information will be Updated

Oct 2, 2023