世界遺産 糺の森まで歩いて約3分

下鴨松原町ジュエリーハイツ101号室

Rm 101 Shimogamo-Matsubaracho Jewelry Heights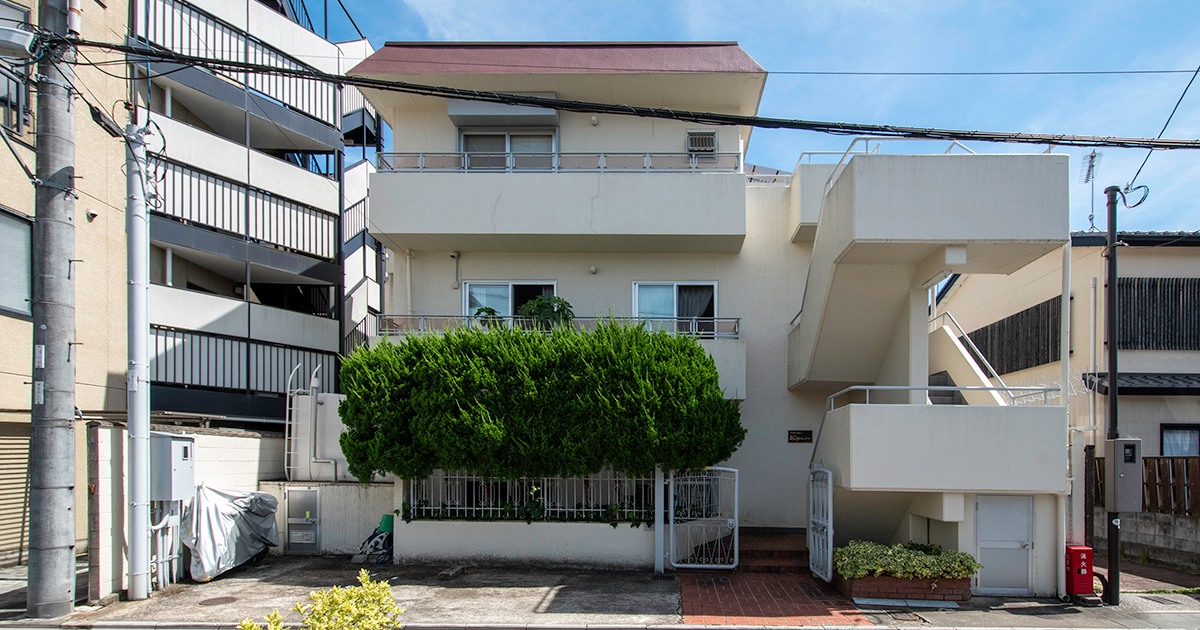 Tadasunomori, a forest that
preserves the nature of ancient times
Shimogamo Tadasunomori, a forest that has been revered by people as a place where the gods have resided for 2,000 years. Located on the grounds of the World Heritage Site "Kamomioya Jinja (Shimogamo Shrine)," the Tadasunomori Forest is a 36,000 tsubo (approx. 124,000sqm) forest that has survived since the Jomon Period and has preserved the nature of prehistoric times. This property is located in an area where you can feel such deep greenery and the passage of time.
area map
周辺地図
Shimogamo Shrine, a nationally known tourist attraction, is located nearby, and the area is lined with a variety of well-known long-established stores. On weekends and holidays, you can relax and read a book along the Kamogawa River Delta, or take a refreshing walk in the Tadasunomori forest. In spring, cherry blossoms bloom along the bank of the Takano River, making it a great place for a stroll.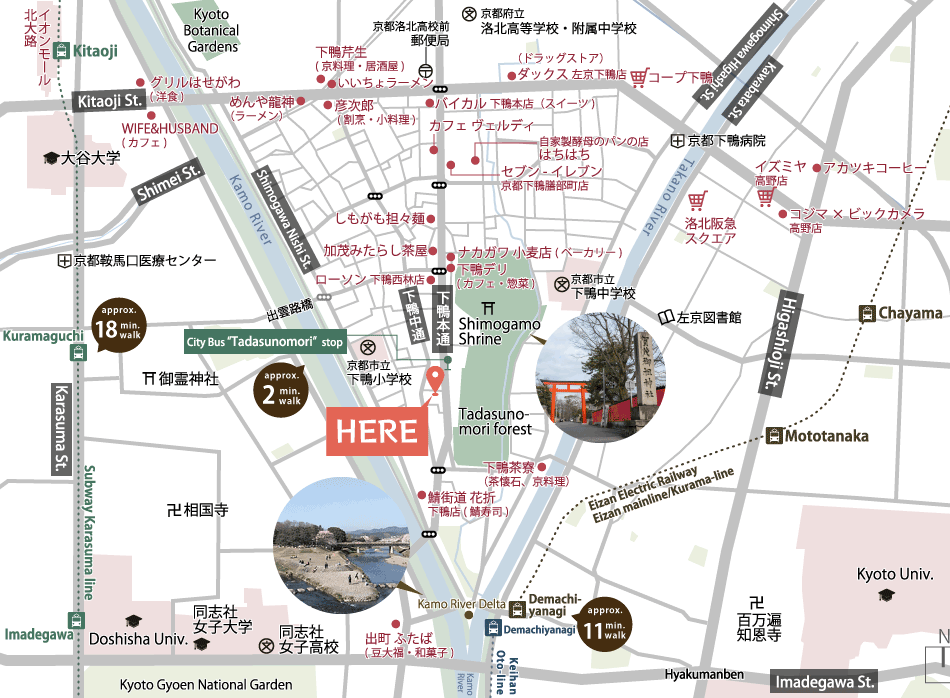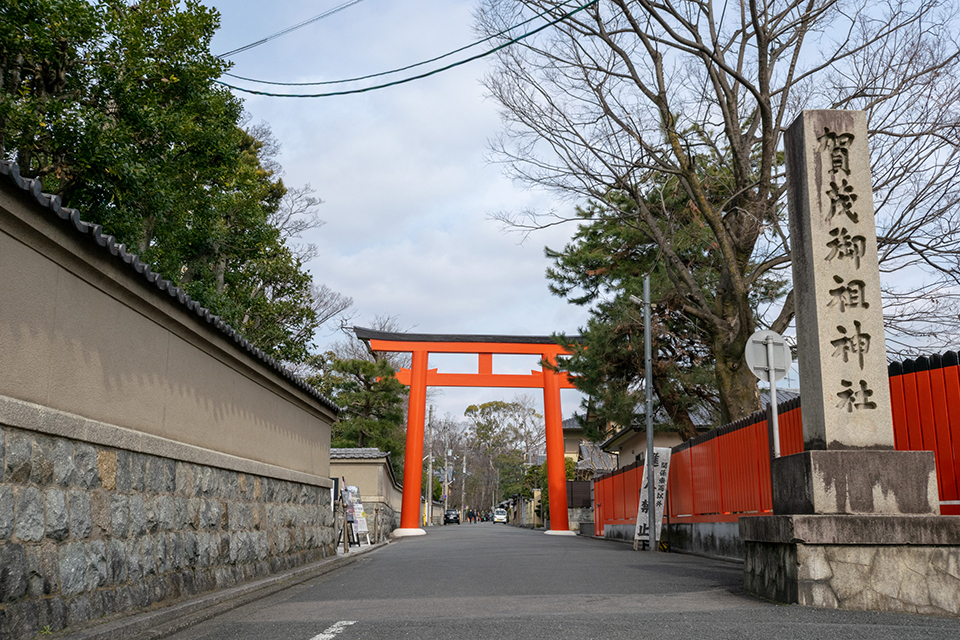 Kamomioya Shrine (Shimogamo Shrine)
Kamomioya Shrine, also known as Shimogamo Shrine, is the fifth shrine in Japan to be registered as a World Heritage Site. Every year, the Aoi Matsuri Festival, one of the three major festivals in Kyoto, is held here. During the festival, you can enjoy a spectacular eight-kilometer procession of people dressed in Heian costumes.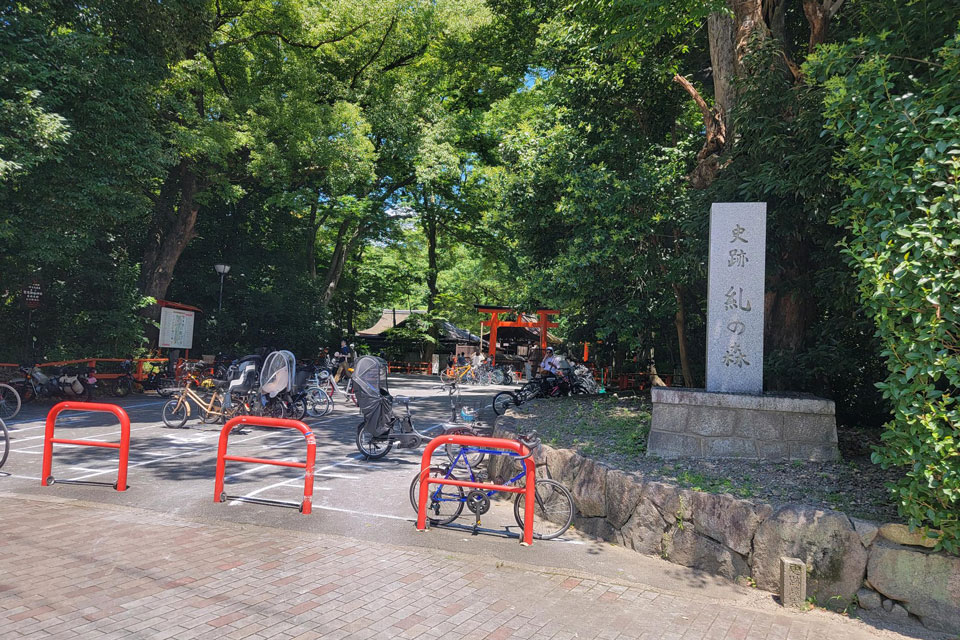 Tadasunomori Forest
The Tadasunomori Forest stretches over 124,000 sqm within the Shimogamo Shrine grounds. The forest is covered with 200 to 600-year-old primeval forest trees of about 40 species, including zelkova, hackberry, and muku tree, and is also known for its beautiful autumn foliage. The area is crowded with people at events such as handmade markets and used book fairs which are held throughout the year.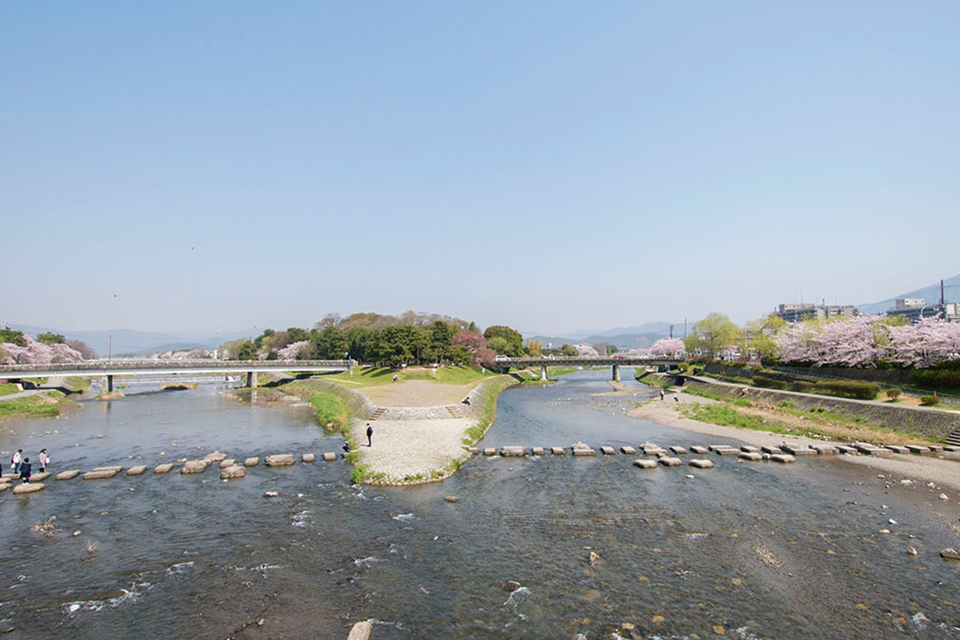 Aoi Park (Kamo River Delta)
This delta is the confluence of the Kamo River, the river which tells the story of Kyoto, and the Koya River, which flows from the foot of Mount Hiei. A place of relaxation in Kyoto where people from all walks of life gather and a popular spot for viewing the Gozan-no-Okuribi bonfire. In recent years, it has also become famous as a filming location for movies and animations.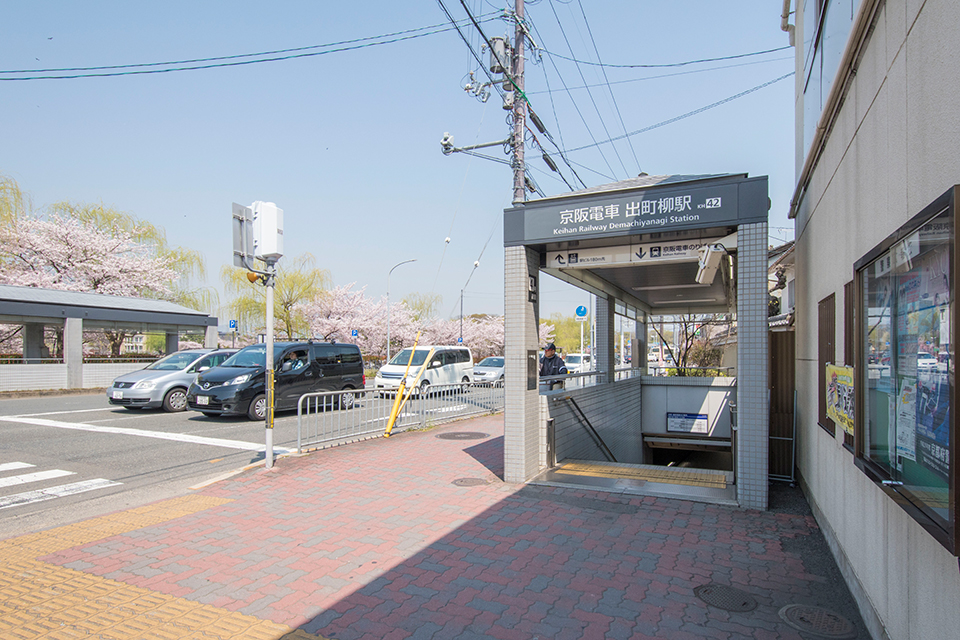 Keihan Oto-Line "Demachiyanagi Sta."
A terminal station on the Kyoto main line of the Keihan Railway; you may also transfer to the Eizan Electric Railway main line that goes to Ohara and Kibune. It takes about 5 min. to "Keihan Gion-Shijo Station" in downtown Kyoto by express trains, and about 30 min. to "JR Kyoto Station" with one transfer.
photos
写真

plan
間取図
This property does not have a kitchen as it was used as a tutoring school. You can consider using it for business use (confirmation by the board required), or you can equip it for residential use. There are 3 private gardens where you can enjoy BBQ, home farming, and gardening.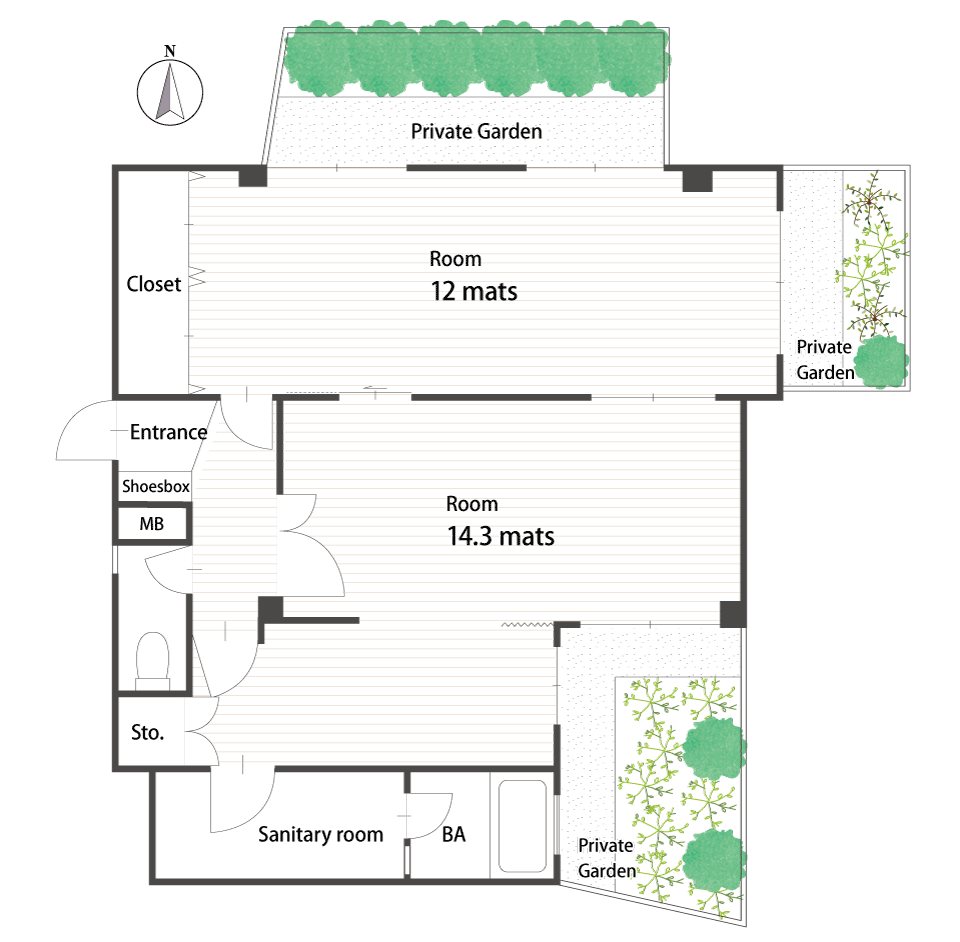 Renovation Plan
We created this imaginary plan based on the concept of "connecting the three gardens".
The entire room is finished with an earthen floor, and the living space is slightly elevated with indirect lighting on the steps. You may imagine the space as three floating islands separated by curtains. How about a life connected to nature in an apartment?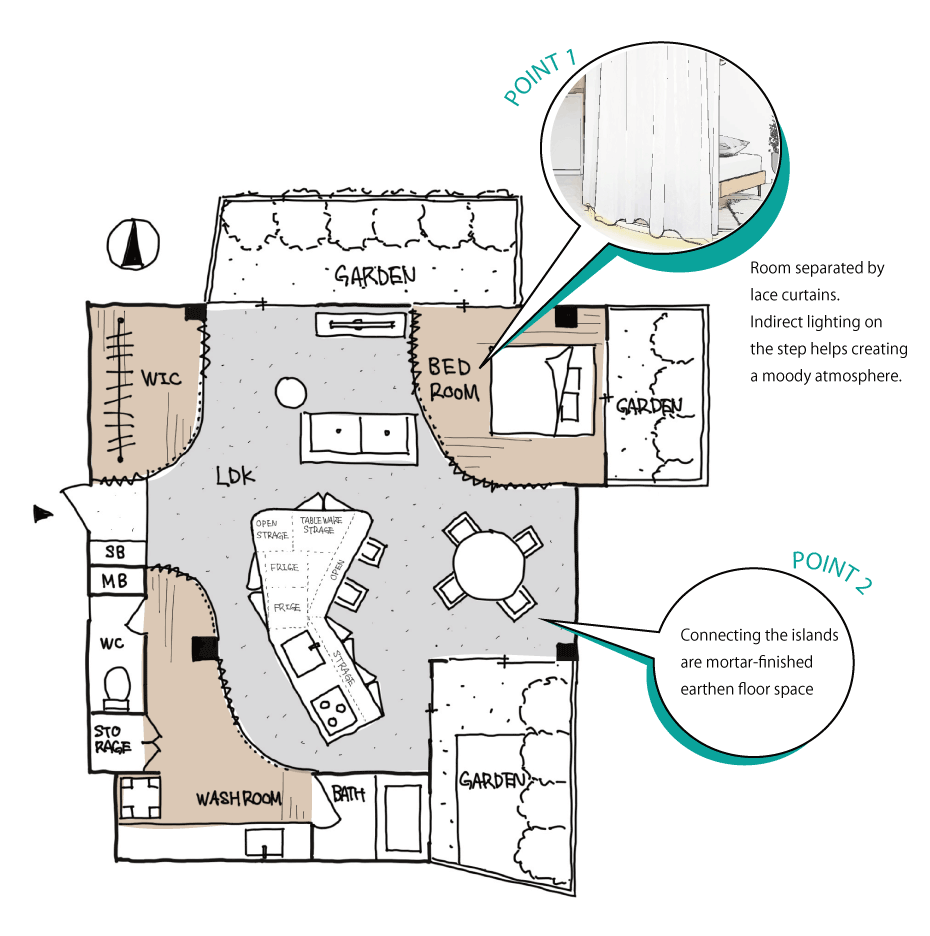 -Please note-

1. The illustrations and photos shown are for illustrative purposes only. The above plans are examples of renovation.
2.This property is NOT sold under renovated conditions.
3.Please contact us for introductions of architects, designers and renovation contractors.
virtual tour
バーチャル内覧
Drag/Swipe the screen, or click the arrows on the screen to tour.
details
物件概要
Property Price

22,800,000 JPY

 (Approx. USD *1JPY= USD)

Type & Conditions
Used Condominium Apartment
Name of Condonminium
Shimogamo Matsubaracho Jewelry Heights
Location
29-13 Shimogamo-Matsubaracho, Sakyo Ward, Kyoto
Transportations
Approx. 11 min. walk from Keihan Oto-line "Demachiyanagi Sta." Exit 5
Approx. 18 min. walk from Subway Karasuma-line "Kuramaguchi Sta." Exit 1
Approx. 2 min. walk from Kyoto City Bus "Tadasunomori Stop"
Unit Floor Area
【as published in the condo brochure】60.52sqm 【Registered】59.30sqm
Garden Area
26.60sqm (as published in the condo brochure)
Total Land Area
263.52sqm
Equity
5930 of 34083
Room Floor
1F
Building Structure
Three Storey Steel House
Building Date
Jun 1980
Size
2 Rooms + Private Garden
Apartment Management
N/A (Self-management)
Management Fee
3,000JPY/month
Maintenance Fee
7,320JPY/month
Garden Usage Fee
2,000JPY/month
Car Parking
2 spaces: for compact vehicle×1 (10,000JPY/month), for normal-sized vehicle×1 (18,000JPY/month)
Bicycle Parking
N/A
Total Units
5 Units
Land Use District
【A】Category 2 Residential District
【B】Category 1 Low-Rise Exclusive Residential District
Legal Restrictions
【A】15m / Category 2 Height Control District
【B】10m / Height Control District, The minimum size of the land area is regulated as 80sqm when divided
【A】【B】in common: Aesthetic District of Historical Heritage General District, Close View Preservation Zone, Prior Consultation Zone, Vista View Conservation Area, Distanct View Preservation Zone, Outdoor Advertisement Historical Heritage Category 2 Regulatory District, Quasi-Fire Prevent District, Residence Attraction Area, Built-up Urban District
Public Utility
Electricity, Water Plumbing In/Out, City Gas
Handover
TBD
Current Situation
Vacant
Building Coverage Ratio
60%
Floor Area Ratio
【A】300% 【B】100%
Land Category
Residential Land
Land Tenure
Title
Geographical Features
Flatland
City Planning Act
Urbanization Promotion Area
Notification According to National Land Utilization Law
Not Required
Developer/Builder
Daitetsu Kensetsu K.K.
Constructor
Daitetsu Kensetsu K.K.
Management Type
Self-management
Elementary School
Shimogamo Elementary School (approx. 5 min. walk/383m)
Junior High School
Shimogamo Junior High School (approx. 13 min. walk/1020m)
Remakrs
※The seller is not liable for any defects.
※The property will be handed over as is.
※This property does not have a kitchen.
※Animals are allowed as long as they are kept as pets (confirmation by the board required).
※Non-residential use requires board approval.
※Buyer needs to have a Japanese bank account for management and maintance fee payment.
Transaction Terms
Hachise as a Broker (Agent commission required when concluding contract)
Sales Representatives
(EN) Aya Kito / Boa Zhang
(JP) Hiroyasu Fukui
Information Updated

5 Dec 2022

Information will be Updated

12 Dec 2022