Machiya with depth near Omiya Station
Kyomachiya with the nostalgic flavor of a traditional Japanese house
The area around Omiya Station is a convenient location near the center of Kyoto but still retains a slightly downtown atmosphere. In a quiet residential area about a 5-minute walk from the station, this property is located just a short distance west of Horikawa St., one of the main streets in the city with much traffic. The main building was originally built in 1923, but was remodeled in the mid-Showa period thus the flavor of a Showa-era Japanese house remains here and there.
This is a large house with a floor area of over 200sqm, so it can accommodate a large family if it is used as a residence. It is also recommended for office operation or a residence with a store for rent.
plan
間取図
The property consists of a main house and a detached house (annex). Records of the main house on the west side can be traced back to 1929, and the annex on the east side was built in 1956. There are 10 rooms in total, together with a storeroom on the 3F and a basement that provide ample storage. For residential use, it can be used for a large family house. Since there are 2 different approaches from the entrance to the rooms and each room opens onto a corridor, it could be used as an office, class operation, residence with a store for rent, or rental studio.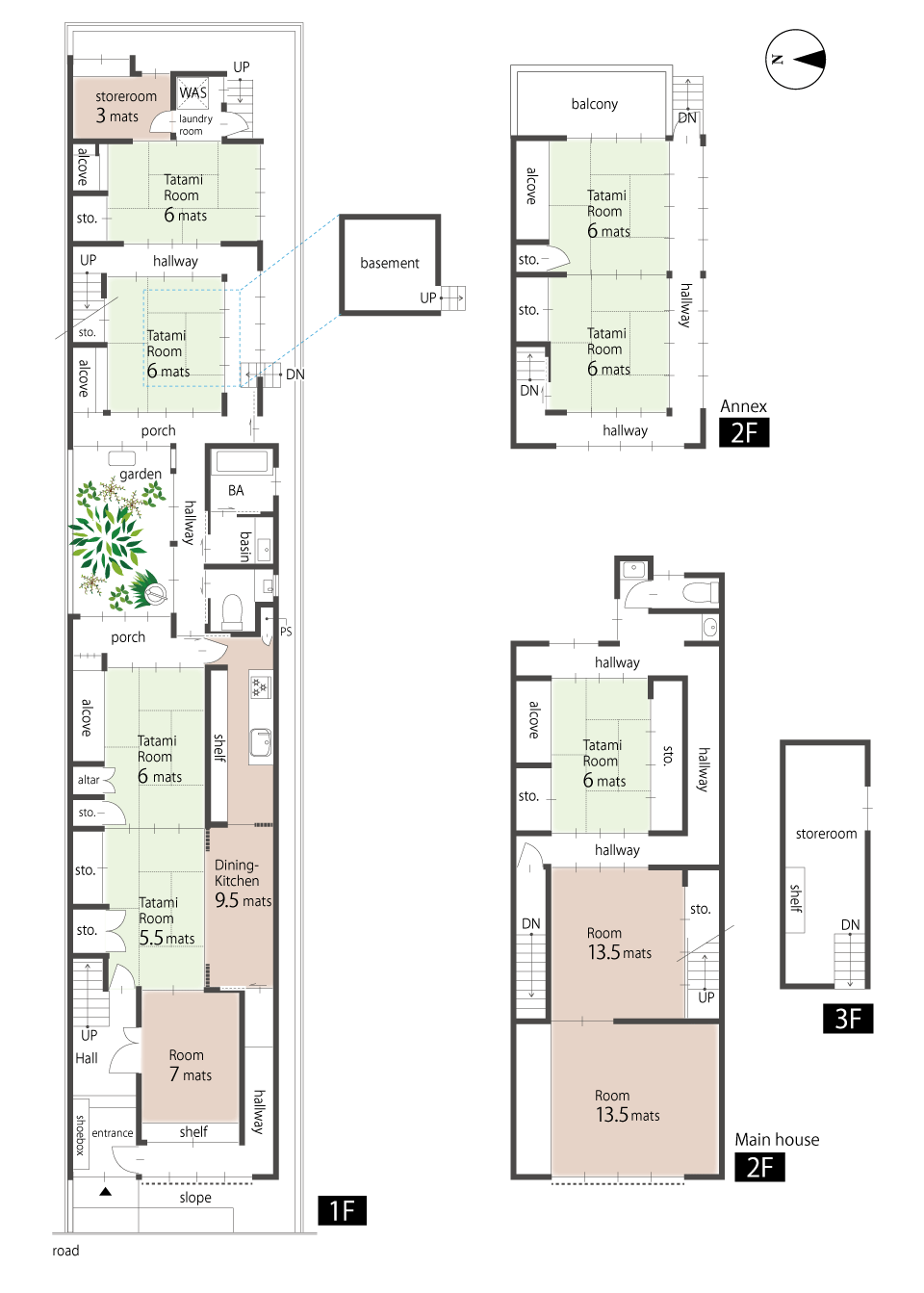 area map
周辺地図
The area around Omiya Sta. is very convenient with excellent transportation facilities.
Omiya Sta. on the Hankyu Railway Line, which is about a 5-minute walk from the property, is only a 2-station ride (approx. 4 min.) to Kyoto Kawaramachi Sta. in the center of Kyoto. It is also convenient for commuting to Osaka, as it takes about 48 min. to Osaka-Umeda without transfer if you use the semi-express train that runs on weekday mornings and evenings.
Across a large intersection from Omiya Sta. is Shijo-Omiya Sta. on the Keifuku Electric Railway (Randen) - a road tram convenient for sightseeing. Stops include Ohata Koryuji Sta., the nearest station to Toei Kyoto Studio Park, and Arashiyama Sta., a tourist spot famous for its autumn foliage.
In addition, there are stops for Kyoto City Bus, Kyoto Bus, Keihan Bus, and JR West Bus in Omiya, making it possible to go almost anywhere from east to west, north to south.
There are supermarkets such as the 24-hour operated Fresco and Life near the property, and the Shijo subway station is within walking distance (about a 12-minute walk)! An area convenient for commuting, sightseeing, and living.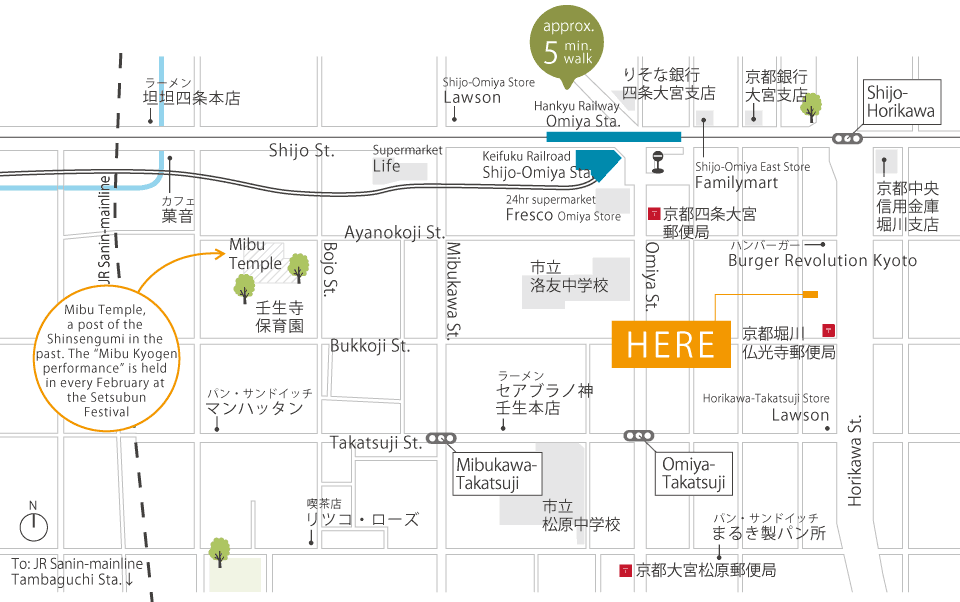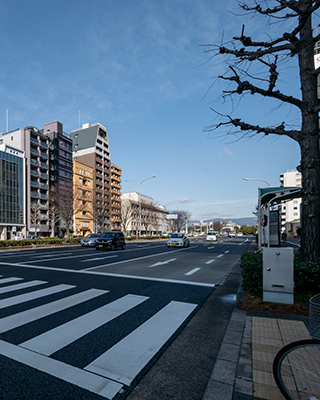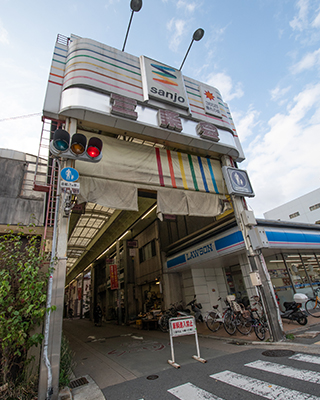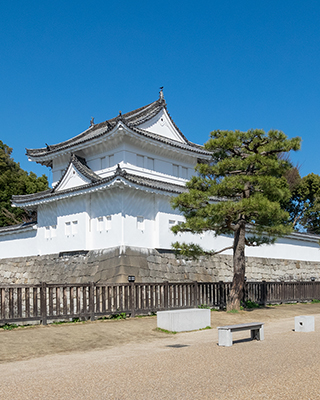 virtual tour
バーチャル内覧
Drag/Swipe the screen, or click the arrows on the screen to tour.
details
物件概要
Property Price

108,000,000 JPY

 (Approx. USD *1JPY= USD)

*Aug 4, Price Changed

Type & Conditions
Used House (Kyomachiya)
Location
412 Iwagamidori-Ayanokojisagaru Kariganecho, Shimogyo Ward, Kyoto
Transportations
approx. 5 min. walk from Hankyu Railway Kyoto Line "Omiya Sta." Exit 2B
approx. 6 min. walk from Keifuku Electric Railroad Arashiyama Mainline "Shijo-Omiya Sta."
approx. 12 min. walk from Subway Karasuma Line "Shijo Sta."
Land Area
【Registered】187.23sqm
【Actual/Measured by surveyors】approx. 194.07sqm
Private Street Area Included
N/A
Floor Area
【Registered】1F: 66.14sqm, 2F: 60.27sqm, Total: 126.41sqm
(Subsidiary Building)
Toilet・Bathroom/Single Storey Wooden House/11.34sqm
Residence/Two Storey Wooden House/1F: 50.32sqm, 2F: 42.51sqm
【Actual/Tape measure】1F: 116.46sqm, 2F: 102.78sqm, Total: 219.24sqm (approx. number)
※Including unregistered area
Building Structure
Two Storey Wooden House
Size
10 Rooms + Dining-Kitchen + Storeroom + Garden + Basement
Adjoining Street
Street width: 4m, Frontage: 5.9m, Direction: West (approx. number)
Building Date
【Main House】Unspecifiable (The earliest record in the closed registry is 1929)
【Annex】1956
Public Utility
Electricity, Water Plumbing In/Out, City Gas
Land Use District
Commercial District
Legal Restrictions
31m / Category 1 Height Control District, Old Urban Type Aesthetic District, Distant View Presentation Zone, Outdoor Advertisement Category 4 Regulatory District, City Center Parking Development Zone, Quasi-Fire Prevent District, Urban Function Attraction Area, Residence Attraction Area, Established Urban Area
Building Coverage Ratio
80%
Floor Area Ratio
240%(700%)
Handover
TBD
Current Situation
Vacant
Land Category
Residential Land
Land Tenure
Title
Geographical Features
Flatland
City Planning Act
Urbanization Promotion Area
Elementary School
Shimogyo Miyabi Elementary School (approx. 8 min. walk/601m)
Junior High School
Shimogyo Junior High School (approx. 15 min. walk/1190m)
Notification According to National Land Utilization Law
Not Required
Remarks
※The property will be handed over as is.
※The seller is not liable for any defects.
Transaction Terms
Hachise as a Broker (Agent commission required when concluding contract)
Sales Representatives
(EN) Aya Kito / Boa Zhang
(JP) Masanori Yanagiuchi
Information Updated

Dec 11, 2023

Information will be Updated

Dec 18, 2023