Back Alley Kyomachiya in the City Center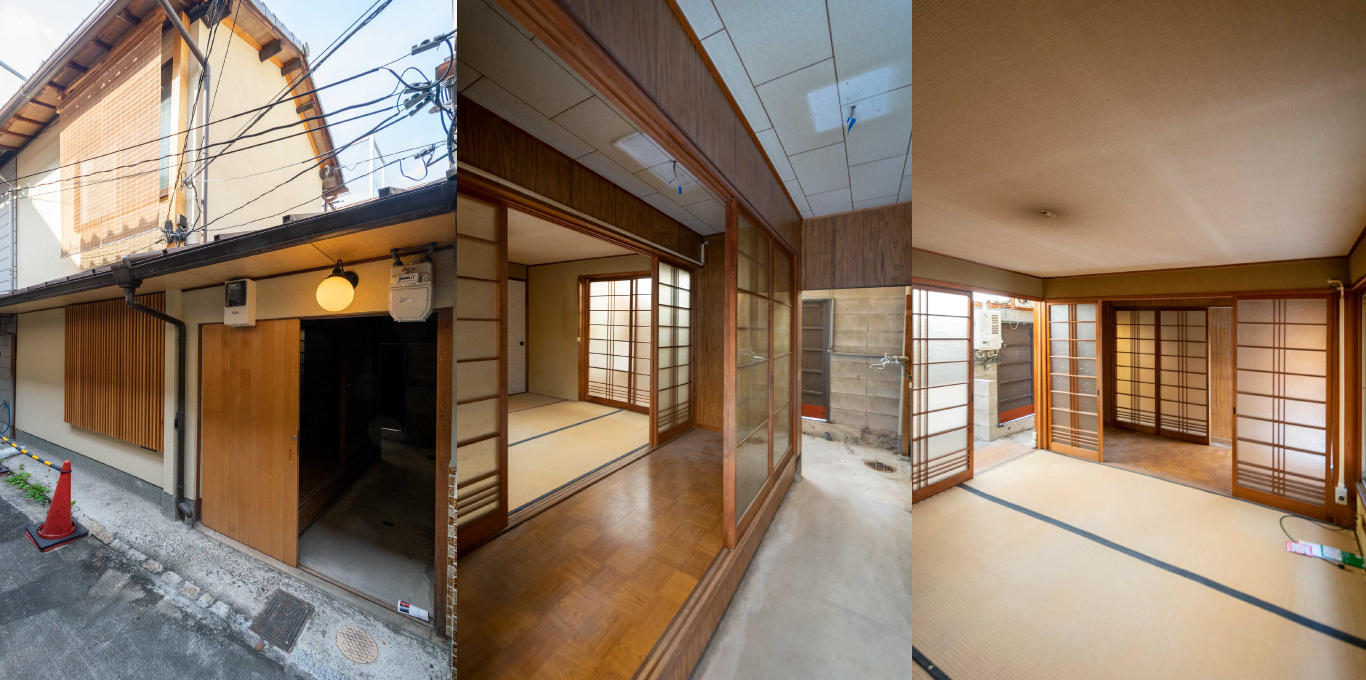 Approx. 6 min. on foot to the Shijo-Karasuma intersection (about 475m).
Shijo Street, lined with financial institutions and department stores, intersects with Karasuma Street where office buildings stand tall. The intersection of these two major streets, Shijo-Karasuma, has long been the bustling heart of Kyoto, flourishing as the center of finance and business. It also serves as a key transportation hub with many bus routes crisscrossing the city originating or terminating here, providing convenience to various destinations.
The property we are introducing is suitable not only for residential use and a second home but also for office space.
AREA
Given its proximity within walking distance to Shijo-Karasuma, the central hub of business and economics, the surrounding is a vibrant area with many office buildings and restaurants. Recently, there has been an increase in diverse facilities, including shops and offices, renovated from traditional Machiya townhouses. This area, with a mix of old and new, attracts a diverse crowd, making it a popular and timeless location.
One of the charms of the Shijo-Karasuma area is its excellent transportation links that provide easy access not only within Kyoto but also to destinations outside Kyoto, such as Osaka. Conveniently, JR Kyoto Station is also easily reachable by bicycle.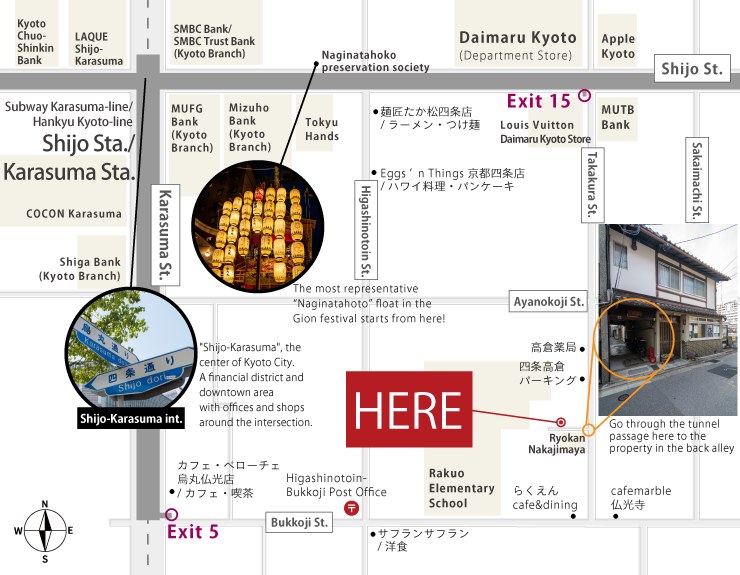 PLAN
September 2017: Exterior renovation completed.
Other renovation works include lattice, gutters, blinds, entrance door, newly installed lighting, and exterior painting.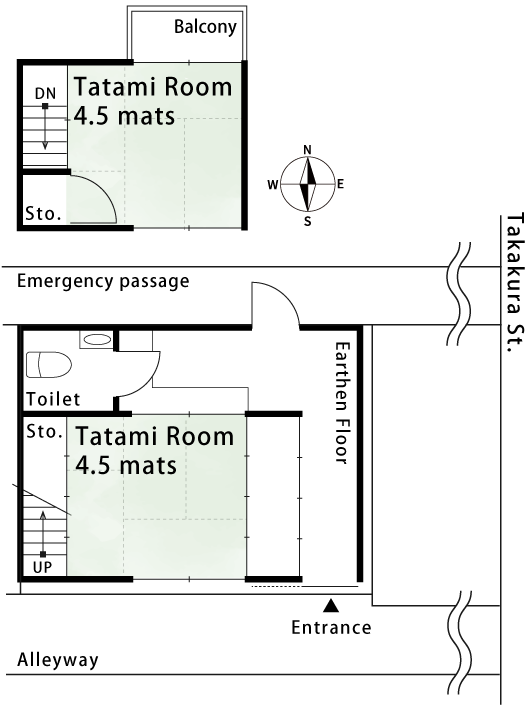 PHOTOS
Click small thumnails to enlarge photos.
DETAILS
Property Price

48,000,000 JPY

 (Approx. USD *1JPY= USD)
Type & Conditions
Used house (Kyomachiya/One of 2 terraced houses)
Location
368-5, 368-2 Takakuradori-Bukkojiagaru Nishimaecho, Shimogyo Ward, Kyoto
Transportations
approx. 3 min. walk from Hankyu Kyoto-line "Karasuma Sta." Exit 15
approx. 4 min. walk from Subway Karasuma-line "Shijo Sta." Exit 5
Land Area
【Registered】34.61sqm
【Actual/Tape measured】approx. 28.34sqm
Private Street Area Included
approx. 6.27sqm + co-ownership area of the alley entrance (no.368-2): One-seventh of 31.04sqm
Floor Area
【Registered】1F: 17.55sqm, 2F: 11.27sqm, Total: 28.28sqm
【Actual/Tape measured】1F: 24.79sqm, 2F: 10.88sqm, Total: 35.67sqm (approx. number)
※Inculding unregistered area
Building Structure
Two Storey Wooden House
Building Date
Unspecifiable ※the earliest record in the closed registry is 1949.
Size
2 Rooms + earthen floor area
Adjoining Street
Street width: 1.9m (not a road in law), Frontage: 5.8m, Direction: South (approx. number)
Street width: 1.6m (evacuation passage/not a road in law)Frontage: 5.7m, Direction: North (approx. number)
Public Utility
Electricity, Water Plumbing In/Out, City Gas
Land Use District
Commercial District
Legal Restrcitions
15m / Category 4 Height Control District, Quasi-Fire Prevent District, Old Urban Type Aesthetic District, Distant View Presentation Zone, Shokujyu Coexistence Special Use District, City Center Parking Development Zone, Urban Function Attraction Area, Residence Attraction Area, Designated Area based on the Kyomachiya Ordinance, Established Urban Area
Handover
After Mar 2024
Current Situation
Vacant
Building Coverage Ratio
80%
Floor Area Ratio
400%
Land Category
Residential Land
Geographical Features
Flatland
Land Tenure
Title
Notification According to National Land Utilization Law
Not Required
City Planning Act
Urbanization Promotion Area
Elementary School
Rakuo Elementary School (approx. 2 min. walk/160m)
Junior High School
Shimogyo Junior High School (approx. 16 min. walk/1220m)
Remarks
※This property is unrebuildable. You cannot rebuild any architectural structure on this land when the existing one is demolished or collapsed. ≫Read more about rebuilding prohibited lands
※Renovation work is required due to it's aged deterioration. (This property does not include kitchen or bathroom.)
※The property will be handed over as is.
※Photos shown are taken in Mar 2021.
Transaction Terms
Hachise as a Broker (Agent commission required when concluding contract)
Sales Representative
Aya Kito
Information Updated

Dec 11, 2023

Information will be Updated

Dec 18, 2023