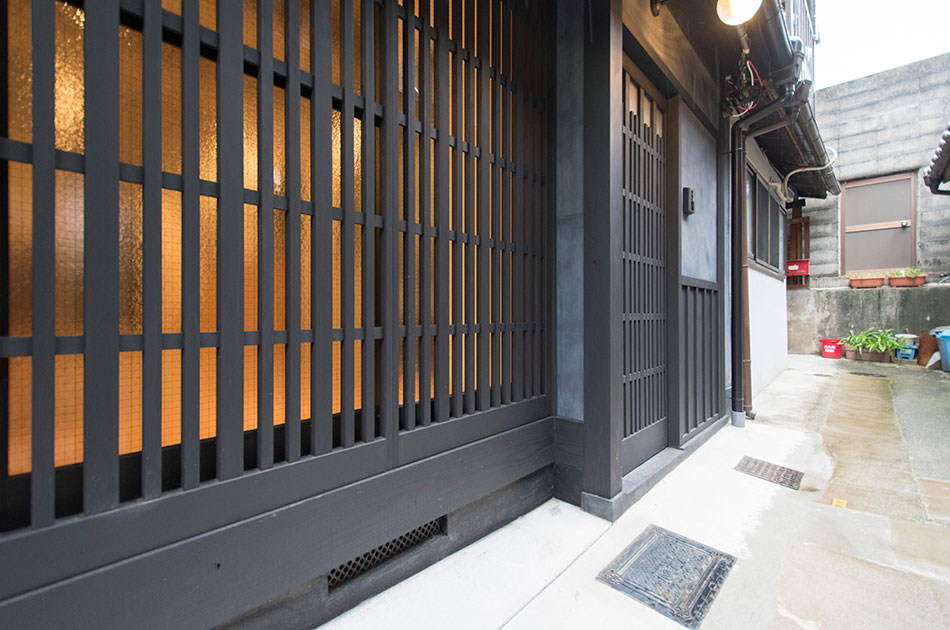 Gojo Tenjin machiya is nested within the Hogan-ji area in a small and quiet alley, between Gojo dori and Shijo dori, just north of Kyoto station.
This kyomachiya, renovated with craftmanship by local artisans, will offer you a nice and peaceful retreat after a day at work or sightseeing in the city, provide convenience and proximity to cultural sights, markets and shopping areas where to get Kyoto specialty food and crafts.
Leave the tranquility of the house and walk south to discover two beautiful examples of the architecture of the Momoyama period, the Nishin hongan-ji and Higashi hongan-ji temples and, adjacent, the magnificent Shosei-en garden, a little haven of traditional beauty frequently used by film crews when making samurai dramas.
Just a short walking distance north of the machiya, you will find Shijo dori packed with shops, arcades, restaurants/cafés, and the famous Nishiki market.
Bus 80 next to the house will swiftly take you all the way to Kamo river, Kennin-ji temple, Yasaka shrine, Gion, Takase canal known for his cherry blossoms, river restaurants at night and Pontocho alley.
▼Kyoto Bus No.80 "Gojo Nishinotouin" About 3 min walk (Approx. 180m) from the property▼
Bound for Gion・Shijo-Kawaramachi  
Bound for Nishi-Kyogoku・Uzumasa-Tenjin
▼Bus 50 (about 100 meters from the house) will take you south to Kyoto station and north, to Kitano Tenmangu and Ritsumeikan Daigaku mae (Ritsumeikan university).
Bound for Nijo-jo Castle・Kitano Tenmangu Shrine・Ritsumeikan University  
Bound for Kyoto Station
Yasaka-jinja Shrine

Cherry blossoms at Gion-Shirakawa

Kennin-ji Temple
OWNER'S PHOTO ALBUM (ext. link)
Easy access to various places by trains.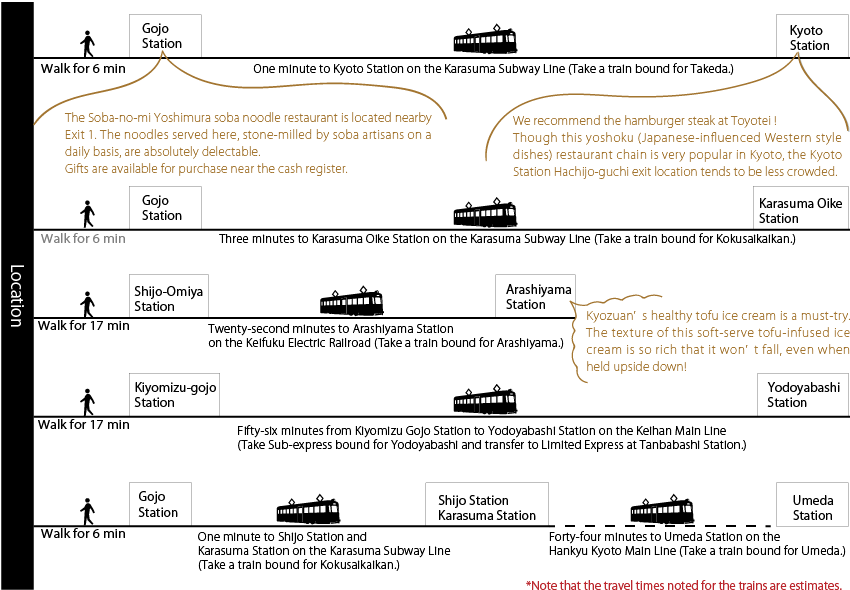 Virtual Tour
※Drag/Swipe the screen, or click the arrows on the screen to tour.
Amenities
| | |
| --- | --- |
| Electronics | TV/Refrigerator/Freezer/Rice Cooker/Electric Kettle/Toaster Oven/Microwave Oven/Hair Dryer/Washing Machine/Clothes Iron/Ironing board/Vacuum Cleaner/Heating/Fan etc. |
| Furniture | Dining Table etc. |
| Amenities | Cleaning Tools/Cooking Utensils/Tableware etc. |
| Internet | Free Wi-Fi |
| Parking | Not available |
* Some of the accommodations have beds, but beddings are not provided.
We recommend utilizing the optional Comfort Service (includes bedding) or house keeping services.
* Amenities differ depending on accommodations. Please ask our staff for the details.
Rates&Conditions
Rent
249,000 JPY / Pre Month (Includes utility charges)

Deposit / Key Money
50,000 JPY / Not applicable
Type of Contract
Lease Agreement for Temporary Use (Minimum 1 month)
Max Capacity
2 People (Bed: 2 People)
Restrictions
Smoking, pets, and instruments are not allowed.
Location
535-4 Yahata Town, Shimogyo Ward, Kyoto
Access
Approx. 6 min. walk from Subway Karasuma-line "Gojo Sta."
Approx. 15 min. walk from Subway Karasuma-line "Shijo Sta."
Approx. 14 min. walk from Hankyu Railway "Karasuma Sta."
Approx. 17 min. walk from Keihan Railway "Kiyomizu-gojo Sta."
Size
2 rooms + Living Dining Kitchen + Study
Floor Area
1F: 33.53 sqm / 2F: 20.62 sqm / Total: 54.15 sqm
Building Structure
Two Storey Wooden House
Building Date
August 1906 according to the closed registry
Transaction Terms
Hachise as a Lessor's Agent
Person in Charge
Yuki Kounosu
Information updated

Dec 11, 2023

Information will be updated

Dec 18, 2023
Calendar
◎:Available for move-in and stay
○:Available for stay, but not available for move-in
×:Not available
Review
Reviewer: Rias
Country: Japan
Review Date: 2022.5.30
Staying period: Spring
My dream of living in a kyomachiya has come true. Spending time in this tasteful space was more enjoyable than I had imagined. The exposed duct design and the accent of the Naguri wood carving fit in well with the house.
Reviewer: anonymous
Country: Japan
Review Date: Jul 2022
Staying period: Summer
It was a very enjoyable month that went by very quickly. I enjoyed the atmosphere of the beautifully renovated Machiya to the fullest and felt happy that I was able to live in a townhouse like a hotel every day for the past month. Big thanks to the owner and Hachise from the bottom of my heart for this experience.
Here I would like to comment on some of the good points and impressions in my own opinion.

①

The texture of the wood used for the floors. I had an image of wooden floors being hard, but they are not so hard that they hurt when I lay down on them - from the texture to the touch was so pleasant and calming. I also liked the texture of the wood in the dining room and dressing room.

②

The brightness of the rooms with natural light and the position of the lights. Unlike the dark image I had before living in a Machiya, the natural light on the 2F made that lighting was not necessary during the day. At noon, I could relax on my bed in the natural atmosphere with no artificial light, looking at the ceiling. As for the lighting positions, I think the staircase and living room were particularly good. The footlight on the stairs helped me when I went to the bathroom at night. The lighting in the living room was exactly the same as the image I saw on the website, which made me feel that this is what I came here for.

③

The ceiling didn't feel oppressive. The ceiling on the 1F is not that high, but it was comfortable with no oppressive feeling at all. I guessed that the combination of black pillars and white ceilings reduced the oppressive feeling.

④

Facade I think the reason I was excited to imagine a Machiya townhouse waiting for me on my way home from work was because of the good atmosphere of the exterior.

⑤

Quietness Despite being near a main street, it was extremely quiet. It was so nice that we could hear nothing but the sound of the air conditioner at night.
Thank you very much.
[ *This review was originally written in Japanese and translated to English. ]
The essence of "living in Kyoto" is condensed in this machiya experience!
Reviewer: chiyoe
Country: Tokyo, Japan
Review Date: 26 April 2021
Staying period: Spring
★★★★★
We were greeted by cherry blossoms in full bloom and enjoyed the spring in Kyoto with bamboo shoots lined up on store shelves.
The house is within walking distance of the Kyoto and Shijo subway stations and the bus stop is only a minute away.
There is also a tofu shop, a liquor store that serves draft beer, a Japanese sweets shop, a pickles shop, and a take-out store for Tenmusu within a 5-minute walking distance, so you can easily get delicious Kyoto food.
The convenience store, supermarket, and drugstore are only a few minutes away, and the distance from neighbors is comfortable! It was a Machiya experience that condensed the essence of "living in Kyoto".
In April, it is still cold in the mornings and evenings without underfloor heating. Even though, it was a fresh Kyoto life discovery that you cannot experience in a hotel. Next time, I would like to visit during the season of autumn leaves.
[ *This review was originally written in Japanese and translated to English. ]
Reviewer : :JM
Country : United States
Review Date: 25 March 2019
Staying period: Spring
★★★★★
We had a great stay at Gojo Tenjin and enjoyed working with Aya-san and the Hachise team.
Everything was set and ready when we arrived. The machiya was nicely renovated.
The location was convenient to explore the center of Kyoto.
We will highly recommend Gojo Tenjin and Hachise!
Reviewer : DP
Country : Finland
Review Date: 23 June 2018
Staying period: Spring
★★★★★
KyoTreat/Gojo Tenjin offers a great experience.
The house itself is lovely: very cozy, and quite spacious for a single person.
It successfully blends traditional construction and flair with modern amenities.
The location is great - a few dozen meters off Gojo, with a convenience store, a post office, a drugstore and a 24/7 supermarket not even a 5 minutes' walk away. Kyoto Station is 20 - 25 minutes away by foot, depending on pace, and Gojo station less than 10 minutes.
Most sites of interest in central Kyoto are within reasonable walking distance of Gojo Tenjin, and walking through Kyoto's maze of smaller streets is very enjoyable (use of mapping/positioning software is recommended though, as most of those small streets have no name).

In spite of being located at the core of a modern city, and close to a major street that attracts a fair amount of traffic, Gojo Tenjin is reasonably quiet, in particular at night - the neighbours are very nice and quiet.

Gojo Tenjin is a delightful little house, and I look forward to my next stay there.
The forgotten feeling
Reviewer : Y
Review Date: 6 January 2018
Staying period: Winter
★★★★★
I forgot the environment having neighbors and being surrounded by their houses in front & sides since I've been living in condo after I left my home.
I'm a writer .. I decided to rent this house in order to recover that missing feeling" of being surrounded by people. I was able to transfer this "feeling" to my writing as I become more familiar with these people.
The neighbors around "Gojo Tenjin" are very soft & kind and I enjoyed the situation having "neighbors".
The house was very clean and everything needed was there, so it was pretty comfortable. Although the house was remodeled as "modern", there is still a very strong feeling of "old time Japan" there ; my friend who visited from France enjoyed the house very much.
There are convenience store, super market, drug store, bus stop, subway station within few minutes walk from the house, so it is a very convenient and good location. The neighbors are people who have been living there so long, so it's a good place to experience "real life" in Kyoto. I stayed for a month. Thank you very much.

[ *This review was originally written in Japanese and translated to English. ]
Kyo-Machiya Monthly (Gojo Tenjin)
Reviewer : Grace
Review Date: 29 November 2017
Staying period: Autumn
★★★★
Gojo Tenjin lies in an alley that's about few minutes' walk away from Karasuma Gojo (station). It was a peaceful and quiet location away from the crowds. I had an enjoyable 1 month stay at this modernly renovated Machiya, where interiors like the flooring, wall paper, and amenities were all carefully selected. Another charming point that I felt a year ago (and this time again) was how Hachise's staff promptly answered to my needs. If there's a chance I would definitely consider coming back again. Thanks for the wonderful stay.

[ *This review was originally written in Japanese and translated to English. ]
Reservation

Hachise Co. Ltd.
Business Hour: 10:00 – 17:00
Closed: Wednesday, Sunday, Public Holiday, July 17th (Due to traffic control for Gion Festival), Summer Vacation, New Year's Holiday
* Please see our Business Calendar for the details.