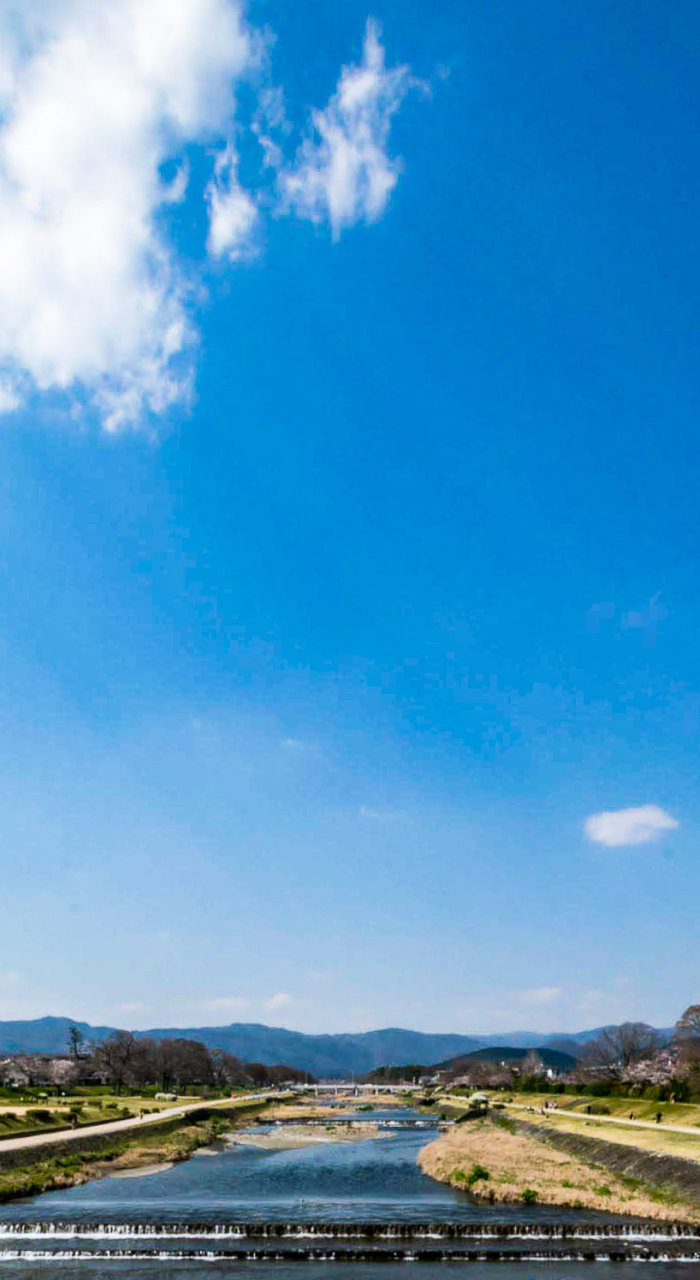 A modern Machiya at the west of Kamo River.
House to experience life as a Kyotoite.
3-minute walk to Kamo River.
Despite being located in a quiet residential area,
you can find Western-style restaurants and bakeries
that draw a line every day when you go out to Kitaoji Street.
This modern Machiya is located close to the vibrant city of Kyoto.
The Botanical Garden to the north,
Shimogamo Shrine to the east,
and Shokokuji Temple to the south.
It is also blessed with a short strolling course.
Open the white wooden door and take a step inside,
you will find a well-balanced space
that combines the texture and flavor of age
with the refined comfort of living in harmony.
Surrounded by the gentle light of Serge Mouille's lamps,
you can relax in the vintage chairs,
read a book or enjoy your favorite drink
In KyoTreat Izumoji, you can relax and take your time,
like the flow of the Kamo River.
Floor Plan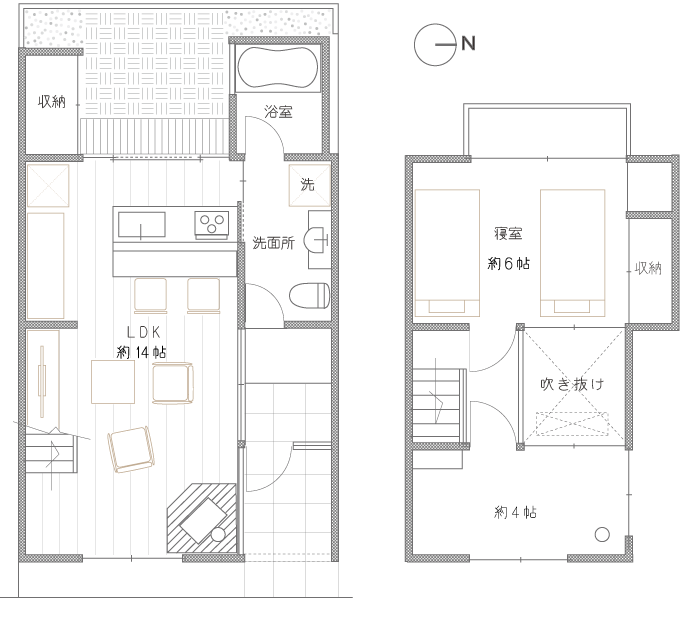 Map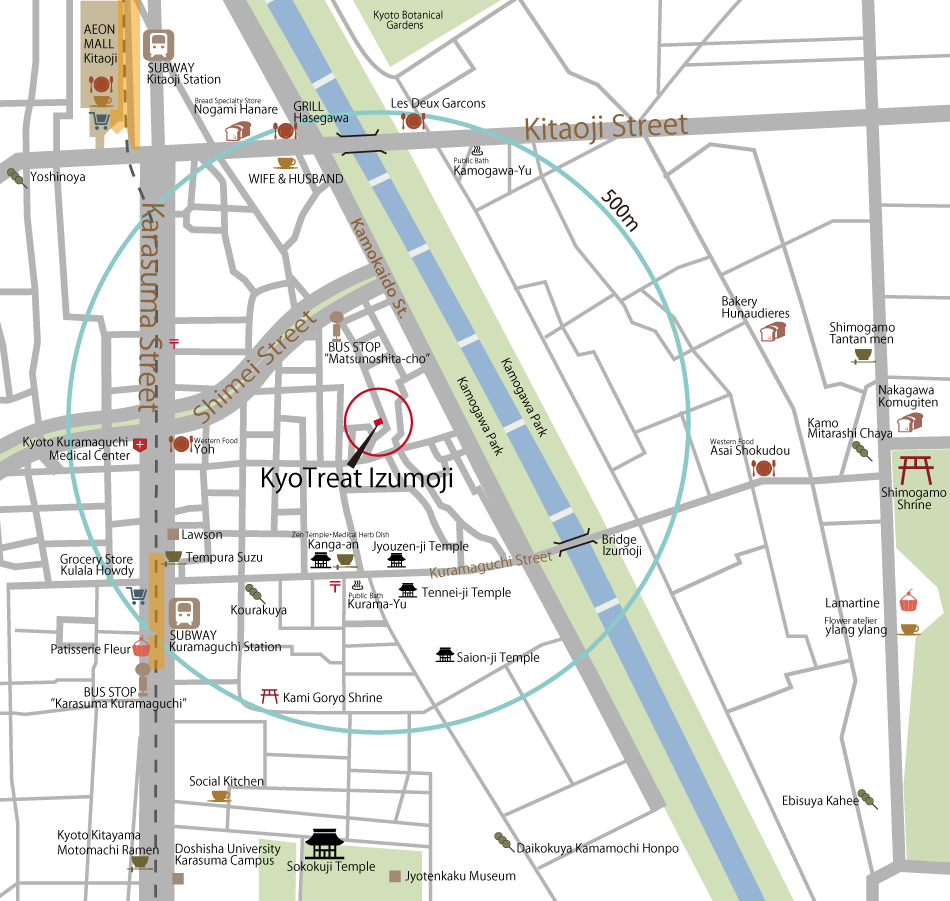 Amenities
| | |
| --- | --- |
| Electronics | TV/Refrigerator/Freezer/Rice Cooker/Electric Kettle/Toaster Oven/Microwave Oven/Hair Dryer/Washing Machine/Clothes Iron/Ironing board/Vacuum Cleaner/Heating/Fan etc. |
| Furniture | Dining Table etc. |
| Amenities | Cleaning Tools/Cooking Utensils/Tableware etc. |
| Internet | Free Wi-Fi |
| Parking | Not available |
* Some of the accommodations have beds, but beddings are not provided.
We recommend utilizing the optional Comfort Service (includes bedding) or house keeping services.
* Amenities differ depending on accommodations. Please ask our staff for the details.
Rates&Conditions
Rent
249,000 JPY / Per Month (Includes utility charges)
Deposit / Key Money
50,000 JPY / Not applicable
Type of Contract
Lease Agreement for Temporary Use (Minimum 1 month)
Max Capacity
2 People (Two Beds)
Restrictions
Smoking, pets, and instruments are not allowed.
Location
108-55 Izumoji Tatemotocho, Kita Ward, Kyoto
Access
Approx. 8 min walk from subway Karasuma line "Kuramaguchi" station
Approx. 10 min walk from subway Karasuma line "Kitaoji" station
Approx. 3 min walk from Kyoto City Bus "Matsunoshitacho" stop
Size
2 room + LDK
Floor Area
1st Floor: 37.41 sqm 2nd Floor: 23.93 sqm Total: 61.34 sqm
Building Structure
Two Storey Wooden House
Building Date
Unspecifiable
Note
The wood-burning stove is not available to use for the guests.
 
Transaction Terms
Hachise as a lessor's agent
Person in Charge
Yuki Kounosu
Information updated

Dec 11, 2023

Information will be updated

Dec 18, 2023
Calendar
◎:Available for move-in and stay
○:Available for stay, but not available for move-in
×:Not available
Review
Healed by the scenery in daily life
Reviewer :Moyoko Otsuki
Country : Japan
Review Date: 9 Dec 2021
Staying period: Fall/Winter
Just a 3 -min. walk away, the daily walk to the Kamo River was really great.
I had only seen the Kamo River around Kawaramachi-Shijo before, so I was healed by the scenery in the daily life of local residents running and walking.
I also got a lot of information that I could not find on gourmet websites from the people I met there, which made me look forward to visiting Kyoto even more.
The house we rented was very comfortable, clean, and user-friendly, and the owner has a wonderful sense of interior.
Would definitely rent again if I have the chance.
Dream life in Kyoto
Reviewer: Shina Ayukawa
Country: Japan
Review Date: 24 Dec 2020
Staying period: Fall/Winter
★★★★★
"Living in Kyoto" has been my dream for many years. This time, I had to stay in Kyoto for 2 months for work, and I was able to make that dream come true at "KyoTreat Izumoji".
KyoTreat Izumoji is a beautifully renovated Machiya house with a very tasteful exterior, interior, and furniture.

Located in a quiet residential area, it is a comfortable place to live, with good access to shopping and dining out. In addition, it is close to a bus stop and subway station, making it convenient to go anywhere. The area is also very convenient for shopping and eating out. There are many other advantages to mention, but what I like most is the location - a 3-minute walk to the shore of the Kamo River.
The Kamo River runs long from north to south, and the entire riverbank is a recreational area for the citizens of Kyoto, but the area near KyoTreat Izumoji, from Izumoji Bridge to Kitaoji Bridge and Oen Bridge, is particularly scenic. The riverbed is spacious and wide with trees lining Kamo-Kaido Street, and Mt. Hiei can be seen beautifully at the front.

Every morning I would fill up a thermos with coffee and enjoy the "Kamogawa Cafe" on a bench by the shore before going to work. On weekends, I would take out a sandwich from "Grill Hasegawa" and enjoy lunch on the bench.
Such is the luxury of living in Kyoto. It will be a precious memory that I will never forget for the rest of my life. I would like to express my heartfelt thanks to Hachise and the owner of KyoTreat Izumoji for making my dream come true.
No Title
Reviewer : Ms.J
Country : Canada
Review Date: 2 May 2019
Staying period: Spring
★★★★★
Our 2-month stay in Izumoji was very pleasant and life-long memorable.
We enjoy walking along the beautiful "Kamo-kaido" especially during cherry blossom season.
Neighbors are friendly and the location is very quiet.
Once again we'd like to thank Hachise for offering this Kyotreat service to foreigners.
Reservation
・Move-in day cannot be scheduled for days on which our office is closed.
・Reservations can be made up to 1 year in advance of your intended Check-in date.
・If you cancel the booking 61 days before check-in or later, the cancellation fee will be charged. »Cancellation Policy

Hachise Co. Ltd.
Business Hour: 10:00 – 17:00
Closed: Wednesday, Sunday, Public Holiday, July 17th (Due to traffic control for Gion Festival), Summer Vacation, New Year's Holiday
* Please see our Business Calendar for the details.