Purchasing Process
Let us know your preferred conditions
Make an appointment for property viewing
Feel free to ask any questions
Thank you for visiting our website and your interest in our properties. For more detailed information, please submit your inquiry via contact form; please note we do not accept inquiries via phone. Each property has an individual inquiry form on its property page. We ask all general inquiries to be submitted through Contact form on the header (at the top-right of our website). It may take several days for us to reply.
Please make an appointment with one of our sales representatives if you wish to visit our properties and/or office. We ask you to make initial contact no later than 1 week before the day you wish to visit. Please check our website carefully and inform us in advance, which property you would like to see. Please note that we do not provide compensation for any costs that may be incurred during the buying process (including airfare). This policy will stand, even in the rare case an offer is made on the property you are interested in before you arrive in Kyoto.
NOTE: Unfortunately, our architects and collaborators are currently fully booked, and are unable to take on any additional renovation orders. Therefore, if you are interested in purchasing an old house that needs renovation, we ask you to please find an architect and a builder independently. We apologize for the inconvenience.
Ready to Purchase?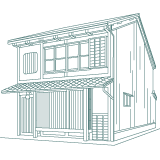 Find a Property