About Us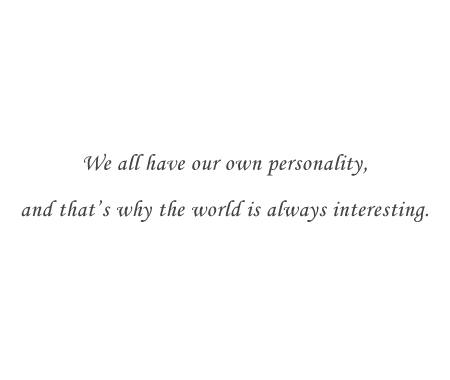 Lifestyle Planning Department
Mitsunori Yasuda

Having joined the company in 1998, Mitsunori is a long-time experienced professional in the field of real estate sales, despite his boyish looks. He is knowledgeable in real estate investment and all-around consulting. A typical Kansai region personality, he's an expert at organizing parties and making people laugh by making himself the butt of jokes. He's also an amateur baseball ace pitcher.

Facebook

Maiko Hamada

With her natural enthusiasm and caring nature, Maiko has a vast network of connections despite the fact that real estate tends to be a man's sphere. In fact, she manages to use her perspective as a woman to her advantage to accurately assess customer needs. In her private life, she's a vocalist for a jazz band, and she's so good at it that it's hard to tell which of these is her "real" job!

Facebook

Masayoshi Kamimura

Masayoshi is able to bring people into his very own world with his ability to listen carefully; the deep, rich tone of his voice; and his general calmness—making him truly a "missionary" for Hachise-style renovation. He's a free-form presence that excels in both offense and defense at the same time. A father of two kids, he's serious about child rearing.

Facebook

Hirochika Fuji

Hirochika works so hard every day and every night that his boss says his work is "his only interest." His poker face may make him seem unfriendly, but in reality he deals with customers in the most sincere way. He can't refuse an invitation—and he's kind of the office clown. He's busy taking care of his beloved son on a daily basis.

Facebook

Ryuichi Kimura

Ryuichi is known at Hachise for being a little bit of a mischievous character. At the same time, when it comes to architecture, he works twice as hard as everybody else. He's particularly insightful on traditional architecture. According to both himself and other people, Ryuichi is not the best talker—which means he's still "in training" in dealing with customers. Still, many customers are taken in by his personality anyway!

Facebook

Tatsuya Ochiumi

Global Team

Tatsuya is meticulous about everything from architecture to coffee. In fact, he has a lot to talk about, and his English is very good, too. Upbeat and optimistic, he reminds us of a shy Latin guy! Though with his chiseled looks he appears almost un-Japanese, his aesthetics are quite sophisticated. Particularly when it comes to margins on Web designs, he won't even compromise at 1 pixel. He's got two beautiful daughters.

Facebook

Tetsuya Hatano

Tetsuya is highly experienced, having worked at a number of different sites longer than anyone at the construction team. A typical type A, he is fastidious not only about his own desk but the surrounding area as well. He takes a cool and collected approach to large contractor sites—skillfully acting as a bridge between owners, artisans, and Hachise staff.

Facebook

Syunsuke Bito

Global Team

Leading a global team, Shunsuke made a return to Kyoto after having worked overseas. A gentle personality, we have a lot to learn from him both in terms of his approach to work and qualifications. He makes a machiya townhouse his home, and on his days off he enjoys local sightseeing and gourmet food. He's got a Scottish Fold named Mikan ("tangerine")!

Facebook

Kazumi Nabari

Steeped in knowledge of architecture, Kazumi is in charge of rental management. She's known for her up-front personality and composure as well as her brisk pace and incredible ease at work. Even though she's busy all the time, her handwriting and draft drawings are impeccable. Her cat's name is "Maru."
Property Management Department
Koji Aoyama

With his ability to moderate between people drawing on his mild personality and superior verbal persuasion skills, Koji's ability to conclude business discussions make him seem like the consummate hotel employee. He's travelled extensively, which makes him somebody everyone can rely on during company trips. This father of two looks great in his white slacks!

Facebook

Kota Takahashi

A rookie, Kota is an unusual personality known for seeking to expand his horizons by living in a number of different guest houses. He's the manager of Hachise Share House. He's the type that has endeared himself to you before you know it, and that's how he's made lots of friends. A laid-back personality, he's also worked as a systems engineer according to himself!

Futoshi Nakamichi

Futoshi is known as a most reliable member of the maintenance team. Extremely knowledgeable in his work drawing on his past experience, he's a highly respected employee. He's close to his daughter, and he carries around the cute little gifts he gets from her.

Akio Suzuki

Akio, also a solid member of the maintenance team, possesses not only extensive experience but also ample knowledge. He's better than any sales personnel in working with customers, and he's an expert at charming them. He also excels at the computer, giving flawless internal presentations at the company.

Kae Motokado

Global Team

Having returned to Japan from Canada, Kae supports our global strategies with her excellent English skills. She's also good at the computer, and she's quick to finish the tasks assigned to her, while at the same time making critical recommendations for greater efficiency. In contrast to her feminine look, she's quite a drinker, and she also loves snowboarding.
Service Management Department
Kazuya Matsumoto

With 20 years of experience as a salesperson, Kazuya is an all-around real estate expert. He possesses extensive knowledge of both rentals and buying/selling, and he's got great insight on subjects such as taxes and inheritance. Many of our employees seek out his advice, and he gives it to them since he just can't refuse helping other people. He's involved in a large number of projects.

Mako Hashimoto

Working for many years overseeing the purse strings at Hachise, Mako works diligently on a daily basis to reduce costs and improve efficiency. She's quite a drinker though her face never seems to go red at drinking parties! She enjoys being an active mountain climber on her days off.

Naoko Ogawa

Raising children and doing her job at the same time, this mother of two is Hachise's first working mother. Also an interior coordinator, she's always garnering information on new products. She does everything in an organized, well-planned way, yet her great appeal lies in the fact that she can be an office comedian without even trying!

Facebook
Kanae Tsuji

With her naturally funny personality, soft demeanor, and great smile, Kanae is the receptionist liked by everybody. She's easygoing—and not easily rattled. She takes an active approach to work and is interested in a variety of different things. She loves cute Japanese-style accessories.

Sachiko Okazaki

Sachiko, who hails from Kochi Prefecture, is so calm that it's hard to believe she's a new graduate. A woman of few words, she works hard and quietly to finish her work. Interested in noh theater during her university days, she's arguably the most cultured woman of Hachise.
Media Design Department
Masato Ando

Masato is a unique IT guy at Hachise. He's the lead Hachise Website manager, quietly leading a team of women in the Web Design Department. Of course, if you need help with the PC or with something related to the Web, he's the one to ask.

Maki Matsuura

Maki is the camera girl for Hachise. If there's something she wants to capture with her camera, she steps out in a flash—we should all be more like her—with her favorite, the Nikon D5000. To get the photos she wants, she'll be up at 5 a.m. if need be! A highly curious personality, a lot of thing pique her interest.

Facebook

Yuriko Tokuda

Yuriko is the silent type that smiles a lot—the kind of person who is watching out for you and just naturally makes you feel better. At the same time, she is twice as passionate as your average person at her job. In fact she literally does not know how to cut corners when it comes to work. For this reason she's known both by people in the company and otherwise for her great Web design.

Noriko Hirose

Noriko is extremely considerate of everybody and great at helping out. She takes on even challenging projects—and often suffers for it later. She seems like she would be quite the gutsy type—but she also has a delicate side. Feeling vulnerable to unseen forces, she's got all kinds of items that are said to absorb electromagnetic waves. She's the company's second working mother.

Yoko Kojima

In contrast to the many older-sister types that we have at the company, Yoko is more like the younger sister, moving along at her own pace—but accurately and carefully. She likes drinking and she's fun at drinking parties, following along with senior employees. She gets happy when she drinks! Lately, she loves mountain climbing, too.

Aya Kono

Aya is a promising new employee who's good at creating a calm atmosphere. She studied fashion design as a student, and also lived overseas for a period of two years. Having lived with people of different countries during this time, she has a surprisingly outgoing side. Her sense of direction isn't too good though, and she often gets lost even as she's checking a map…
Executive Members
Naoki Nishimura

Training as a successor of Hachise, Naoki is recognized by himself and others as the company's consummate economist. Lately he's been going all out to improve the company environment, methodically analyzing a variety of projects to lead in a dynamic way. He takes a scientific approach to food, interested as he is in health. And he's crazy about his two daughters!

Facebook